April
Spring barbecues, razor clams, brown crab, asparagus and an Asian broth with coley, greens and soba noodles. Tom Hunt celebrates what we can enjoy this month.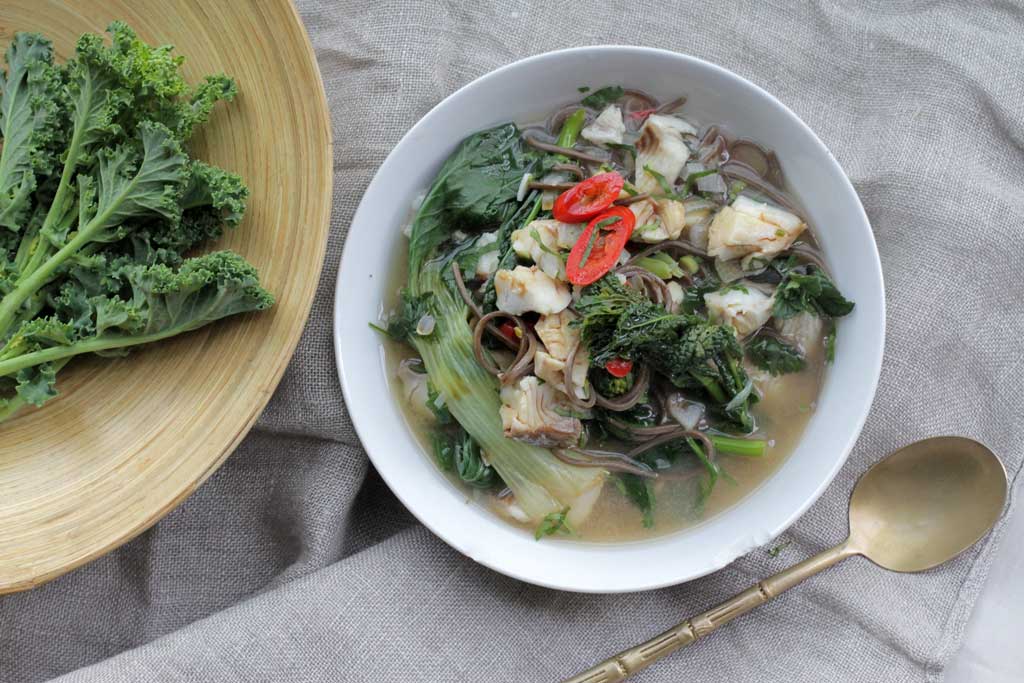 We're now on the right side of the spring equinox and the lengthening evenings will begin to get warmer. It's at this time of year I start to think about planning my first barbecue, and what better to cook on the grill than fresh fish? Fish doesn't like fuss and is best cooked simply; embracing our primitive instincts and cooking over a fire is just that, simple. The charcoal imparts its smoky aromas into the fish, crisping and charring the skin, while leaving the meat succulent and juicy inside.
Some fish are a little delicate for the grill, such as pouting, whiting and most flat fish: these benefit from being wrapped in a foil parcel. Other firm, round fish like sea bass and bream cook well over a high heat. Score the fillets with a knife to the bone so that they cook quickly without burning. Herring is another winner and has the Marine Conservation Society's highest sustainability rating. Also try razor clams: they steam in their shells and pop open when cooked, taking on a delicious smoky flavour. Brush them with garlic butter or a squeeze of fresh lemon and serve 5-6 per person as a starter.
Oily fish such as mackerel and sardines suit the grill perfectly. Something magical happens to the skin: it becomes golden in colour, scorched and magnificent. But it's best to wait until summer proper for that treat, as mackerel spawn mostly between March and July. So hold off until August, when the spawning season is over; sardines should be back in numbers around our shores then too.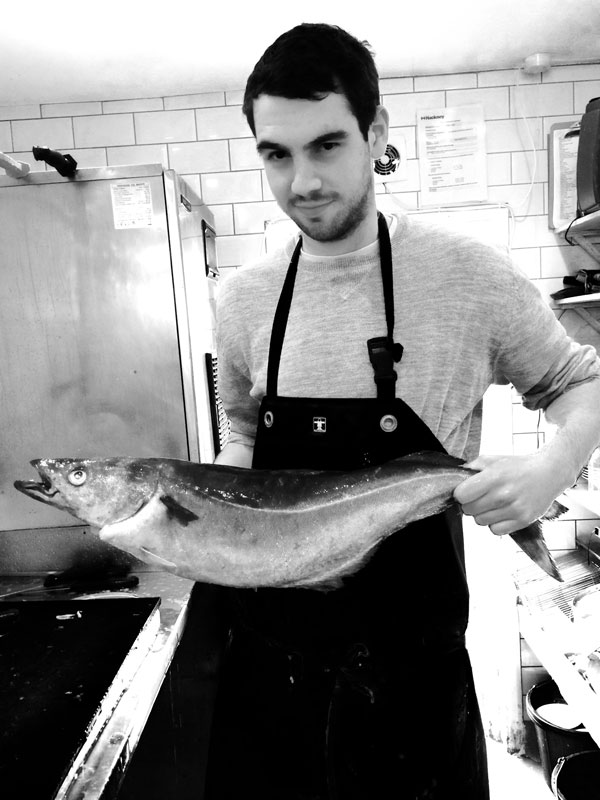 There are plenty of alternatives, after all. This month we are spoilt for choice as brown crab, plaice and coley, also known as saithe, come into their own. Coley, my pick of the month, is a large, white-fleshed fish similar to cod or pollack. It is less popular than its alternatives supposedly because it has a grey tinge to the flesh. I find this hardly noticeable and it certainly doesn't affect the flavour. For this reason, it is also very affordable. It's a good sustainable choice too.
Coley sautés well in a pan, or roasts beautifully in the oven with a bay leaf and some olive oil. Thanks to its firm flesh, it's also a good fish to use in a curry, which is what I've chosen to cook this month. The dish below was inspired by a recipe taught me by my friend Michael Michaud, who owns a chilli farm in Dorset, which once held the record for the hottest chilli in the world!
As for seafood accompaniments, the bulk of my shopping basket right now is made up of seasonal vegetables. Winter has ended but the variety of British vegetables is still limited, before the abundance of produce that arrives with the (hopefully) sunny summer. There are still a few gems that need to be savoured before their season ends though.
Field grown rhubarb, greener in colour than the vibrant pink forced variety and a little sourer too, is now in our greengrocers. I prefer it in many respects. Green rhubarb works better in savoury dishes. In fact, many nationalities use rhubarb in savoury dishes more often than sweet: my book The Natural Cook features a pork and rhubarb tagine, for example. Towards the end of April there will be plenty of new treats including Jersey Royal new potatoes, broccoli, radishes and asparagus. Asparagus has a short, six-week season, so make sure you don't miss a day.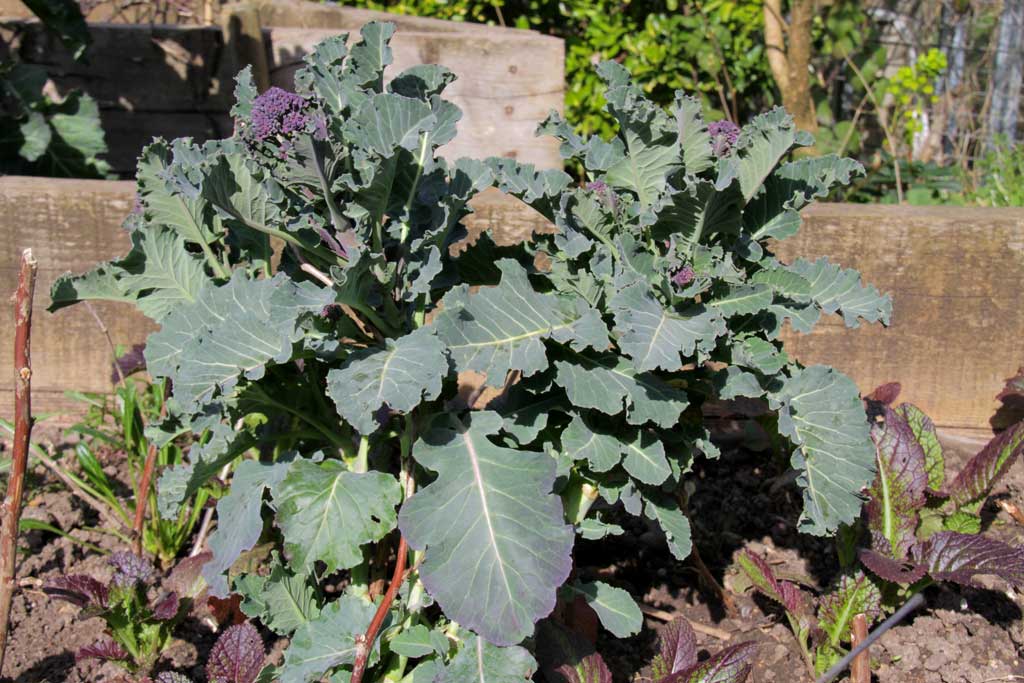 Asian broth with coley, seasonal greens and soba noodles
This refreshing, cleansing Asian broth is very quick to prepare and only takes 5 minutes to cook. My kind of fast food. Now that spring is truly here it's time to come out of hibernation and get active. This is the perfect soup to help revitalise and replenish. Enjoy!
Ingredients
Serves 2
600ml water
2 cloves garlic, peeled and finely sliced
1 stick of lemongrass, finely sliced
1/2 red chilli (or to taste), finely sliced
1 shallot or half an onion, finely diced
8 sprigs of coriander, leaves picked, stalks finely chopped
150g seasonal greens: purple sprouting broccoli, cavalo nero, kale, spinach
250g fillet of coley, large dice
75g bundle of soba or rice noodles
1 tbsp fish sauce (optional)
Soya sauce and lemon to serve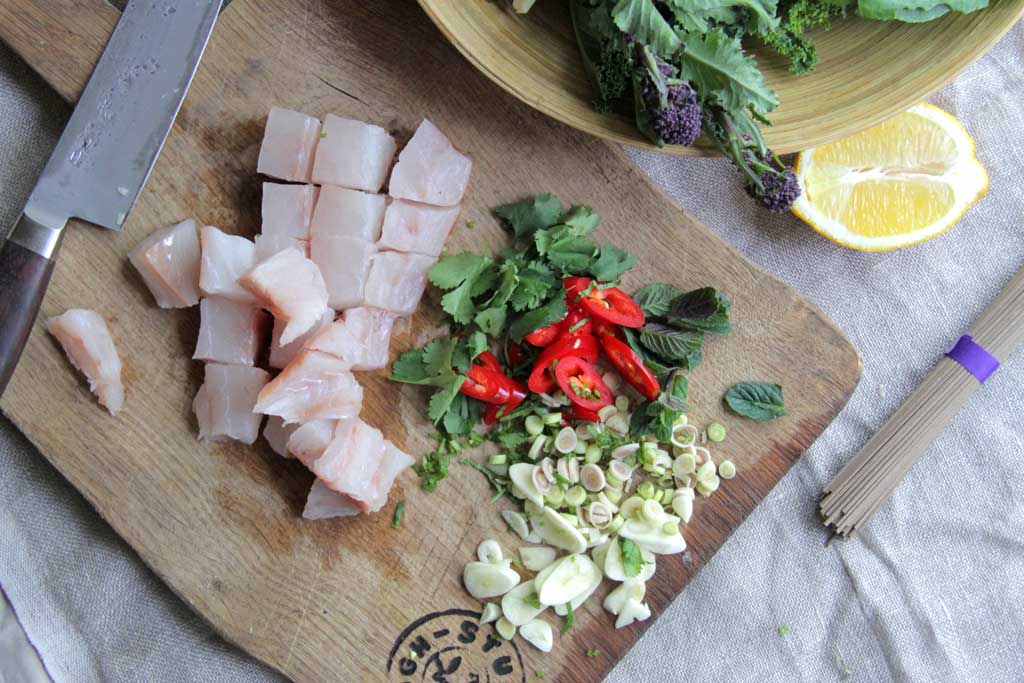 Method
Put the water on to boil in a medium-sized pan. Meanwhile, slice and dice all of the ingredients. Add all of the ingredients to the boiling water and place the lid on top.
Boil for 5 minutes, stirring occasionally to break the noodles up. Serve hot with a squeeze of lemon and dash of soya sauce.
---
Tom Hunt is author of The Natural Cook: Eating the Seasons from Root to Fruit. He founded the Forgotten Feast, a campaign working on projects throughout the UK, to revive our cooking heritage and help reduce food waste and Poco, a festival café and award-winning restaurant in Bristol and (just opened) London's Broadway Market. Click here to read his blog, Tom's Feast.
Also See: