Are you eating your two-a-week?
We all know that seafood is delicious and nutritious, but do you know how many portions of fish you should eat each week?
Health experts recommend that you have two servings of seafood each week, one of which should be an oily fish like mackerel or sardines. We never need an excuse to eat more seafood, but by eating at least two portions a week you can enjoy the many health benefits that fish has to offer.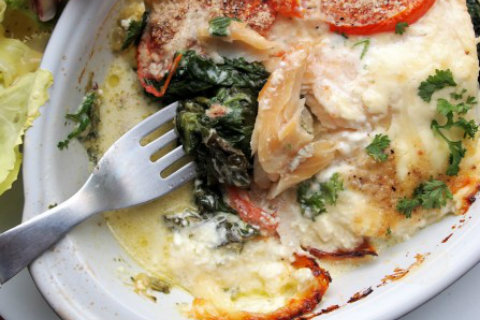 Seafish's campaign Fish 2 a Week is all about making more people know that they should be eating fish twice a week – and explaining the many health benefits that eating seafood brings. Fish 2 a Week aims to inspire more people across the country to eat two fish dishes each week. The campaign's website www.2aweek.co.uk is packed with recipes and cooking ideas. From prawns to plaice, haddock to herring, Fish 2 a Week is all about championing fish!
Health benefits for a healthy life
The healthy fats and nutrients found in seafood are perfect for keeping your body in working order. Here are some of the benefits that eating two portions of seafood a week can bring to improve your health and well-being.
Lowers risk of heart attack, heart disease, cholesterol, stroke, depression, diabetes and Alzheimer's!
Increases levels of omega-3 in your body, which leads to healthy skin, hair, nails and improves sleep
Boosts your mood and maintains brain function
Tips for fitting more seafood into your diet
Learn a new recipe – and add it to your repertoire.
Put it to the shopping list.
Fish and chips count towards your two-a-week.
Keep tinned seafood in the cupboard for a quick, go-to snack.
Two recipes for your two-a-week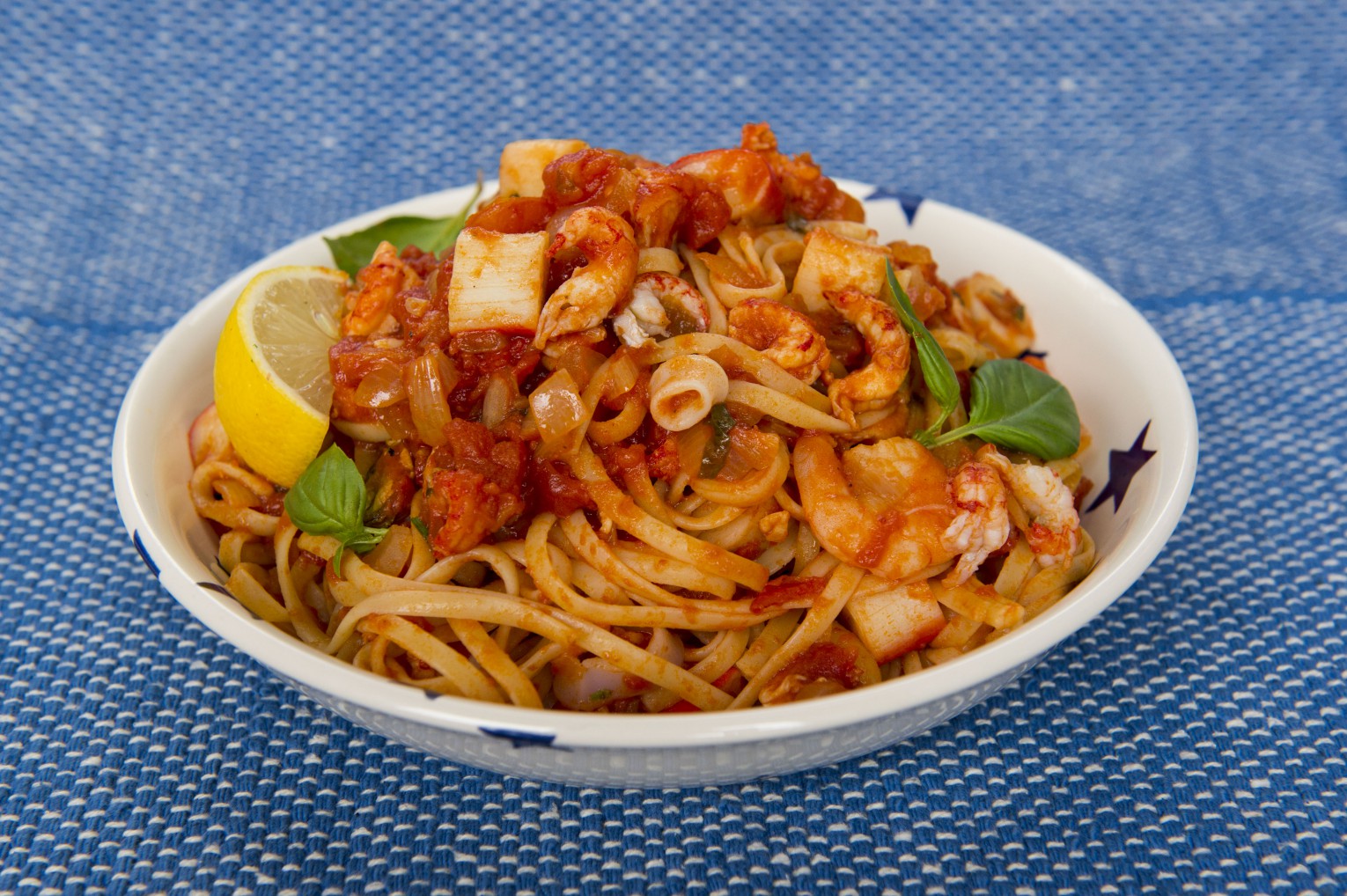 Seafood pasta
Prep time: 16-20 minutes
Cooking time: 20-25 minutes
Serves: 4
Ingredients
1 pack seafood mix
400g long pasta eg linguine
2 white onions
2 cloves garlic
2 tbsp tomato puree
handful fresh basil or 2 tsp dried herbs
three tins chopped tomatoes
salt and black pepper
1 lemon
drizzle of olive oil
knob of butter
Method
Defrost a pack of seafood mix (if frozen).
Cook the pasta (linguine or spaghetti) according to the packet.
Meanwhile finely chop the onions and garlic, then frying butter and olive oil till softened.
Season.
Add tomato puree, fresh basil or dried herbs and the chopped tomatoes (can swap one tin of tomatoes for a jar of passata).
Simmer while the pasta cooks.
After five minutes stir in the seafood and heat through; add the cooked pasta and some of the cooking water, if need be, to loosen the pasta.
Season with pepper, a squeeze of lemon juice and garnish with basil leaves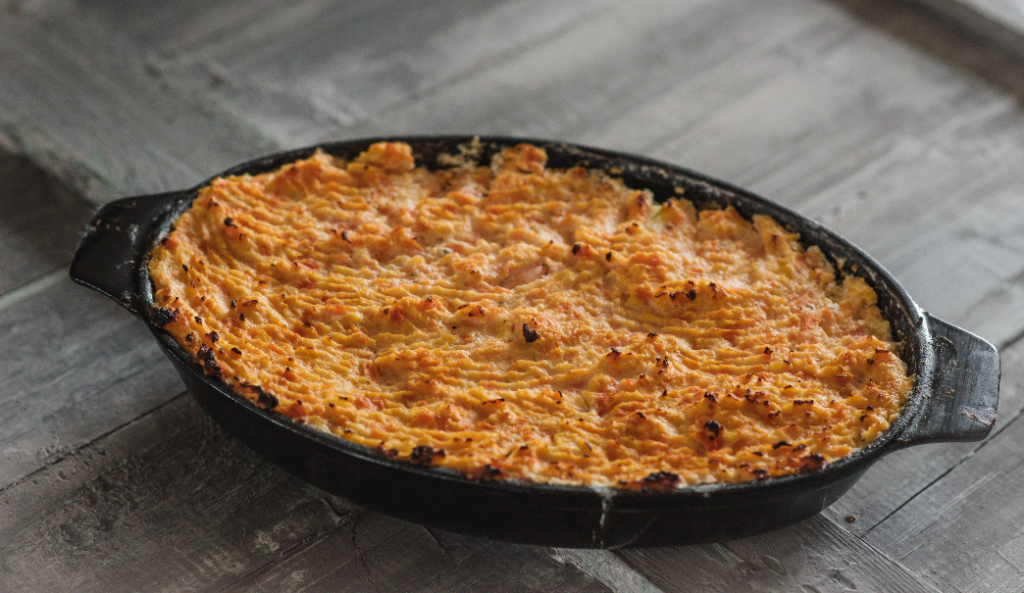 Super Swede Fish Pie
Prep time: 16-20 minutes
Cooking time: 50-55 minutes
Serves: 4
Ingredients
For the pie
200g skinless cod fillets, cooked and cut into large, bite-sized pieces
200g skinless smoked haddock fillets, cooked and flaked
300g fat-free natural yogurt
150g quark
4tbsp chopped fresh dill
2tbsp chopped fresh flat-leaf parsley
3 hard-boiled eggs, peeled and quartered
200g cooked and peeled prawns
Juice of ½ a lemon
For the topping
500g carrots, peeled and roughly chopped
500g swede, peeled and roughly chopped
1 large egg, beaten
4tbsp fat-free natural yogurt
Method
Start by making the topping. Put the carrots and swede into a large pan of boiling water and cook for 25-30 minutes, until tender. Drain, return to the pan and mash. Allow to cool, stir in the beaten egg and yogurt, season and set aside.
Preheat the oven to 200°C/180°C Fan/Gas Mark 6.
Place the yogurt, quark, dill and parsley in a saucepan and warm gently. Add the cod and haddock and cook for 5 minutes.
Place the fish mixture in a large mixing bowl with the hard boiled eggs, prawns and lemon juice. Season and mix well. Transfer this mixture to a deep, ovenproof dish.
Spoon the vegetable topping over the surface, then ruffle with a fork. Place in the oven and bake for 20-25 minutes until the topping is lightly browned.
---
For more information about Fish 2 a Week, visit the website: www.2aweek.co.uk