Celebrating under-loved seafood
Meet the fishmonger who refuses to sell the 'top 5' fish and shellfish species.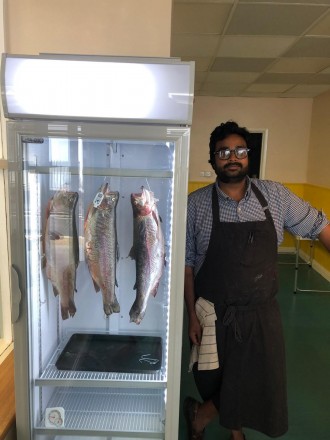 'There isn't a day that goes by when I don't get asked for at least one of the top five species of seafood (tuna, salmon, cod, haddock and prawns), but I am determined, even as a brand new start-up business, to educate our consumers on why it is important to eat local.' Aarik Persaud

Cormacks Seafood, a new fish shop based in Totnes, is one of the many seafood businesses in the UK which has turned its head to a domestic market using locally landed seafood. Prior to the Covid-19 crisis, 80 % of the UK's seafood was exported, whilst most of the seafood consumed in the UK was imported.

Aarik explains the premise of his business: 'We exclusively sell seasonal, locally caught day boat fish and shellfish, with one exception, ChalkStream trout, which is farmed using organic feed in freshwater ponds. We have been running as a seafood product-focused business since 2018 and have always only bought from small-scale fishing vessels that use traditional fishing methods. These fishermen are the backbone of coastal communities and are custodians of their small patch of the sea.'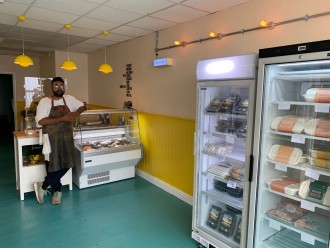 Aarik has over 20 years' experience working as a chef. He has led kitchens across the world, such as Toronto, Sydney, Bali, Hong Kong, and London. In Asia, Aarik owned a series of butcheries, which operated on a nose-to-tail mantra of using the whole animal. Furloughed during lockdown from his executive chef position in a high-end restaurant in Soho, London, Aarik was determined to get back to work and so developed the plan for Cormacks.
At the shop, Aarik brings his culinary experience and knowledge to transform the seafood into a range of ready to cook products. 'There are some amazing parts of a fish which are often discarded, such as the cheeks, ribs, and head. I think the seafood industry does need a shake-up. We have been eating plain battered white fish for too long. Don't get me wrong, it is great, but where are the new seafood products?'
Cormacks Seafood started its life a few years back; canning day boat mackerel, marinated in international sauces, such as miso ginger, Korean BBQ, pastrami spice and puttanesca. Having the shop allows Aarik to build and develop a far more extensive product range. The fridge is always stocked with a range of products that have been given a bit of additional flavour – jerked cuttlefish, hake stuffed with harissa and couscous, trout en papillote, to name a few.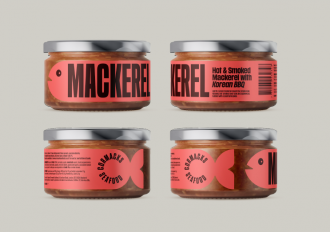 The frozen food products Aarik makes include soy and yuzu infused katsu fillets, inspired from his many years of eating Japanese curry in small 'mom and pop' restaurants across Asia, Fish'n'Chip fish fingers, first born in one of Aarik's restaurants in Hong Kong, as well as a Brixham Lobster Mac and Cheese. He also has a salt fridge which is used to dry age the larger fish, reducing the moisture content and concentrating the flavour.
'For me, one of the most important things that I can do is to show my local community the importance of supporting their local fishing fleet and teaching them about the abundance of fresh, delicious seasonal seafood that is landed right here. We are fortunate enough to be able to access seafood that is fresh off the boat, so why would I promote anything else?'
---
Cormacks Seafood opened on 28th July 2020 at Unit 11, The Plains Shopping Centre, Ticklemore Street, Devon. The opening hours are Tuesday (12 – 5 pm), Wednesday – Friday (9 am – 5 pm), Saturday (9 am – 1 pm)
www.cormacksseafood.co.uk