Small but perfectly formed
Legendary worldwide for their sweet flavour, Cromer crabs have been a prized Norfolk delicacy for decades. Local crab fisherman John Davies explains why.

Crabs come in many shapes and sizes and can be prepared in even more ways, but it's hard to beat a crab from Cromer, simply served up in a crusty brown-bread sandwich.

Justifiably famous worldwide, and practically required eating in north Norfolk, Cromer crabs are renowned for their sweet, delicate flavour and their higher proportion of white meat to dark. Local hero Delia Smith raves about them; Stephen Fry famously campaigned for them. So why are they so special? Well, that's hard to say.
It's not the species. Cromer crabs are the same brown crab, or Cancer pagarus, that's found all around the UK. It's not their impressive dimensions, either. In fact, they tend to be on the small side: Cornish brown crabs are substantially bigger, for example. But that could be part of their secret: they are thought to be particularly slow-growing, which might allow them to fill their shells with meat more completely, and indeed more sweetly.
Intriguingly, while other crabs are sold by weight, Norfolk crabs are sold by numbers and counted in units of two, known as "casts". Clearly, size isn't everything.Environment could be another factor. Cromer crabs live on a chalky, flinty reef that lies just offshore, where there is less mud than in many other UK coastal locations. The same environment supports a high proportion of similarly "clean-living" smaller crustaceans, molluscs and bivalves, on which the crabs feed.
"I always maintain that our crabs are the best because of the chalk and flint seabed, and also the shallow water," says John Davies, who has been catching crabs here for 35 years. "A lot of other crabs are caught in deep water where the water pressure affects them. And it's often said that chalk stream-caught trout have a superior flavour to reservoir trout because they live in a natural environment with clean water. Of course I am biased…"

John is part of a tradition here that goes back centuries. It's even mentioned in an early guidebook, published in 1800, which mentions that "lobsters, crabs, whiting, cod-fish and herring are all caught here in the finest perfection". Crabbing was just the summer fishery in those early days, switching to drift-netting for herring in the autumn and long-lining for cod, plaice and skate in the winter. By 1887, there were 450 men and 94 boys fishing for a living in Sheringham and Cromer – a huge number given that the combined population was only 2700.

Back then, the beaches to the east and west of Cromer pier were crowded with fishing boats. Much has changed since, particularly in the last 30 years or so. Most of the fishing has fallen away, leaving only crabbing; and where there were once 150 crabbing boats in Cromer, now there are only a dozen or so. The crabbing season has grown, though, and now lasts for eight months of the year, from March to October, peaking in May and June and declining slightly in July and August, when the crabs breed, moult and grow new shells.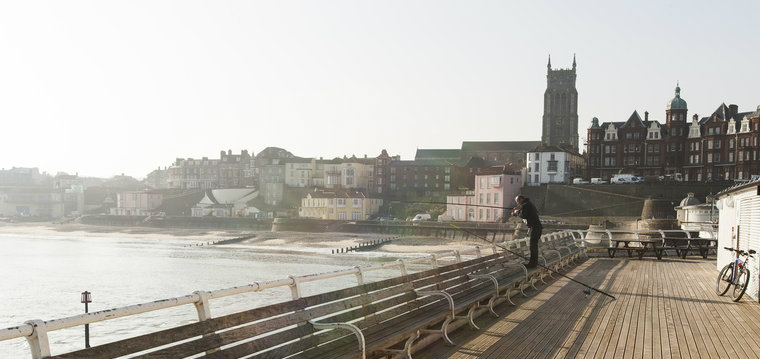 But much has stayed the same too, notably the fishing techniques which have hardly changed since "modern" creel-style pots replaced hooped nets 150 years or so ago. Typically baited with pretty ripe gurnard or plaice (the stinkier the better) brought in from Lowestoft, the pots are highly selective, with very little by-catch – and all the pots are checked anyway, one by one. Fishermen are banned from catching "berried" (egg-carrying) hens, which in any case tend to dig themselves into the seafloor; recently moulted crabs with soft shells; and any crab less than the minimum size limit of 115mm.
"Just as it's always been done, we check the crabs by hand to make sure they're the right size and if not, they're back over the side," says John who works up to 1000 pots, typically 200 to 300 every day. "It's sustainable fishing – we feed the crabs, we throw back the small ones and we do it again."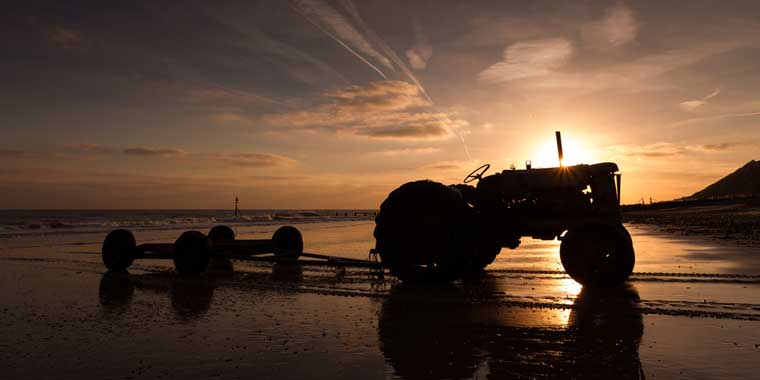 It's hard work. The pots are fished in strings or "banks" of between 20 and 30; none of the boats are fitted with mechanical haulers so the gear is hauled by hand. John's day can start as early as 1am to catch the tide. He and his two-man crew launch their boat from the open beach in darkness and watch the sunrise at sea. "I think we catch the best time of the day," he says. "When there's barely any wind when the sun rises from the water when all you can hear is the waves, there's nowhere in the world I'd rather be."

Some days he hugs the shore, sometimes he'll travel almost 12 miles out to sea in search of the lobsters that live on the wrecks that dot the north Norfolk coastline. "I look on this coast like a farmer looks at his field," he says. "A farmer knows what grows well in certain places and when to harvest; and I know exactly what the seabed is like and where we need to be at what time. When you've been to sea for as long as I have, it's instinct."
John and his crew returns to the shore at 10am, normally to an audience of delighted tourists who watch his boat hauled ashore by tractor. "The job makes you anti-social, because on those light summer evenings we're in bed by 8.30pm while everyone else is out at barbecues. But I love it."
Once landed, the crabs are taken to be boiled and dressed before being sold at the family fish shop, run by other members of the Davies clan. John's son helps in the shop, but doesn't want to follow his father to sea. "It's either for you, or it's not," says John. "My own dad didn't want to go to sea, but in those days you did what you were told. He was seasick every day for two years. I never wanted to do anything else. My teacher told my parents: 'there's no point in teaching him anything. He just wants to be on the sea'."
But there are few young people around now that feel like John did, he says. "It's a worry because the youngsters aren't coming through. There's a lot of red tape. And they need a customer base that they just won't have unless they're following in a family business or they buy another business. For the Davies family, it could be the end of the line for us at sea. But things have to change, times move on."

Such changing times hit the area hard a couple of years ago when, despite a vocal national campaign led by local boy Stephen Fry and other celebrities, Young's closed its big processing plant here with the loss of 230 jobs. That dramatically reduced the availability of Cromer crab, leading to one supermarket causing consternation in the area by stocking Cornish crab in a local branch.
A local producer has since expanded to fill the gap and large-scale production has returned, bringing much-needed jobs with it and widening distribution once again. Even so, freshness is all, and nothing beats buying just caught, cooked and dressed crab at the source. Try it any one of Cromer's dozens of local stalls and cafés, or at John's own fish shop.

---
Davies' Fish Shop, 7 Garden Street, Cromer, 01263 512727, sells Cromer crab caught daily by the Davies' own boat in the waters around the Norfolk coast, cooked and dressed on the premises and also sells lobsters, cockles, whelks and a range of wet wish. Many thanks to The Cromer Museum for historical image.
Also See: