Flashing blades
Every September for more than two decades, professional shuckers and chefs from around the country have battled for the title of British oyster opening champion, to celebrate the opening of the native oyster season. Mike Warner watches the craftsmen at work.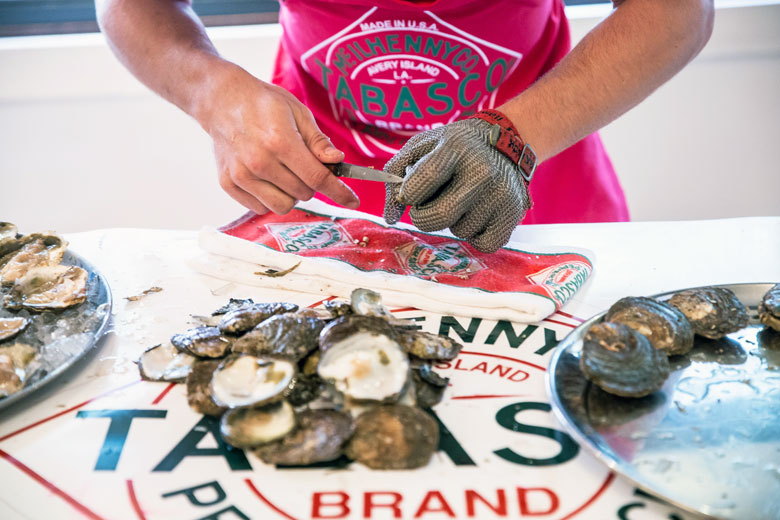 Oysters do it for me, big time. I reckon they're some of the finest, most flavoursome, most hedonistic seafood in our waters. So when I was invited along to this year's Tabasco British Oyster Opening Championship, not only to witness the crossing of battling shucking knives but also to sample a plate or two of the finished product, it was too good an opportunity to miss.
So I made haste to Mark Hix's altar of seafood in Brewer Street, Soho, where battle lines were to be drawn this year. Here, 18 accomplished "shuckers" would thrash it out for the kudos that comes with such shellfish mastery, plus a trophy, cash prize and a place at the World Oyster Opening Championships at the the legendary Galway International Oyster & Seafood Festival later in the month.
Hosted by the inimitable Brian Turner, the British competition attracts the very best in the business. Most of the top London oyster houses are represented here, including Scott's, Wright Bros, Hix Soho and plenty more. Brian is no stranger to the event, having presided eight times in its 24-year history. A lover of oysters himself, he tells me that he particularly delights in the Porthilly, grown in the nutrient-rich waters of Cornwall's Camel Estuary.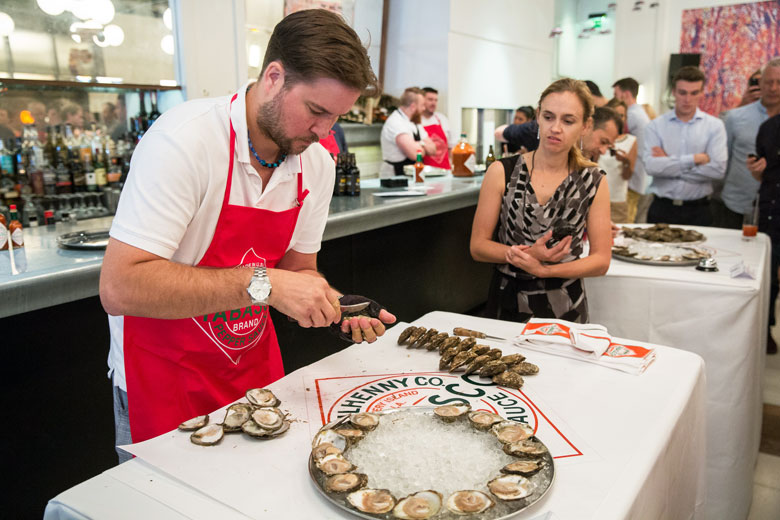 As the restaurant fills with expectant spectators – guests and supporters both – the atmosphere builds, and the apprehension and excitement is etched on the competitors' faces. I ask Fredrik Lindfors of The Fish Shop at Kensington Place in Notting Hill (last year's champ) to explain just what's involved.
"We have to concentrate on quality," he explains. "We must shuck, turn and present 30 oysters as quickly as possible." A time below four minutes is a good round for a professional oystermeister – that's less than eight seconds per oyster. But presentation is every bit as important as speed: any contamination with shell, or damage to the meat, or other such heavy-handedness attracts stiff penalties from the eagle-eyed judges. "My best time was 2 minutes 52 seconds in Gothenburg, although they weren't turned," says Fredrik, who is by now clearly focused and approaching an almost Zen-like state.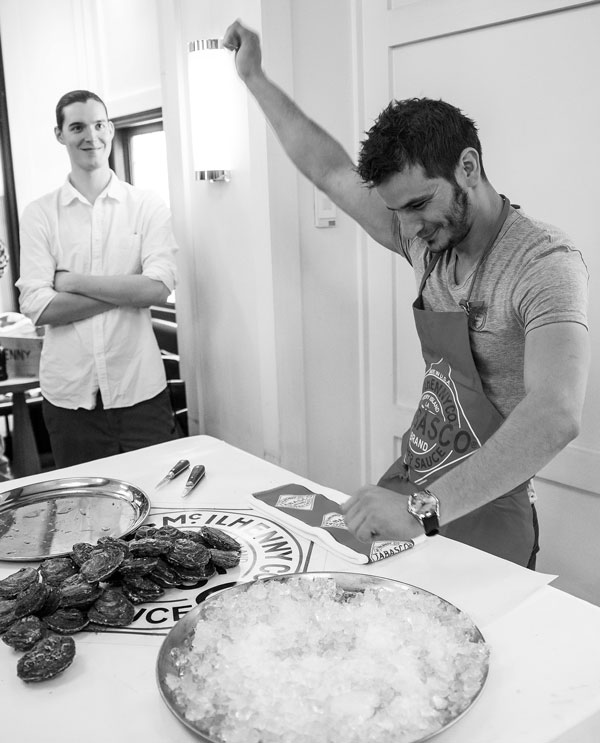 The excitement of the occasion isn't lost on Wilton's Filippo Salamone, even though this is his fifth time at the competition – and indeed he has been opening oysters virtually every day for the past 11 years. Unlike Fredrik, who curiously isn't that keen, Filippo loves an oyster, preferring to quaff them simply, with lemon and black pepper. He particularly relishes the unique flavour of the native, which he finds far more alluring than your average Pacific rock. "I delight in the oyster," he beams. "The sheer joy of their opening brings my senses alive. The zing of the saltwater and the tang of the ozone makes me want to swim in them!"
Suddenly, it's competition time and the first batch of shuckers take their places at the tables, methodically arranging their oysters according to their personal technique. MC Turner explains the rules to the competitors, who listen with knives poised, as their supporters crowd round. And then they're off: tongue-biting concentration on contorted faces, blades plunging twixt hinges, while time-keepers stand by.
As the competition bowls along, shells clicking, the pace quickening, the keenly observing throng enjoy feisty Bloody Marys laced with the sponsors' trademark fiery sauce. The first competitor to shuck their final oyster rings a bell to stop the clock, and the plate is whisked away to be closely examined off-stage by the judges: Chris Leftwich, recently retired as Chief Fisheries Inspector of the Fishmongers' Company, one of the Twelve Great Livery Companies of the City of London and the co-founder of Fish on Friday, among many other things; David Jarrad, Director of the Shellfish Association of Great Britain; and Mike Berthet, Fish and Seafood Director of M&J Seafoods. Technical flaws can add a time penalty of 30 agonising seconds to the scoresheet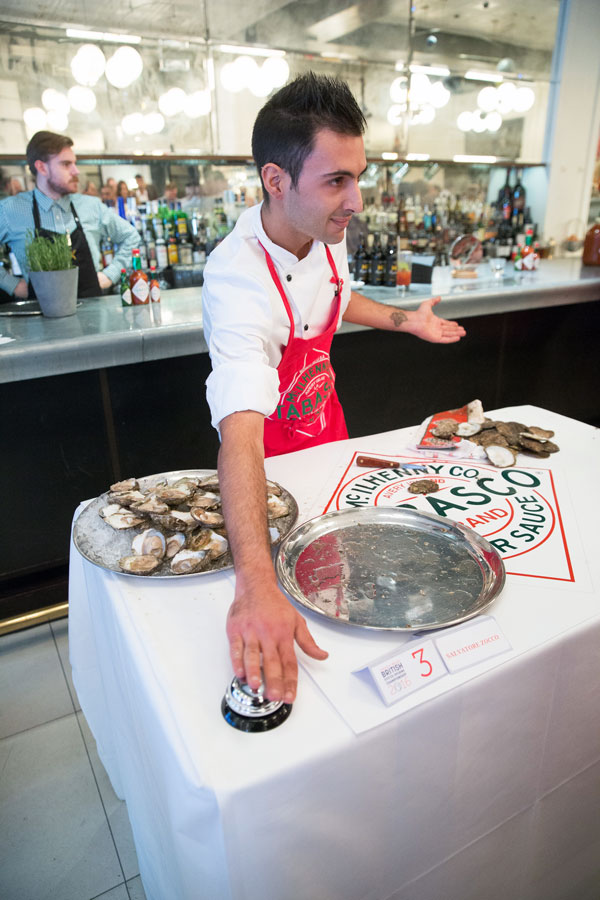 I spy Suffolk oyster farmer and fishermen Bill Pinney among the waiting hopefuls, aproned and pensive. It's the second time he's competed in eight years and although a mine of seafood wisdom and experience, he looks on in awe at the speed and dexterity of the younger generation. Bill is due on in the third round. I promise to cheer heartily.
In between bouts, I'm treated to an exhibition of oyster preparation by Neil Reader of grower and supplier Rossmore Oysters, who produces a plate of natives for my own delectation in lightning speed. I knock back a half dozen, the initial saline rush backed up by the most incredible sweetness. Wonderfully flavoursome and now just in-season (from 1 September), these Scottish treasures from Loch Ryan are sustainably harvested as the water cools into the autumn, and distributed throughout the UK.
After the final round, a somewhat exasperated Chris Watts from Balthazar explains to me that three of his oysters had cracked shells. "It makes it harder," he says. "The softer shell of the native means a crack can make opening more difficult, sometimes producing splinters. You always hope that they've identified any cracked ones before they give them to us, but they're often tricky to spot."
Judging over, the scores are tallied and, to my delight, the plates of the contestants' oysters reappear for us to consume – some 420 in all! Brian Turner calls everyone to order and a hush descends as the scores are revealed. It's tight. Joint third come Katalin Juhasz (Wright Bros Borough) and Michael Heins (Scott's) on a highly respectable 4 minutes 28 seconds. Ahead of them by 16 seconds is the ebullient Filippo Salmone on 4:10. But cruising to successive titles is the masterful and unassuming Fredrik Lindfors in an incredible time of 3:10.
Clearly delighted to have won, Fredrik admits that the competition was tough. Head judge Chris Leftwich agrees. "The calibre of talent was really impressive, in a strong field of competitors," he says. "Fredrik not only achieved the fastest time but also an outstanding presentation."
I'm impressed too. It takes skill and confidence to open oysters at any time, as my own rather lame and occasionally fraught efforts have proved. To be able to replicate the action time after time in a charged competitive atmosphere takes a rather special kind of gift. Bravo to Fredrik, and indeed to all. I shall look at an oyster slightly differently and with even more reverence from now on.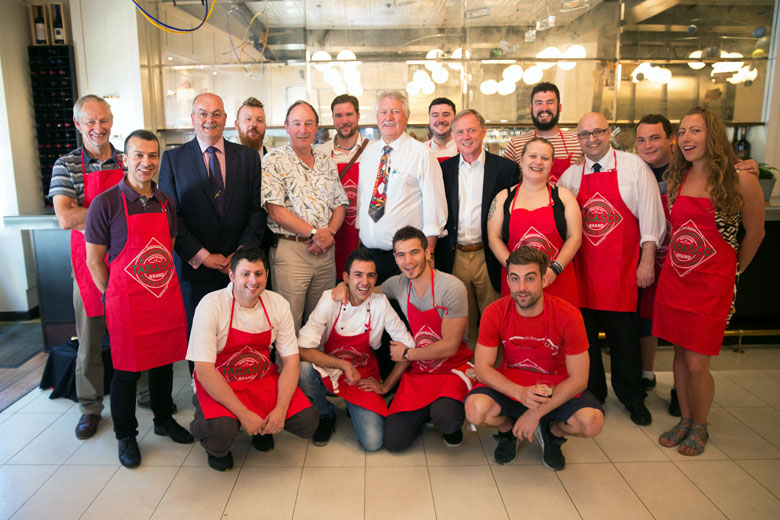 Mike Warner is an ardent seafood fan who blogs at A Passion for Seafood. He is based in Suffolk and finds inspiration from the diversity of life in Britain's inshore and shallow seas. Mike is a supporter of the under-10m fishing fleet, advocate of sustainably caught fish and shellfish, and fount of maritime knowledge.