Fresh inspiration
We're becoming ever more confident with cooking seafood at home, encouraged by celebrity chefs and what is surely a golden age for food writing. Rachel Walker leafs through a quartet of the best new cookbooks and picks out her favourite seafood recipes.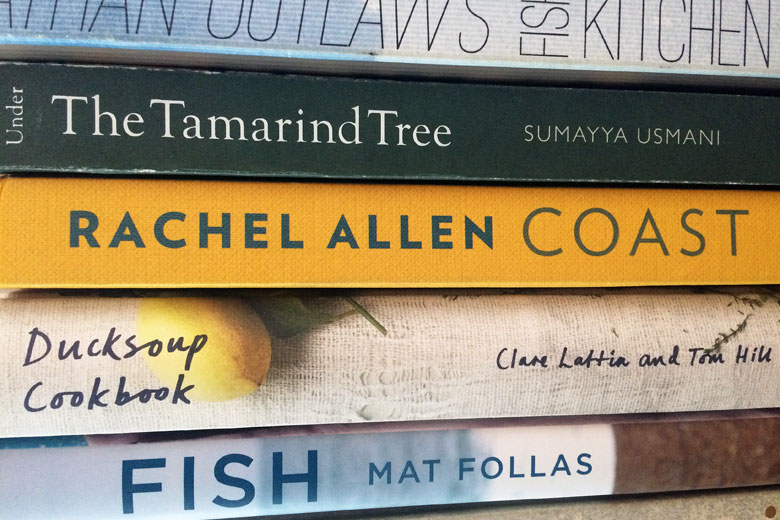 1. FOR EVERYDAY COOKS
Everyday Seafood: From the Simplest Fish to a Seafood Feast, 100 Recipes for Home Cooking
By Nathan Outlaw, Quadrille
"Seafood is the best convenience food ever," begins Nathan Outlaw, in his third seafood cookbook. It's a bold statement from a two-Michelin starred chef. But the book stays true to its title, with recipes ranging from quick and simple fish dishes (pâté made from hot-smoked salmon and horseradish) to achievable seafood feasts, without a trace of foams or flurries.
Nathan Outlaw is known as one of Britain's "big three" seafood chefs (alongside Rick Stein and Mitch Tonks), with a restaurant empire that stretches from his signature restaurant in Port Isaac to Outlaws at the Capital, just around the corner from Harrods. Everyday Seafood suggests his heart lies in Cornwall, though: mussels are cooked in cider and Cornish clotted cream, and a "Cornish style" brandade uses local smoked haddock and saffron. "It may upset purists," he chuckles in the recipe introduction. "But who cares – it tastes really good!"
This is a proper 21st-century compendium, which acknowledges classic fish pies and retro fish finger rolls, and offers fun twists, such as Scotch eggs made with crab meat, and cod and ox cheek stew. It also captures the current enthusiasm for kitchen skills, with sections on pickles, barbecues and "bowl food": colourful chowders, stews and soups. Year-round inspiration for anyone lucky enough to live on the coast or near a decent fishmonger.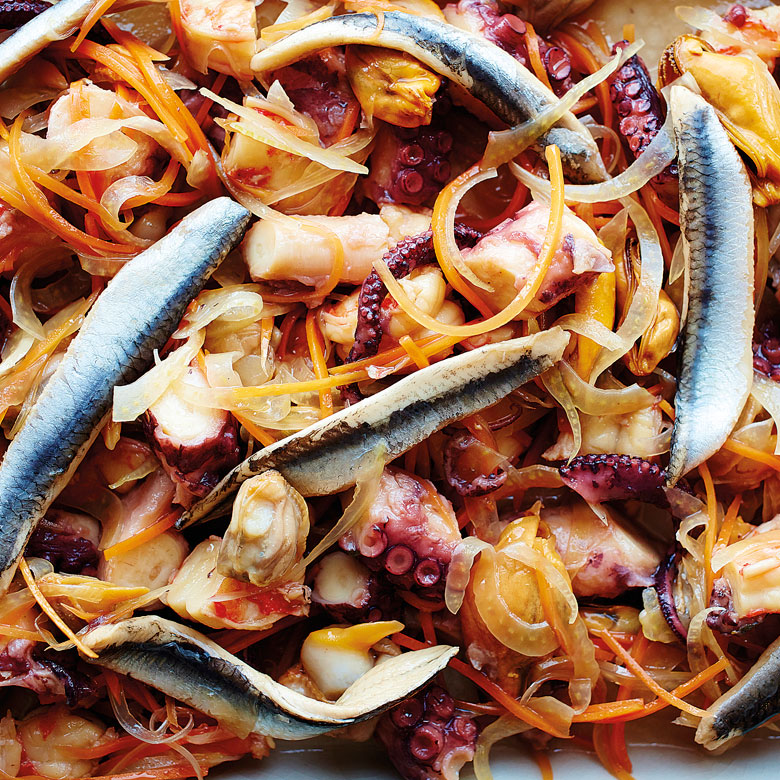 2. FOR HIP COOKS
Ducksoup Cookbook: The Wisdom of Simple Cooking
By Clare Lattin and Tom Hill, Square Peg
Ducksoup is a misleading title for a cookbook containing heaps of mouth-watering seafood recipes: its name comes from the Soho restaurant launched in 2011. This teeny gem was an early adopter of the short, handwritten-menu, along with BYO vinyl and small sharing plates, which are reflected in the recipes in its debut cookbook.

The restaurant menu only lists the dish components, to emphasise how ingredients take priority over swizzy cooking techniques. The same goes for the recipes here, such as charred fennel, mussels, cockles and fregola, and razor clams, wild garlic and lemon. The recipes are well-written and mostly straightforward: their elegance comes from the fresh flavour combinations and beautiful plating, captured by photographer Kristin Perers and explained in careful detail. There's a useful essay "On presentation", too.
The opening chapter, "The Ducksoup Larder", sets the tone: unwaxed lemons, tahini, za'atar and freekeh are listed amongst the "go-to" ingredients. While the more economical cook might resent having to spend a fortune to make a dish from scratch, those whose store cupboards are already overflowing with such ingredients will relish the opportunity. Other chapters are grouped together by the length of time needed to recreate the recipes. Dorset crab, tomatoes, monk's beard and caper mayonnaise is listed under "A Little More Cooking", while cured salmon, buttermilk, shaved radish and dill, and the salt cod recipe pictured below, come under a tantalising selection of "Quick Things".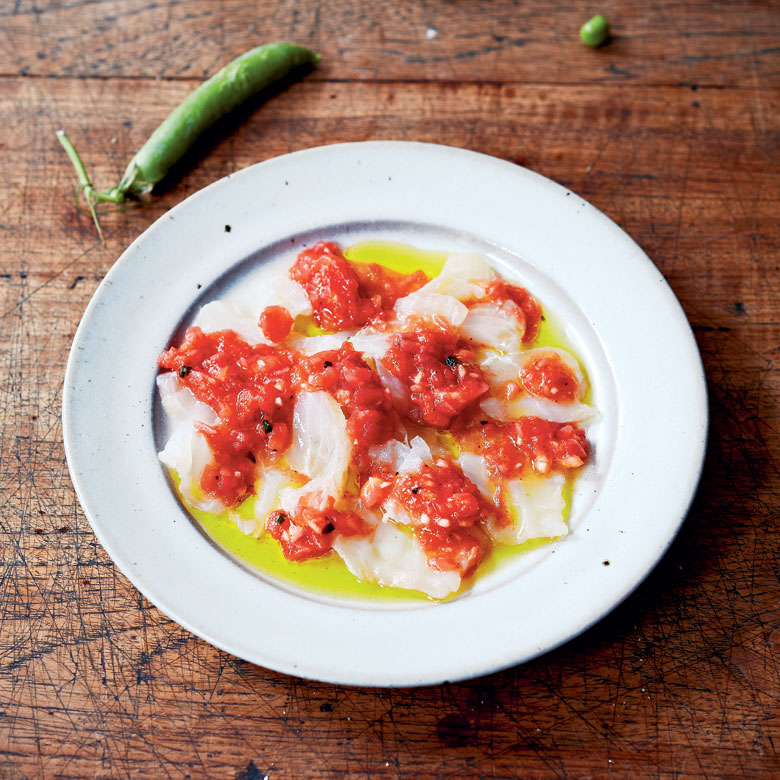 3. FOR OUTDOOR COOKS
Grill, Smoke, BBQ
By Ben Tish, Quadrille

Thought that BBQs were all sausages and steaks? Think again! This debut cookbook from Salt Yard chef Ben Tish is crammed with delicious seafood recipes: barbecued brill, grilled crab, lobster and octopus, as well as smoked cod and charred cuttlefish.

It's a serious looking book: serious title, serious diagrams, serious photography. But it's aimed just as much at amateurs as ambitious barbecuers. The book begins with a brilliantly comprehensive guide, which starts with the basics on how to pick a barbecue, then goes on to discuss charcoal, as well as helpful cooking tips. None of it encourages a big spend. "Start with some simple, functional kit," Ben advises, listing a sturdy fish slice and fish grilling basket in a reassuringly concise list of accessories.
Most of the seafood recipes grill fish or shellfish straight over coals, basting it with all manner of creative sauces from chilli-spiked marinades to seaweed butter. The breadth of recipes throughout the book mean there's plenty to graduate on to, having mastered the basics – like the unexpected chapter on barbecued breads, which features a recipe for flatbreads with garlic and rosemary pesto and anchovies.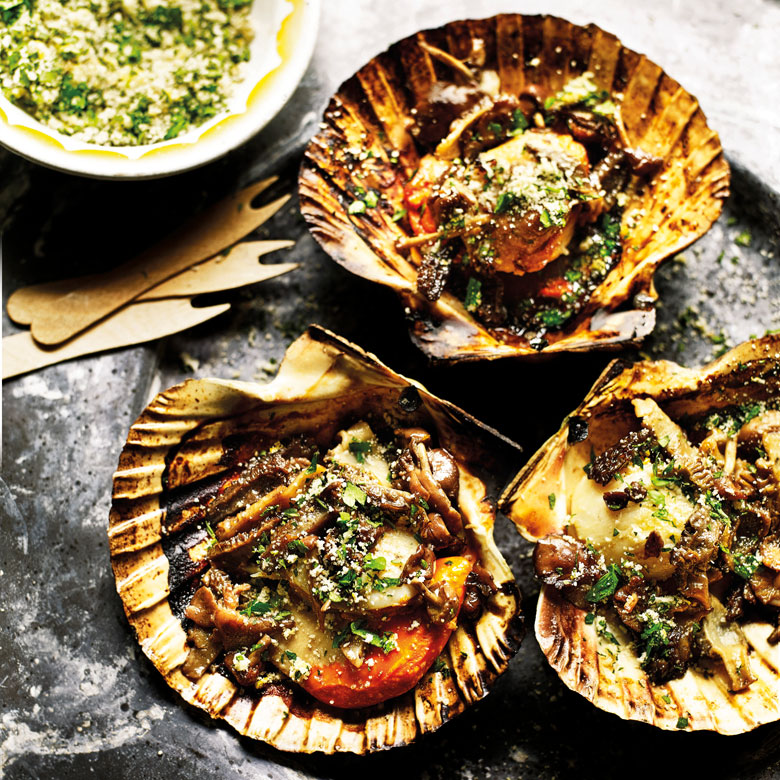 4. FOR SPICE-LOVING COOKS
Summers Under the Tamarind Tree: Recipes and Memories from Pakistan
By Sumayya Usmani, Frances Lincoln

Pakistan curry houses are well established in Britain. But the singularly hot dishes are miles away from the delicately spiced, nuanced recipes in Sumayya Usmani's debut cookbook, which features a whole chapter dedicated to seafood: green masala fish, prawn biryani, lemon pickle fish…
Sumayya reminds readers that Pakistan's capital, Karachi, is built around an enormous port: "A lot of the city's activity and recreation, not to mention its food, revolves round the sea." When I interviewed her before the book launch, she explained how childhood memories underpinned a lot of the recipes, from weekend night-fishing trips at Kemari Jetty to seafood biriyani on Seaview Beach.
Childhood photographs create a sense of nostalgia, and other images taken round Karachi reiterate the authenticity of the recipes. The fact that there's no dumbing-down means a bit of canny sourcing is required (carom seeds, anardana dried pomegranate, amchoor dried mango, kalanamak black salt). It's also worth paying attention to the guide of traditional techniques before starting. The extra effort pays off: the result is delicious, richly flavoured seafood.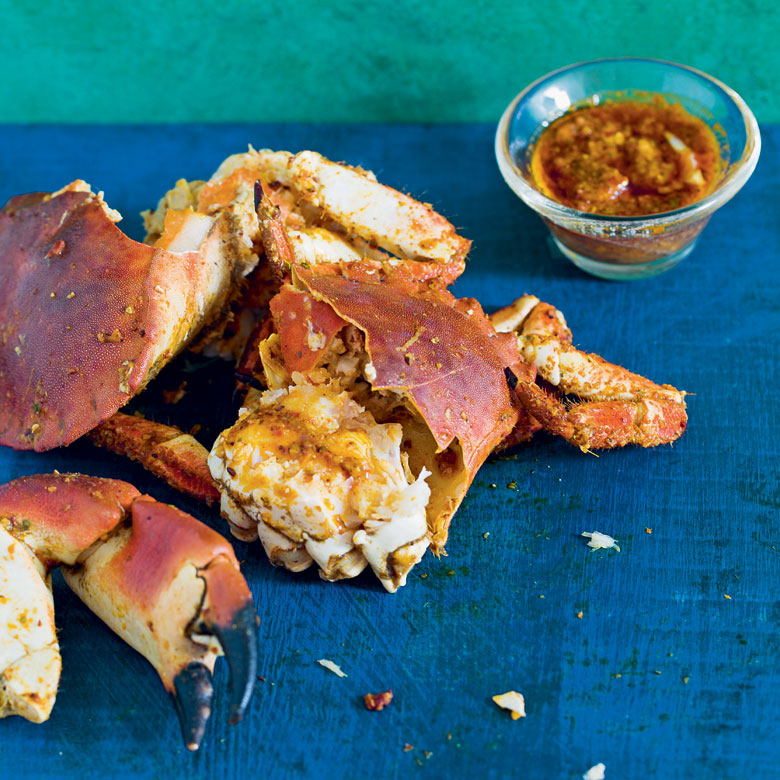 ---
Keep your eyes on the website for the second part of our round-up, including Coast by Rachel Allen, A-Z of Eating by Felicity Cloake, Basque by Jose Pizarro and The Nordic Kitchen by Claus Meyer, coming soon.