From pot to plate
Mike Warner finds out what it takes to catch and prepare the famous Cromer crab, and whistles up a cracking recipe that shows its uniquely sweet meat to perfection.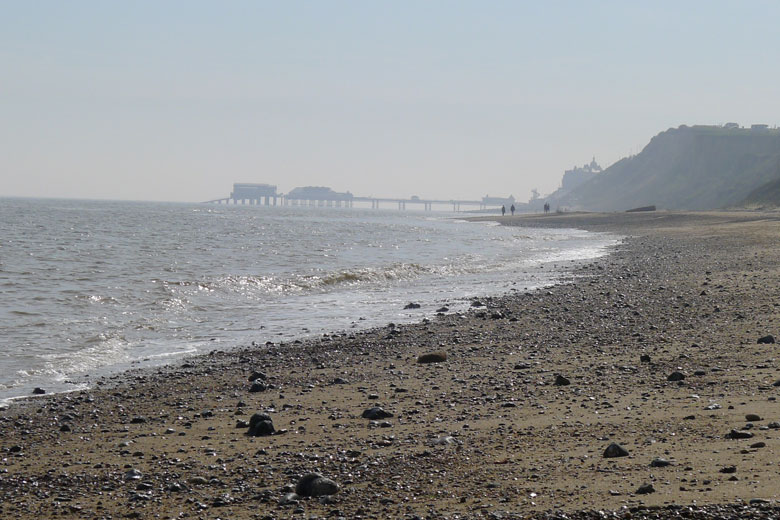 Standing on a picturesque, deserted beach in East Runton, on a deliciously warm and serene May morning, I realise that few places exist where such a potentially harsh working environment doubles as a destination for carefree seaside holidays.
But a workplace this beach very much is, and I'm scanning the horizon for signs of David and Simon Bywater's "Leeson Lady" YH12, an 8.5m catamaran, as she works her way homewards through the forest of dahns, or buoys, that mark the crabbing grounds of this iconic and historic part of the North Norfolk coastline.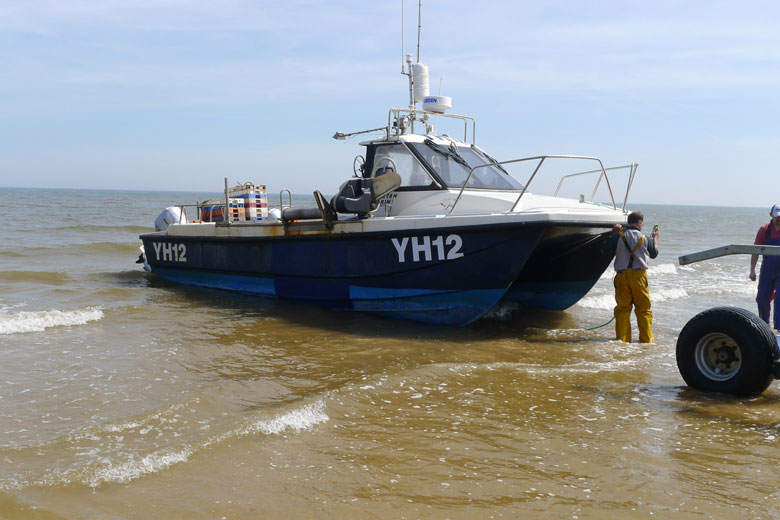 I catch sight of her, moving back and forth about a half-mile out as she hauls her gear. Although they're out for lobsters too, the main quarry for these two enterprising brothers is the famous Cromer crab, its sweet white and brown meat known all over the UK and beyond, featuring on smart city menus and seaside stalls alike.
The Bywaters' vessel comes right up on to the beach, and Simon jumps off the bow and wades back to shore to fetch the tractor. Working together in a well-oiled routine, the brothers winch the boat on to her cradle, and tow her back to the staithe, where they unload their catch into David's truck.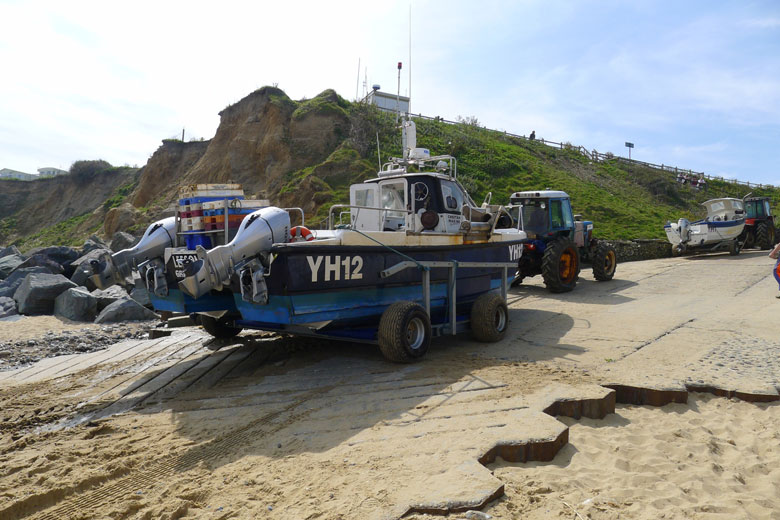 This morning's trip has yielded seven boxes of prime crab and one of very saleable lobsters from a haul of about half of their gear: around 400 pots fished in "shanks" of 20. Baited with frozen scad or fresh flatties, the mainly 38-inch parlour pots stretch over the ground for up to nine miles offshore, on the hard bottom chalk reefs that are said to give Cromer crab its special flavour.

"We're in the process of moving to the smaller 34-inch pots," says Simon. "They're lighter and easier to handle, and they fish just as well." Even with state-of-the-art hydraulic hauling gear, each trip requires a huge amount of physical human effort, taking its toll on muscles and limbs.
We head back to David's yard, an old piggery, converted into a neat unit complete with workshop, stores and processing plant, where crabs from their own and about five other Cromer boats are sorted, boiled, dressed and packed, mainly for wholesale.

The brothers moved to this site in 1999, but as we chat its clear that this is modern history for the Bywaters, who are steeped in the traditional ways of East Anglian inshore fishing. "All three boats now fishing out of East Runton are family owned," says David. Out of a current family group of five, four are still fishing (three brothers and David's son) with another brother surrendering a life afloat to become a bus driver.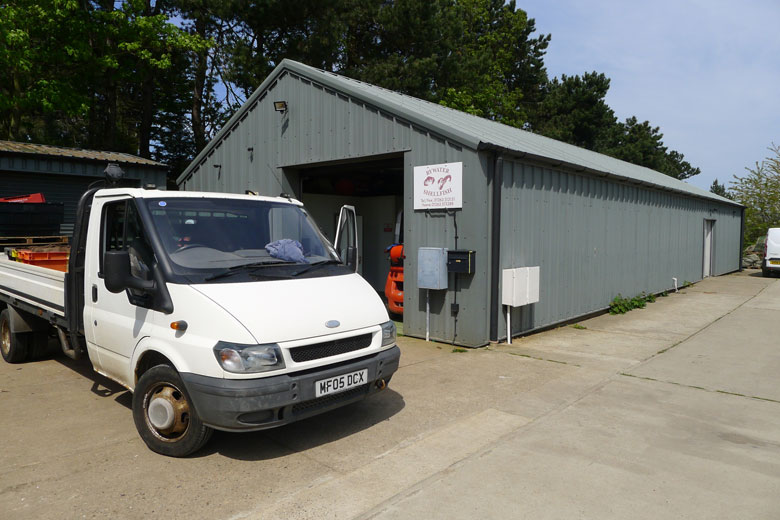 "I began fishing here in 1972 and in those days our boats and pots were both wooden," says David. Back then, the seasonal crab fishery was bolstered by the equally seasonal herring and cod, with the Bywater clan operating a bigger vessel, longlining out of Lowestoft until only recently.

But the North Sea herring ban, introduced in 1977 to address collapsing stocks from over-fishing, ended their fishing for herring. "We used to drift for them and make good money in the autumn, reverting to longlining for cod in the winter months," says David. "When the herring went and quotas for cod were enforced through the Common Fisheries Policy, we started fishing for crabs for longer, and what was previously a seasonal species became a necessary catch all year round.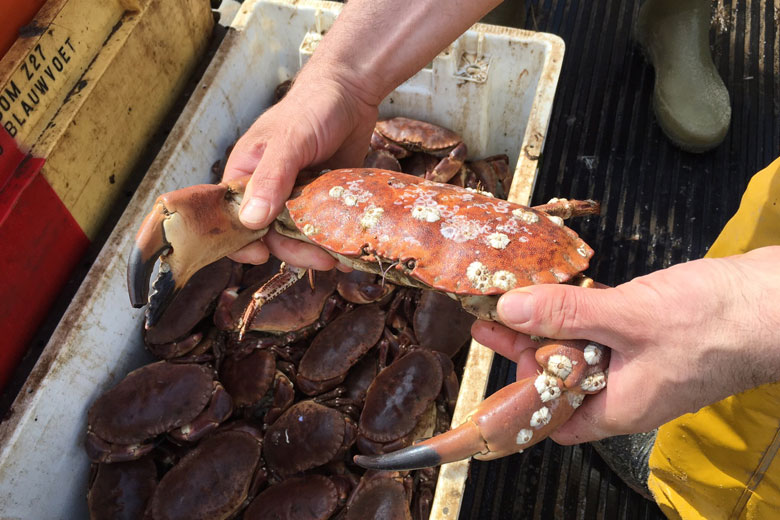 "We have five staff working here now. Over the course of a year we're able to process up to 95 tonnes of crab." That's a remarkable feat for a relatively small team, when you consider the processes involved to create a perfectly picked, dressed Cromer crab, resplendently presented in its shell.

By now it's become crystal clear to me that I'm witnessing yet another inspirational example of pot-to-plate provenance, with added value being the driver, much as I saw last year in Cornwall, during my morning spent with the Dreckly fishermen at Newlyn.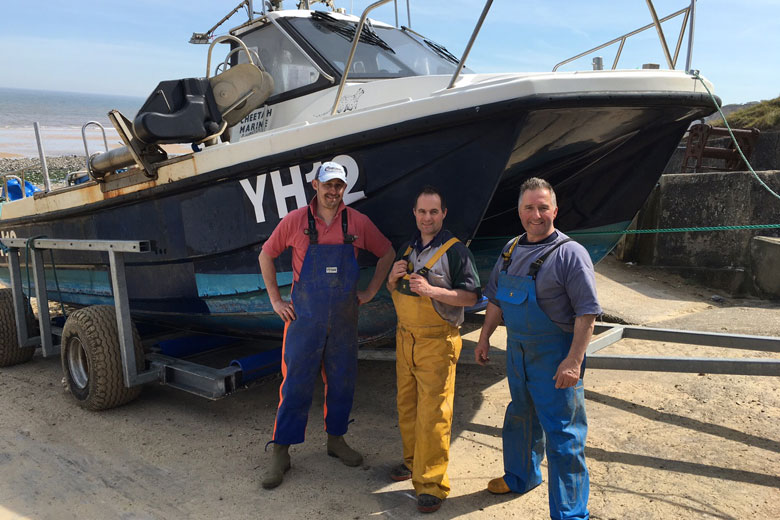 Quality is obviously a byword for the Bywaters (pictured above: Simon is in the middle, David on the right, with crewman "Tozzy" on the left). The care taken in handling the product from the deck to the depot is exemplary and with such an identifiable brand, the need to maintain standards at every level is crucial.
I ask the brothers what the future holds and what concerns they may have for the fishery. They answer with the usual concerns and gripes that dominate East Coast fisheries from the Humber to the Thames: Marine Protected Areas, wind farm activity, dredging, cable laying and invasive leisure activities, all serving to potentially reduce the area in which these artisans are allowed to operate. A message by now only too familiar to me since my first interview with Bill Pinney, nearly two years ago.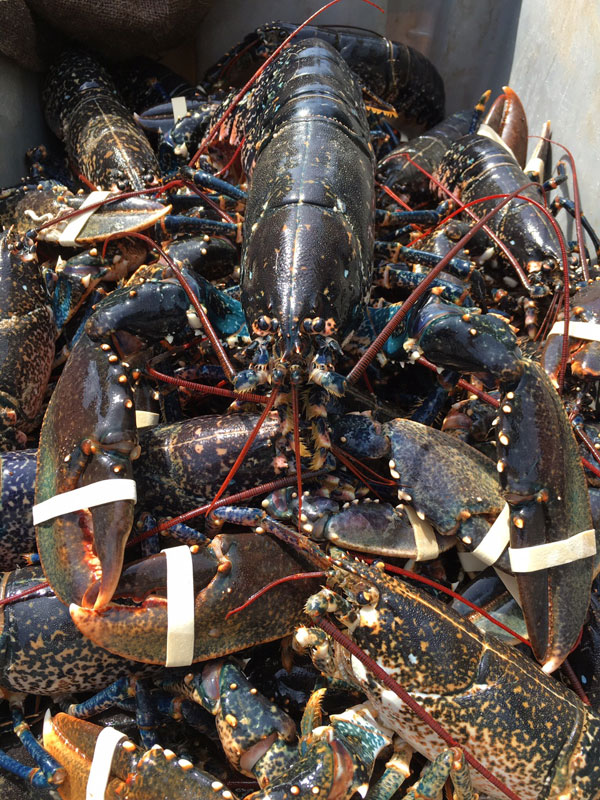 The morning draws to a close and as I make my way back to Suffolk, through the now thronging streets of Cromer, I realise what a special brand the Cromer crab is and that, thankfully, its longevity is assured, so long as fishermen like the Bywaters remain guardians of its provenance.
It's recipe time!
Funnily enough, crab doesn't really feature much on the menus in the Bywater households. An occasional beast will pass their table, but more often than not, they're content to see their produce enjoyed by others.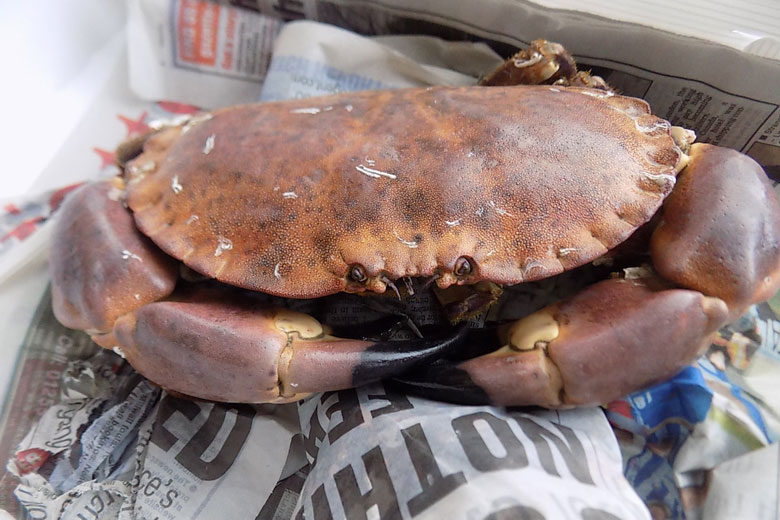 Personally, as you'd expect, I adore them and eagerly await their arrival each spring, like the return of the swallows. A simple salad is probably as good a way to appreciate them as any, but their versatility lends them to all kinds of recipes, domestic and international.
So I have invited Duncan Parsonage, the hugely talented and inspirational development chef, to wield his culinary wand and magic up something special. He hasn't let me down! Here's his take on one of my favourite breakfast recipes, but adding a spicy touch of the orient, to create an omelette to die for.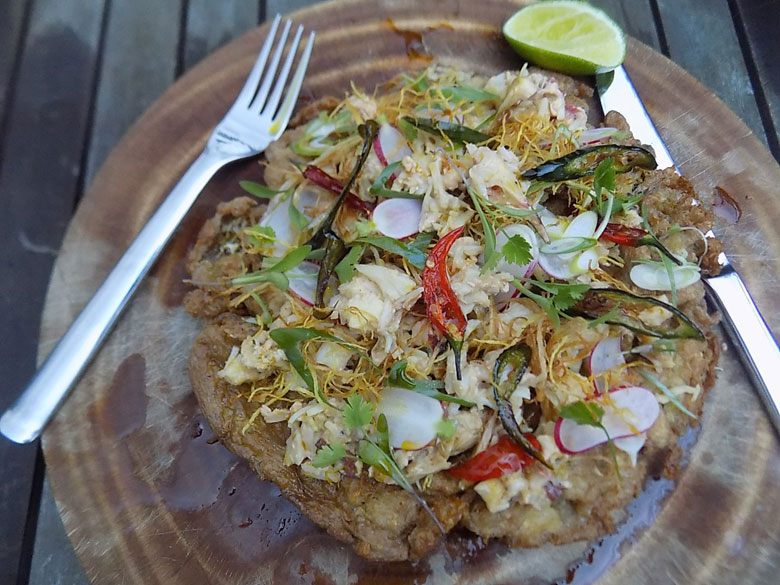 Mike Warner is an ardent seafood fan who blogs at East Coast Avocet: A Passion for Seafood, which has just been shortlisted for the Food Blog Award in the Guild of Food Writers Awards 2016. He is based in Suffolk and finds inspiration from the diversity of life in Britain's inshore and shallow seas. Mike is a supporter of the under-10m fishing fleet, advocate of sustainably caught fish and shellfish, and fount of maritime knowledge.
Also See: