Heads up
The explosion in craft brewing has sparked a renaissance in partnering food, including seafood, with beer. Lucy Bridgers explores some matches made in heaven.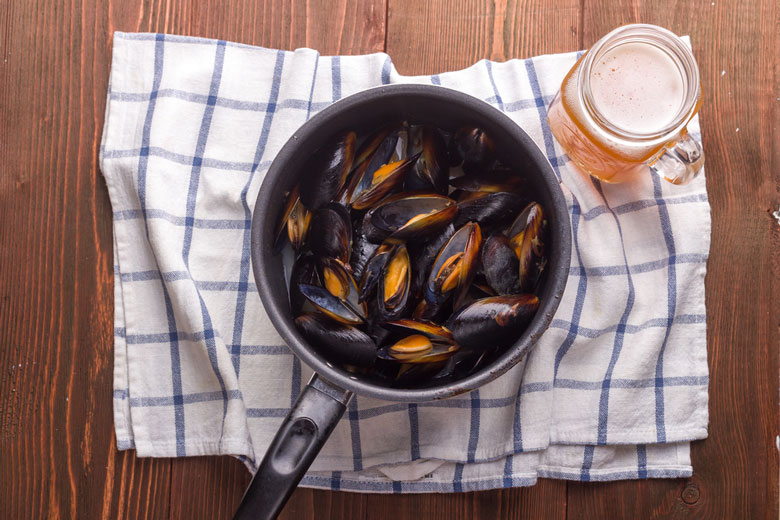 Brewing and the beer scene have exploded in recent years and even your local supermarket now stocks an array of craft beers. Like wine, beer comes in a myriad of styles and the carbonation has an invigorating and cleansing effect on the palate, making it very food friendly.
It's worth remembering that beer was drunk with food far more in the past than in the modern era: water was often hazardous, while wine was the preserve of the elite until the 20th century. Today, serving beer with food, including seafood, is undergoing a renaissance, so let's look at the different styles and a few winning combinations.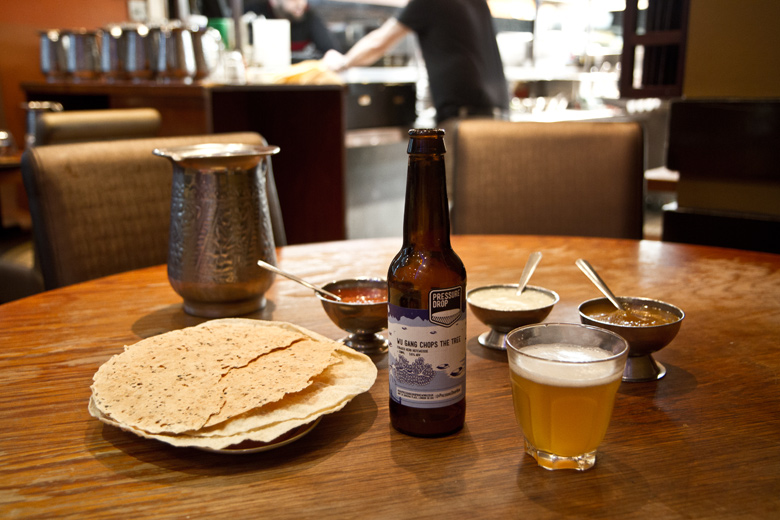 Wheat beer: light and citrussy or aromatic
If you've ever had moules, frites and mayonnaise with a refreshing foaming glass of wheat beer on a trip to Brussels, you'll know just how well this partnership works. In fact, wheat beer is probably the most useful style for seafood across the board. Often called the "Champagne of beers", it is typically light, creamy and citrussy – quite a contrast with strident dry, hoppy ales. Wheat beers are often flavoured with aromatics such as fruit and spice (Hoegaarden, for example) and quirkier ingredients such as foraged herbs (Wu Gang Chops the Tree from the Pressure Drop craft brewery in Hackney, for example) and these really help highlight ingredients in food.
All manner of seafood would be a happy match: prawns, oysters, crab and mussels, obviously. Fish steamed with herbs and spices such as coriander and ginger would chime nicely with the aromatics. This kind of beer would be my choice for mildly spiced Thai and Vietnamese dishes, too, as well as sushi with a dab of wasabi. Creamier dishes such as shellfish linguine and fish pie would also be in safe hands with the wheat beer offering a refreshing zesty contrast.
Some wheat beers have deeper yeasty flavours that can also stand their ground with richer seafood. Salmon is a great partner: raw (tartare/ceviche), cured or gravadlax would all be delicious, particularly if served with freshly baked bread to pick up the yeast notes. There are other luxurious options, such as scallops and lobster, and fish and chips works well, too – although if it's fried in beef dripping, or it has a strongly flavoured beer batter, IPA could be a better bet.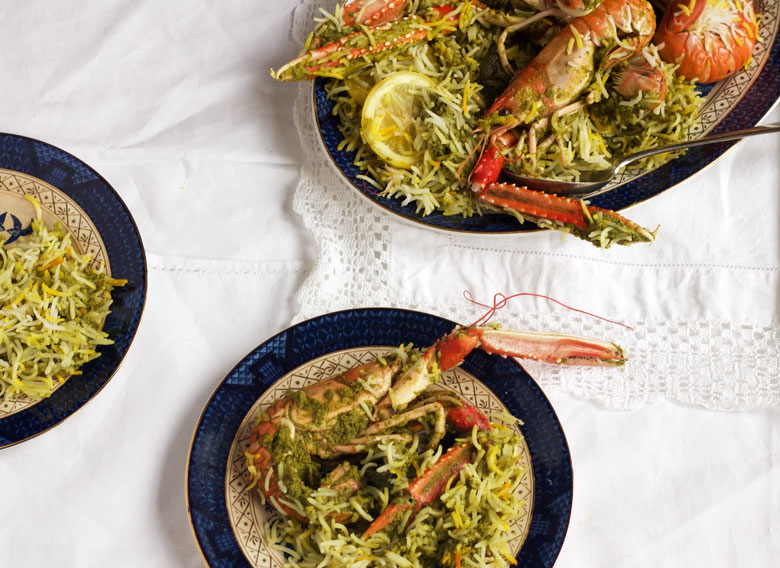 IPA: dry and hoppy
India Pale Ale, to give it the full name, is one of the most versatile beers for food generally and works particularly well with spice – so much better than the ice-cold lager that's the usual foil for such feisty dishes. (Although that said there are some very interesting lagers out there: Curious Brew from wine producer Chapel Down is wonderfully satisfying and versatile, for example.)
Southern Indian fish curries, spiced crusted fish, Thai fish cakes, salt-and-pepper squid or chilli prawns would all be great options: you need something with enough flavour and character of its own to stand up to this kind of onslaught. The hoppiness of IPA also helps cut through fattiness or richness – like acidity in wine – so it's another good choice for fish and chips. For lunch recently at the Bohemia brew pub in North London, the Upright IPA was spot on with a deep-fried soft shell crab burger with coleslaw and red chilli tartare sauce.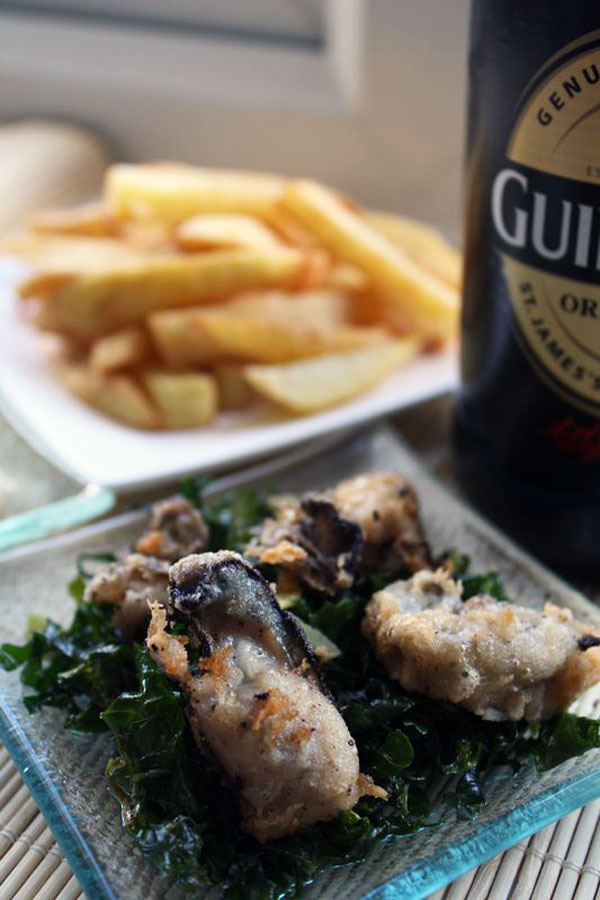 Stout and porter: rich and creamy
Stout has a salty, briny quality that chimes perfectly with crustacea, especially oysters, the roasted flavours bringing out the sweetness of the flesh. What's more, the creamy textures meld with each other harmoniously. The Anchor in Walberswick, for example, serves Adnam's Blackshore Stout with West Mersea oysters, and there are various oyster stouts to pair with their namesakes in Whitstable, to name but a few.
Another bold match for stout is peat-smoked salmon and wholemeal bread. The salmon needs to have plenty of gutsy flavour and rustic character (from Andy Race, for example): lighter smoked salmon would be overwhelmed. Kippers would be another good option.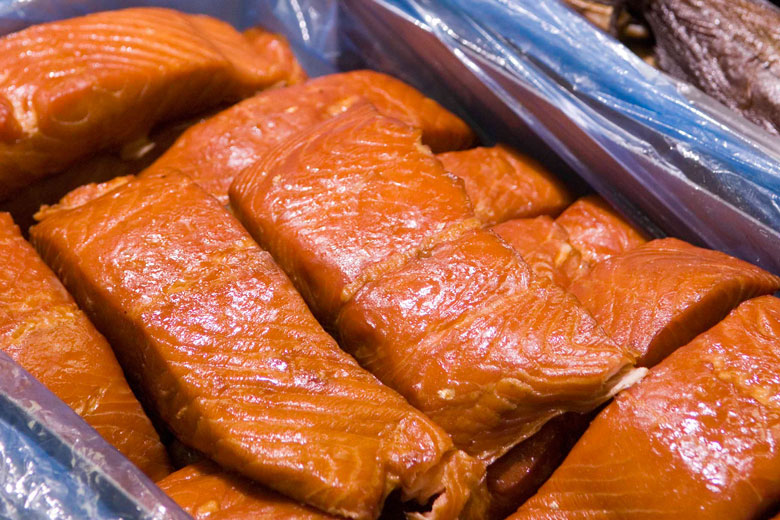 Rauchbier: full and smoky
Continuing the smoked theme, you could have some fun experimenting with rauchbier, or smoked beer – although it's easy to go too far and find the food and drink each vying for too much attention. You want the flavours to gently mirror each other or to highlight particular ingredients. A rauchbier could work well with a fish pie containing a decent proportion of smoked haddock, or kedgeree, or hot smoked seafood, for example.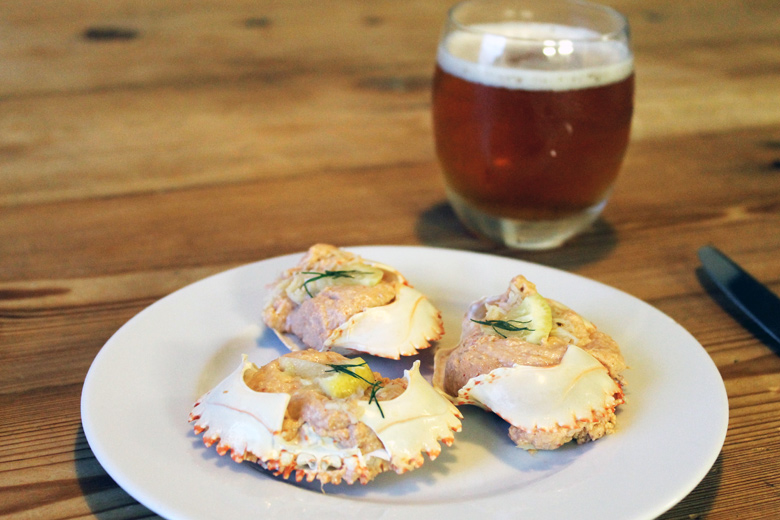 Keep it simple – or get creative
Like fine wine, craft beers with their layers of complexity are often better suited to simpler dishes that allow the flavours to shine through. However, you can pick out a particular ingredient to match the dish with a distinctive beer, as they do at The Bull pub in Highgate, owned by the London Brewing Company (LBC).
One inspiring example earlier this year was mackerel, crayfish and panzanella salad, watercress and raspberry vinegar dressing served with the LBC's pHuchsia (yes, that's the right spelling), a sour cherry and raspberry white beer. Another was a plate featuring smoked and cured fish, and a lobster, pink grapefruit and herb salad with lime vinaigrette, paired with Magic Rock Brewing's Salty Kiss, a tart, herbal and refreshing "gose" given an Anglo-Danish twist with the addition of gooseberries ("for some English fruit and tartness typical of the style") and sea buckthorn and rosehips.
This article is really just a taster. The beers available today and certainly the permutations they offer are almost limitless. So why not have a beer-tasting evening, sharing a few contrasting bottles and dishes with friends and come to your own conclusions. When you're sampling with food like this, you're not looking to gulp beer by the gallon: use small glasses, taste around and really experiment.
Cheers!