May
Flounder, hake and pollack, asparagus, strawberries, May Pole Punch, al fresco dining and a drunken prawn ceviche. Tom Hunt celebrates the merriest month of the year.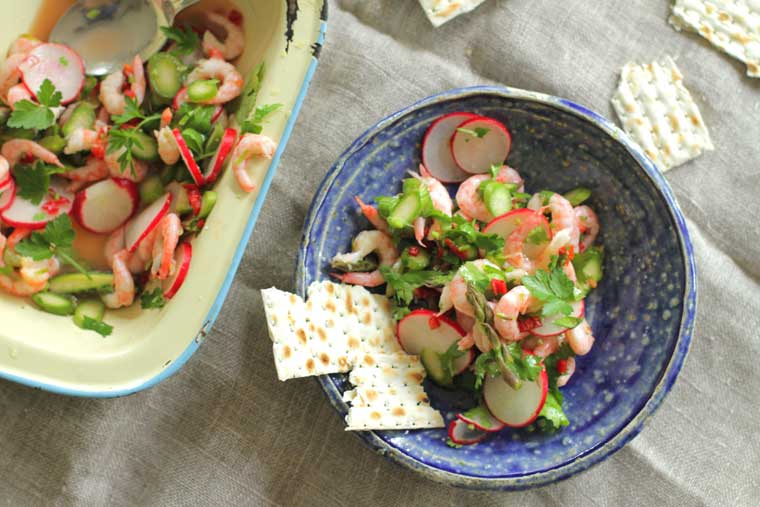 It'll soon be hot enough to sunbathe, gardens are blooming and the evenings are getting properly long: perfect for al fresco cocktails and dining late into the night. All this, and the month begins with a holiday too: May Day, a festival that celebrates fertility in all its forms, from the soil to the sea.
Underscoring the arrival of summer, May marks the beginning of the season for strawberries – a versatile fruit that can do much more than just be served with cream. Try mixing with red onion, lemon and black pepper for a great salsa: delicious served with cold seafood, prawns, squid and mussels or wrapped inside a fish taco.
Strawberries are a vital ingredient in a May Pole Punch too. Here's how to make enough for four. Mix two glasses of white wine with a spoon of honey and a slosh of brandy. Add a few sprigs of sweet woodruff (a common weed that has a natural sweetness and smells of fresh cut hay and vanilla), or add a smidgen of vanilla essence. Add two glasses of sparkling wine or carbonated water and stir. Fill four glasses with ice, a few halves of strawberries and some edible flowers – nasturtiums, marigolds or even dandelions will do. Then top with the punch.
The start of summer's abundance is also reflected in the wealth of seafood available, including Atlantic cod, flounder, pouting, hake and pollack. Pouting is a by-catch and rarely sought after, therefore very affordable and a great sustainable choice. Its flesh is a little soft, so firm it up by salting it lightly for 15 minutes before roasting. Hake is also a good choice with healthy, well-monitored stocks. Try grilling hake steaks on the barbecue with rosemary and salt: very yummy indeed.
A lot of fish are still spawning at this time of year (dab, Dover sole, grey gurnard, lemon sole, mackerel, sardines, red mullet and sea bass). Although fish are plump and the quality generally high, it's best to avoid fish caught during their spawning season, to allow them to multiply.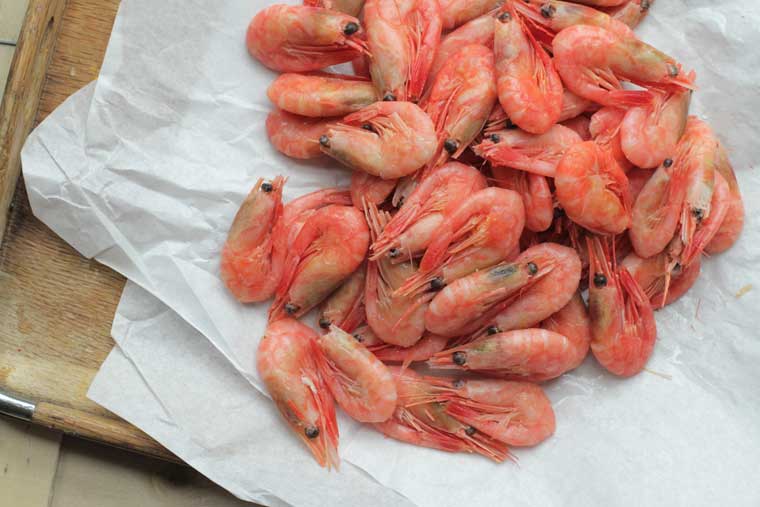 For my recipe this month, I've gone for cold-water prawns, or shrimps, as the feature ingredient in a ceviche: Peru's national dish. Ceviche is normally made with raw fish or shellfish, which has been marinated in lime juice – an alternative to cooking, which turns the flesh firm and opaque, while keeping its flavours fresh and adding a citrus zing too. Although cold-water prawns are sold cooked, they work just as well and keep longer too: "raw" ceviche really has to be made with absolutely fresh seafood.
A reliably sustainable choice that's available all year round, North Atlantic prawns still somehow come into their own in the sunshine. Buy prawns with the shell on: they have so much more flavour. If you buy them frozen, make sure you allow time for them to defrost: break them apart, and they'll be ready in no time. Running them under cold water loses all their flavour, washing it down the sink. Make sure you keep the heads and shells for a quick yet divine stock (see recipe below), which you can freeze until you need it.
As an extra seasonal touch, I've added asparagus to the ceviche. The season for this highly desirable spring vegetable (and well-known aphrodisiac) is now in full swing, so the price has dropped a little, making it more affordable. Its delicate and sublime flavours make it a perfect accompaniment to fish, and steaming is a great way to cook both, leaving their flavours intact. Steam a 180g fillet of line-line caught pollack per person for five minutes before adding some asparagus to the same pot and finishing them off together for three more minutes. Serve simply, doused in a good extra virgin olive oil with a wedge of lemon, and some buttery new potatoes on the side.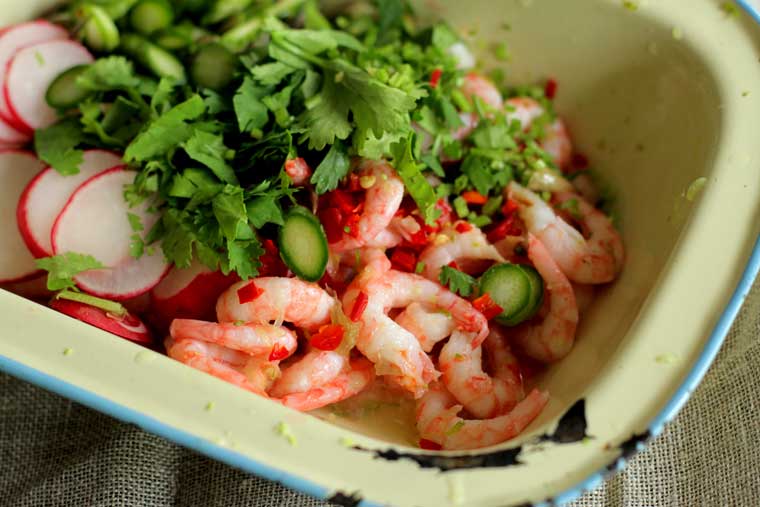 Drunken prawn ceviche with asparagus and radishes
Ceviche is exhilaratingly fresh, perfect for lazy, sunny days, with a beer in hand. Drenched in lime and spiced with fresh chillies, it will sock you with a sour twang and flaming heat, awakening your tastebuds to a real culinary sensation. Ceviche is made widely across Latin America. Fishmongers preserve their fish in this way in big jars, allowing for another day's sale at the market, a practice that has been going since ancient Incan times.
Ingredients to make a basic ceviche

Makes 4 small portions
500g shell-on North Atlantic prawns, shelled and cut in half, or 200g 1cm diced day-fresh fish
1 red chilli, seeds removed and finely diced
2 limes, squeezed and zested
Sea salt
Optional extras
6 sprigs coriander, stalks finely and leaves roughly chopped
3 spears asparagus, remove tough ends, finely slice
3 radishes, finely sliced, wash and finely slice leaves
25ml of pisco or brandy
Method
Put the prawns or fish in a bowl and douse them in the lime juice. Add chilli to taste. Leave for half an hour to marinate. Add the rest of the ingredients and serve with water biscuits or crisp tortillas.
The marinade, called leche de tigre or tiger's milk, is known as a hangover cure in Peru. It's delicious, if a little strong. I heartily recommend adding the optional extra of pisco, Peru's national hooch, although it's not for the faint-hearted!
A quick and simple prawn stock
It's really handy to have ready-made stocks in the freezer, ready to defrost in a pan for immediate use. A good stock will step the quality of your food up a notch, giving it an extra depth of flavour: for example, try it instead of water in last month's Asian noodle broth recipe.
Place all of your prawn shells and heads into a pot. Add any basic vegetables that need using up, such as carrots, onions, leeks, celery, parsley or coriander stalks – but avoid brassicas such as broccoli and cabbage as they can add an off smell to the stock. Add a bay leaf and some coriander seeds then cover with water.
Bring to the boil and reduce to a low simmer for 30 minutes. Skim any scum off the top: these are impurities that will cloud the stock later. Remove from the heat and allow to rest for another 30 minutes.
Strain through a sieve and either use immediately or allow to cool, then pour into in a sealed container and pop in the freezer.
---
Tom Hunt is author of The Natural Cook: Eating the Seasons from Root to Fruit. He founded the Forgotten Feast, a campaign working on projects throughout the UK, to revive our cooking heritage and help reduce food waste and Poco, a festival café and award-winning restaurant in Bristol and (just opened) London's Broadway Market. Click here to read his blog, Tom's Feast.
Also See: