Pride of Cornwall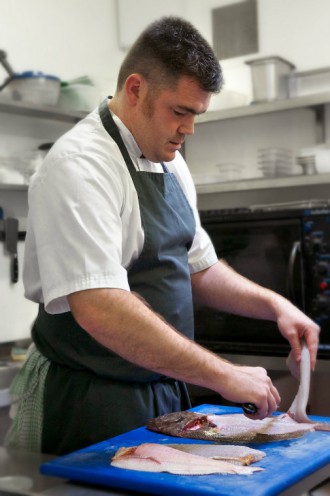 Nathan Outlaw talks seasonality, sousing and slinky monkfish with Rachel Smith. 

Nathan Outlaw sets a mean pace. He now has four restaurants – one in London and three in Cornwall, including his eponymous two-Michelin-star flagship in Rock – and diligently splits his week between them, shuttling back and forth. Then there are the media appearances inevitable for an increasingly prominent star of the British food scene, the cookery demonstrations at the UK's growing roster of seafood festivals, and a new TV series with Valentine Warner called Hook It, Cook It. And yet he has somehow still managed to find time to write his second cookbook, Nathan Outlaw's Food Kitchen, launched this week.
I catch up with him in London on a spring afternoon, while he's busily developing new dishes. Clearly, he does that a lot. Being a seafood specialist – still a real Michelin rarity in the UK and the only one with two stars – his menus are always changing, adapting to the seasons and the ever-shifting supply of his signature ingredients.

"When it comes to seafood, things change on a weekly basis," he says. "No, on a daily basis. So you have to be able to react to what's available at market; to what the fishermen are actually catching."

That's the thing with seafood. Most fish are wild: they're temperamental and they're mobile; here one day, gone the next. And with four restaurants in two regions, that presents not only a culinary challenge, but also a financial one: prices fluctuate, impacting on the tight margins of a modern restaurant. "I have four very good head chefs taking care of the kitchens," says Nathan. "A lot of what I do is keeping track of what's being caught."
Outlaw follows his suppliers like a general monitoring of his troops. He checks the weather forecast and then uses GPS technology to see where the fishing boats are. "It's anorak stuff," he chuckles. But it means that he can predict prices before the seafood even lands. "I know when the weather is too dangerous to haul in lobster pots. I know when lemon sole is going to be scarce, and when bass is at its best. I know it, because I need to respond to it."

Indeed there isn't much that Nathan doesn't know about fish, and that shines through in his new cookbook, as it does in his restaurants. His cooking is about focus as well as flavour. For him, the seafood is always the star, accompanied by piquant little side salads and sauces that never steal the show.

While Nathan's debut cookbook, Nathan Outlaw's British Seafood, focused on species, his latest is structured around techniques, including chapter headings such as "cured", "pickled and soused", "raw" and "smoked". "There's so much more you can do with fish than just grilling and pan-frying," he says. "Pickling is such fun to try. And it means that if you're ever lucky enough to come across a bumper load of herring or mackerel, you can pickle the leftovers and enjoy it for weeks."

He wants people to be adventurous; to experience new flavours and try new methods that they may not even have contemplated before. Dishes such as "raw wild bream with horseradish, shallot and carrot pickle" and "lightly pickled lobster and leek kebabs" are inspirational. "Most people have eaten and enjoyed smoked salmon, but would never think of curing fish themselves. I hope my book will encourage them to give it a go."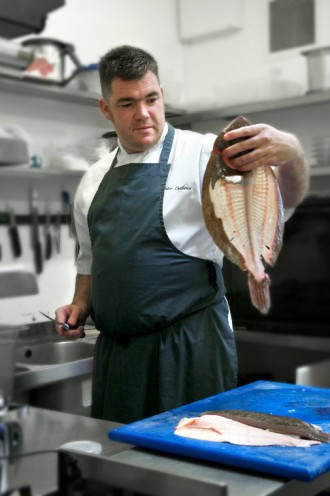 For this kind of raw, lightly-cured and smoked food, quality and freshness are paramount. Nathan recommends using a good fishmonger, who will also be able to answer questions on sustainability and seasonality, or using online guides to check which fish are best when. So would he be able to tell if a fish was in or out of season in a blind-taste test. "Of course," he says, slightly shocked. "Take monkfish, for example. At its best, the flesh is meaty, chunky and firm. But after breeding, it's 'slinky', almost jelly-like. It loses its texture and just isn't appealing at all."
Seasonality and sustainability go hand in hand, he believes. He stresses the importance of avoiding fish during breeding, so that they have time to replenish stocks. And he only uses fish with healthy stocks. "There's no ray or skate, for example. And you shouldn't touch wild halibut, only farmed, so I left that out too."

Even so, there was no shortage of material, demonstrating that there are always plenty of alternatives. "I had six dishes too many for each chapter," he says. "I had to write them up in a league table to help decide which made the cut. It was like trying to pick a favourite child."

But he argues that recipes aren't the whole story anyway: by passing on techniques, he wants to help home cooks to use their initiative and unleash their own creativity. He was delighted when readers started tweeting him mashed-up recipes from his previous book: a sauce from one recipe combined with a fish from another and a side from a different one again. "Just because I say anchovy and tarragon butter goes with plaice, it doesn't mean that it won't go with cod too. It's great that people are trying things, seeing how they work, and then experimenting and giving it a different application." Give it a try, and see for yourself.

Nathan Outlaw's Fish Kitchen, published by Quadrille, is out now.
Photo credits: Top and bottom images by Rob Whitrow; middle image by David Griffen.

Also See: