Surf, spice and seafood
Heady with smoke, pungent spices and the tang of the sea, food writer and cookery teacher Sumayya Usmani's aromatic seafood dishes evoke the Pakistan of her childhood.

"A sea breeze enveloped by the aromas of barbecued fish tikkas permeated the heavy air of the hot day, the still evening suddenly coming alive with a welcoming scent of smoke and spice…"

This is one of my childhood memories from my home town of Karachi where the flavours of seafood, smoke and spice marry together with the scent of the surf from the Arabian Sea. Pakistan is a country blessed with the abundance of both the briny ocean and the fresh water of lakes and rivers; both blending surprisingly well with rich base flavours of red onions, tomatoes, garam masala and red chilli together with the freshness of coriander, mint, ginger and green chilli. Though seemingly heady aromatics, these flavours never overpower – the way Pakistanis cook with spices aims to accentuate rather than hide flavours.

Most people associate Pakistani cuisine with meaty curries and aromatic saffron-based biryanis. Yet seafood forms a huge part of the diet of those people living by the Arabian Sea coastline or along the banks of the River Indus that flows through this diverse land from north to south. Spice and chilli are important to the Pakistani palate, so we have learned to combine these with seafood. The results may be simple or pungent, but there is always a balance of taste sensations.

Growing up, the weekend was the time for seafood, be it fresh lobster at the beach, steamed with lemon and cumin, a crabbing trip off the coast, with stir fried spicy crab "lollipop claws", the juices mopped up with hot tandoori rotis, or fresh surmai (Indo-Pacific king mackerel) steaks topped with my mum's spicy tomato and red onion soffritto-style sauce. Our fish was always bought fresh and the sources ranged from the fishmonger at our weekend street bazaar to a tiny little man who would deliver fresh from the fisheries on his rickety old bicycle, a jute bag dripping with icy water full of fish tied behind it.

However the ultimate adventure in search of fresh seafood would be a trip to Karachi's Empress Market. This fresh produce market, built in colonial days, still bursts with dedicated shoppers and equally passionate producers and shopkeepers. The fish hall, though reeking of the pungency of fish in the heat, would be the one place you were guaranteed to find the jewels of the Arabian Sea and beyond.

All I have learned about cooking seafood with spice has been from watching my mother cooking in the kitchen, I have picked up tips almost by osmosis and these come naturally to me now. Many people are daunted by the idea of using such strong aromatics with seafood. The key is to stick to a few fresh ingredients and just one or two hero spices. These simple ideas will help you create your own delicious combinations that enhance rather than mask the freshness of the sea.

1. Master the essential all-purpose marinade
A simple marinade of turmeric, red chilli, salt and lemon or tamarind will enhance the flavour of any fresh fish: I use one at the start of almost every South Asian-style fish dish I prepare. Turmeric is known to help with digestion and adds an earthy flavour to fish, while lemon or tamarind add freshness. In a dish like the Parsi fish in banana leaves below, that freshness is balanced out by the addition of brown sugar – or jaggery – in the herb marinade.

2. Build a flavoursome base
Making a spicy soffritto with red onions, cumin, garlic and ginger adds depth of flavour. You can either use it as the base for a curry or do like my mother did and use it as a topping for pan-fried fish, garnished generously with coriander, green chilli and lemon.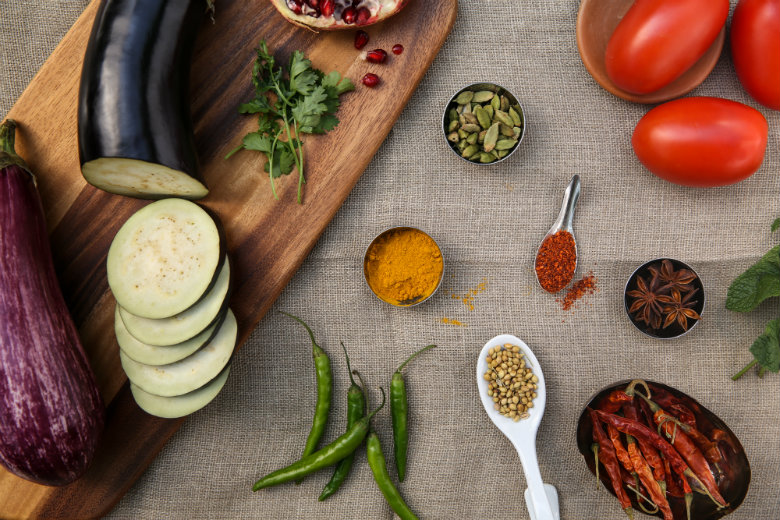 3. Don't forget the seasoning
One of the key things when using spice with seafood is to season it well. Many people are scared to season generally and even more so when using spice, fearing that it might become overpowering. On the contrary, fish that is underseasoned when cooking with spice results in a flavourless dish. It's important to achieve a balance between salt and spice.

4. Decode the techniques
Pakistani techniques of bhunai, dhunai, dum and barbecuing also help spices to meld subtly with seafood. Bhunai means cooking down a base for a curry or soffritto-style topping until the oil rises to the top. The seafood should be added to the sauce only briefly – just long enough to heat or cook through and for the flavours to infuse without it drying out. This technique is used in dishes like prawn karhai. Dhunai means smoking, either with coal smoke or direct heat barbecuing, which adds an umami element and tones down the spices. Dum means cooking under steam, for example in a seafood biryani where the grains of rice absorb the flavour of the sea or en papillote, where the fish is wrapped up in a parcel (typically made using banana leaves) with herbs and spices. This technique infuses flavour without overpowering the seafood.

5. Preserve the flavour
In the east, many small seasonal fish are either pickled with achar spices or salt dried. The most common pickling spices are nigella, cumin and fenugreek, while salt and mustard seeds are used to dry out fish including the notoriously smelly Bombay Duck. Fish dried in this way is rehydrated in curries or stir fries before eating.

6. Break with tradition
Shallow frying fish or seafood in a batter made from chickpea or rice flour works brilliantly – it's like a Pakistani take on British fish and chips! The fish is usually marinaded first in turmeric and salt dipped into a batter spiced with ajwain seeds and cumin before being fried.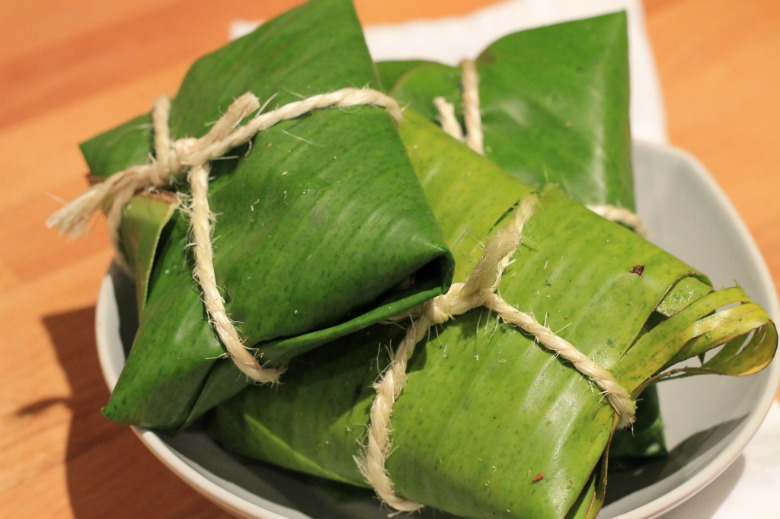 Parsi fish in banana leaves
I'm a big fan of "hara masala" (green masala) which marries green chilli, coriander and mint. It works brilliantly with white fish like hake or haddock. The banana leaves aren't easy to come by, but it's worth tracking them down in a specialist food shop for the sweet, tea-like aromas that they infuse into the fish. For the best results, cook right before serving.

Ingredients
Serves 5
For the hara masala
1/2 a large bunch of coriander
10-15 mint leaves
2-4 deseeded green chillis
1/4 fresh coconut
1/2 tsp turmeric
1 lemon, juiced
1 tsp dry-roasted cumin
1 tbsp ginger/garlic paste
Salt, to taste
For the fish
1 kg of firm-fleshed, white fish like hake, haddock or cod. Skinned, and cut in palm-sized fillets
1-2 large banana leaves
A roll of thick jute twine or string
Oil, for frying

Method
To make the hara masala, grind all the ingredient into a very thick, fine paste using a pestle and mortar.
Marinate the fish pieces in the hara masala for 45 minutes.
Meanwhile, soak the banana leaves in just-boiled water for 5 minutes, until they're more pliable. Then cut into 5 pieces, each one big enough to wrap the fish in.
Fold the leaves into envelopes. Wrap each fillet in a leaf-envelope and tie with lengths of twine or string.
Heat a little oil in a shallow pan. Fry the fish inside the parcel on low heat for 3-4 minutes, while covered (the steam will help cook it, and contain the splatters). Flip over and repeat on the other side.
Serve straight away, with some khatti dal or potato pulao.
---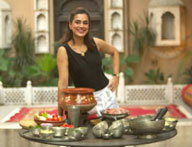 Sumayya Usmani is a London-based food writer and cookery teacher who specialises in Pakistani cuisine. She contributes to many UK-based food magazines and is currently writing a memoir-style cookbook on Pakistani cuisine, called Summers Under the Tamarind Tree, to be published in Spring 2016. Sumayya also hosts cookery classes at Sophie Grigsons' Cook School, Oxford and Divertimenti Cookery School, London. She has her own line of Great Taste Award-winning floral spice blends called Masala Monsoon, available at www.masalamonsoon.com.
@MyTamarindKtchn
www.mytamarindkitchen.com