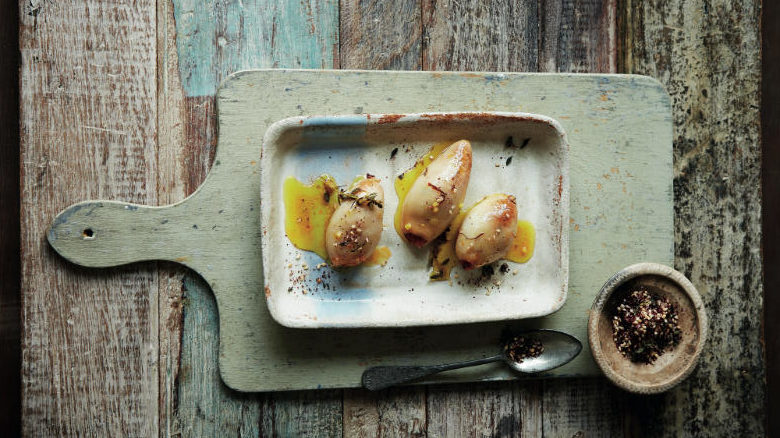 Baby saffron squid stuffed with bulgur and zahtar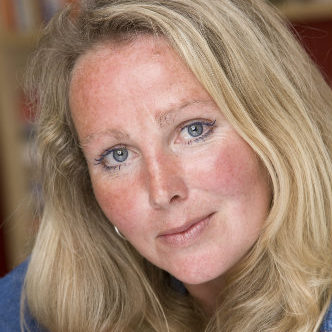 By Ghillie Basan
Popular in the coastal regions of Greece, Turkey and Lebanon, these tender baby squid, stuffed with fine-grained bulgur and flavoured with saffron and zahtar, are a delightful addition to any mezze table.
Ingredients
50g fine bulgur, rinsed and drained
3 tbsp olive oil
1 lemon, juiced
125ml white wine
A large pinch of saffron fronds
1tbsp tomato purée/paste
2 garlic cloves, crushed
2 tsp runny honey
1 tbsp zahtar, reserve a little for garnishing
8 baby squid
Sea salt
Freshly ground black pepper
3–4 sprigs fresh thyme
Method
Preheat the oven to 180°C (360°F) Gas 4.
To prepare the squid, hold the body sac in one hand and pull the head off with the other. Most of innards should come out with the head, but reach inside the sac with your fingers to remove any that remain in there. Whip out the transparent backbone, rinse the body sac inside and out, and pat it dry. Cut the tentacles just above the eyes, so that you have the top of the head and the tentacle joined together. Discard everything else.
Put the bulgur in a bowl and pour over just enough boiling water to cover it and no more. Place a clean tea towel over the bowl and leave the bulgur for about 20 minutes to absorb the liquid. Once the water has been absorbed, the quantity of bulgur will double.
In a small bowl mix together 2 tablespoons of the olive oil with the lemon juice, white wine and saffron. Put it aside to allow the saffron to release its colour. Combine the remaining tablespoon of olive oil with the tomato purée / paste garlic, honey and zahtar, and, using your fingers, rub the mixture into the bulgur and season well with salt and pepper.
Using your fingers, or a teaspoon, stuff the bulgur into the body sacs and plug the hole with the tentacles. Place the stuffed squid into a shallow earthenware or other ovenproof baking dish and pour over the saffron liquid. Tuck the sprigs of thyme around the squid and pop them in the preheated oven and bake for about 25 minutes.
Transfer the stuffed squid to a serving dish, spoon the cooking juices over them, sprinkle the reserved Zahtar over the top, and serve immediately.
Recipes extracted from Mezze by Ghillie Basan, photography by Jan Baldwin, published by Ryland Peters & Small