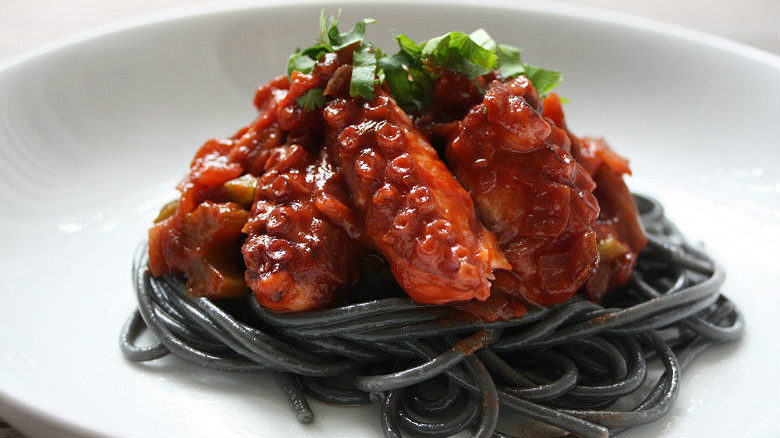 Braised octopus with squid ink spaghetti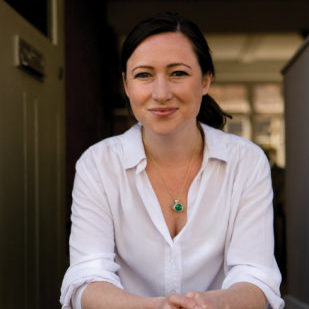 By Rachel Walker
This sounds like an exotic dish, but it's really easy to make. The trick with octopus is to cook it very quickly or very slowly – in this case, the octopus is essentially gently poached for an hour, and then added to a tomato sauce spiked with fennel and paprika.
Ingredients
1kg octopus
250ml water
2 dried red chillies
3 tbsp olive oil
2 onion, diced
4 sticks of celery, sliced
3 garlic cloves, crushed
1 red chilli, deseeded & finely sliced
2 tsp paprika
2 tsp fennel seeds
250ml red wine
500g passata
400g peeled plum tomatoes
250g squid ink spaghetti
Parsley, to garnish
Method
Prepare the octopus by removing the beak, eyes and entrails, and cleaning. (There's a useful video online on the GB Chef website.)
Bring the water to a simmer, and then add the dried chillies, garlic cloves and octopus. Cook at the most gentle simmer for 60 minutes. During cooking, the octopus will release a lot of liquid, and become soft and tender.
Meanwhile, heat the olive oil in a saucepan, and sweat the onions and celery for 12 minutes until they have softened – but not coloured. Add the garlic, chilli, paprika and fennel seeds, and cook for a further 2 minutes.
Next, add the wine to the pan, and bring to a simmer until it has all but cooked off, then add the passata and plum tomatoes. Use the back of a wooden spoon to break up the plum tomatoes, and then cook for 35 minutes until the sauce thickens.
Ten minutes before serving, put the spaghetti on to cook. Remove the octopus head and tentacles from the pan, and discard the water, garlic and chillies. Once cool enough to touch, slice the octopus into bite-sized pieces, and add it to the tomato sauce.
Portion the spaghetti between four bowls, top with the sauce and garnish with the parsley.