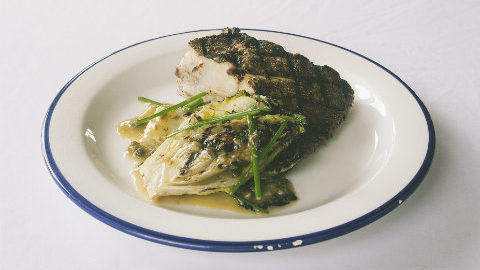 Brill, grilled gem and capers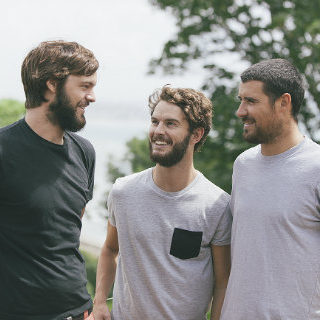 By Lost and Found Fish
This dish is fresh and simple with an easy summer style. The brill is very much the star of the show, and the baby gem works as a beautiful accompaniment.
Ingredients
1 brill (1.6kg-2kg)
6 heads baby gem
1 egg yolk
2 tsp Dijon mustard
1 clove garlic
1 (50g) tin anchovies
40g capers
100-150ml olive oil
1 bunch of chives
Method
One whole fish of 1.6kg-2kg should yield six generous portion. Ask your fishmonger to cut it into tranches, as it can be tricky without the right knife.
To prep the baby gem, cut off the root and remove the loose outer leaves, the paler heart is the bit you want. Cut them down the middle retaining part of the root to keep the leaves together. Keep the other leaves for a salad.
To make the dressing, chop half the capers and the anchovies finely, reserving the oil from the tin. Combine this with the egg yolk, mustard and the garlic, finely grated. A dash of water at this point will help the dressing emulsify. Slowly whisk in the oil, a lighter olive oil works best as extra virgin can be a little overpowering. The consistency should be similar to a Caesar dressing, and in fact the recipe is not dissimilar either. To finish the dressing add the remainder of the capers and chop the chives in.
Using a very hot griddle pan mark the lettuce on both sides and put somewhere warm while the fish cooks. Cook the fish dark side down first for about 3 minutes, then flip it over and cook for a further 2, finish in a 200 degree oven for 3 minutes. To serve, toss the warm baby gem through the dressing and plate two pieces with each tranche.