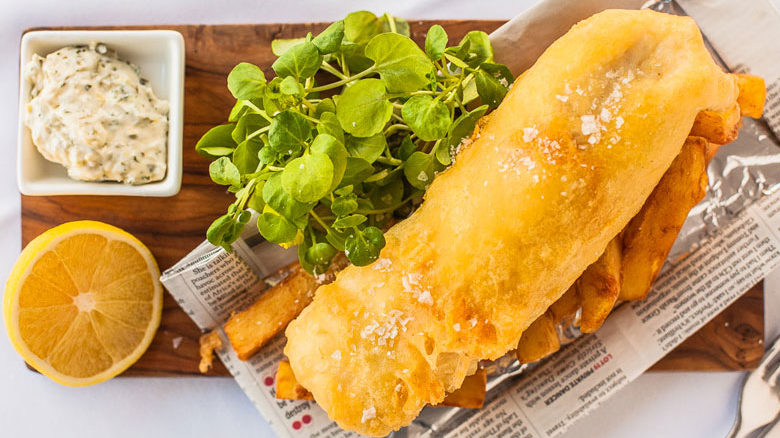 Cornish beer-battered hake and chips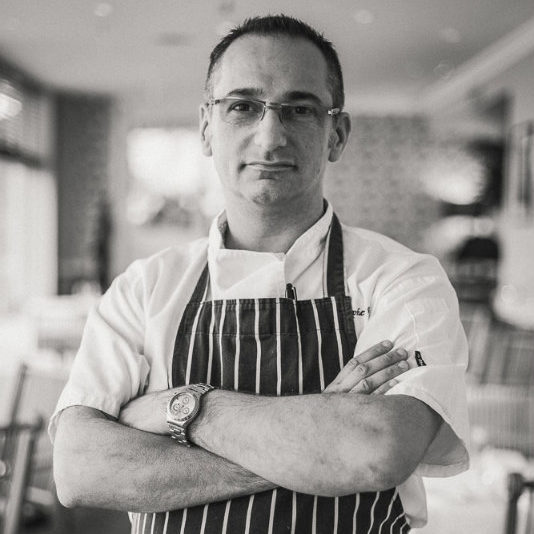 By Steve Marsh
Cod or haddock are most often used for fish and chips, but hake makes a delicious alternative with its lovely firm meat. What's more, only 1.5% of hake caught in UK waters is consumed here, so it's a good fish to be eating. Chef Steve Marsh from Cornwall's Llawnroc Hotel also uses local ingredients in the recipe such as Cornish lager, sea salt and cider vinegar.
Ingredients
4 free range egg yolks
1 tsp Dijon mustard
4 tsp Cornish cider vinegar
450ml vegetable oil
50g mini capers, finely chopped
50g mini gherkins, finely chopped
Good handful flat leaf parsley, roughly chopped
2 x 300ml bottles Cornish lager
300g plain flour
Pinch Cornish sea salt and ground pepper
5 large chipping potatoes such as Maris Piper
4 pieces of hake (ask your local fishmonger to remove the skin and check for bones)
Method
Mix the egg yolks, mustard and vinegar in a blender until smooth. With the mixer still running, slowly add the oil to form a nice thick mayonnaise. Spoon into a bowl and add the capers, parsley and gherkins. Mix well and store in the fridge.
In a large bowl, whisk together the lager and flour to make the batter. Season to taste.
Peel the potatoes and cut in half lengthways, then cut into chunky chips. Blanch the chips in salted boiling water for around 5 minutes. Drain carefully, allow to cool and dry well.
In a large pan, melt the duck fat and heat to 140°C. Carefully place the chips in the pan and fry for 8-10 minutes. Remove from the fryer and keep warm.
Lightly flour the fish and dip in the batter. Fry in the duck fat. Place on kitchen paper to drain any excess oil. Re fry the chips until nice and crispy.
Serve with the tartar sauce, a small handful of watercress and a nice wedge of lemon. Sprinkle with Cornish sea salt and eat without delay.