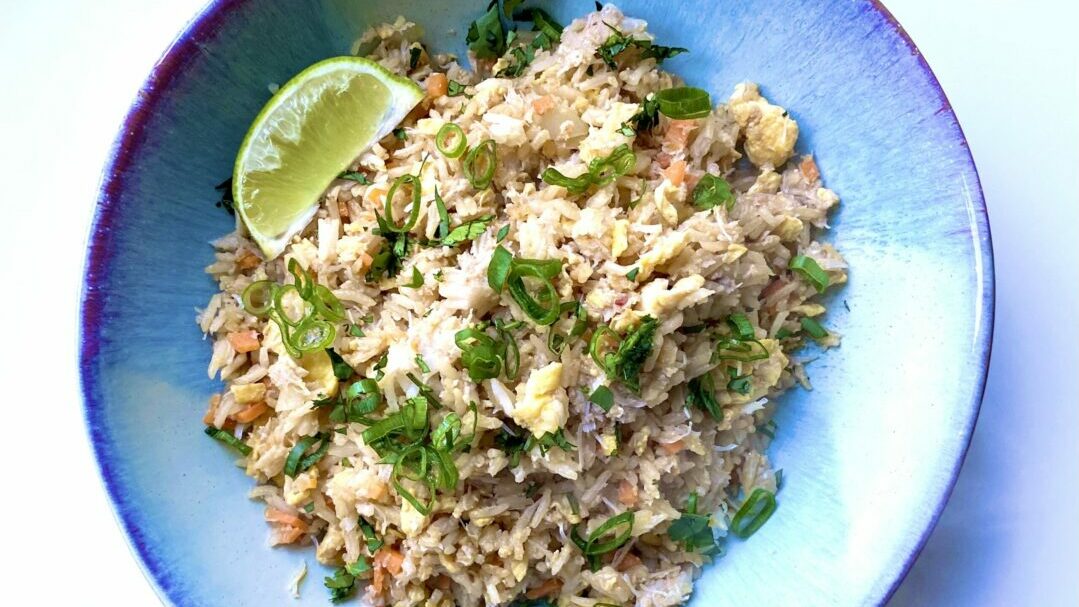 Crab fried rice
By Sebastian Skillings
Brown crab is really the star of the show here. Tangy, flavoursome and slightly sweet, this Asian-inspired dish packs a punch! To achieve a crispy, caramelised taste, ensure the pan is hot at all times.
Ingredients
2 garlic cloves, minced 
4 eggs, beaten
150g rice, cooked
4 tsp fish sauce 
4 tbsp soy sauce 
2 tsp sugar 
Knob of butter
180-200g crab meat 
2 carrots, finely chopped 
1 onion, finely chopped
Garnish: spring onion, coriander and lime wedges
Method
On a high heat, bring the wok to temperature. Add a drizzle of olive oil and the garlic, cook until brown (roughly 1 minute).
Add the beaten eggs and cook until the bottom is nearly set then scramble.
Add the rice and cook until separated and toasted.
Combine the fish sauce, soy sauce and sugar in a bowl and then add to the wok. Stir to combine with the rice. Then add the butter and cook for another couple of minutes.
Add the crab, carrots and onion and cook for a further few minutes. Taste and season, add salt or more soy if needed.
Serve in a bowl and garnish with the spring onion, coriander and lime wedges.