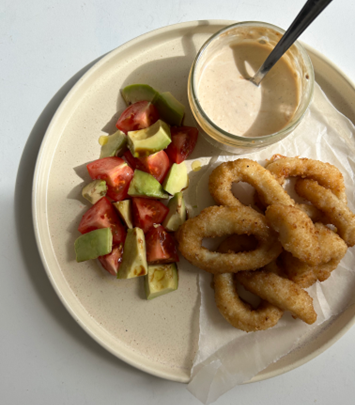 Crispy Cuttlefish
Calamari style cuttlefish with avocado & tomato salad and pepper yoghurt dip. Estimated price per portion £2.50
Ingredients
200g cuttlefish cut into rings or strips

1 egg, whisked

1 cup flour

1 cup breadcrumbs

1 avocado

2 ripe tomatoes

2 tbls olive oil

1 tbls balsamic vinegar

100ml thick Greek yoghurt

1 tbls chilli relish or any other pepper sauce

1 lemon juice

Cooking spray

Salt and pepper
Method
Dredge the cuttlefish pieces in the flour, then dip in the egg and roll in the breadcrumbs.
Reserve in the fridge.
Dice the tomato and avocado, then toss in the olive oil and balsamic, then season with salt and pepper.
Mix the yoghurt, chilli relish and the juice of half the lemon.
Heat the oven or air fryer to 220°C.
Spray the cuttlefish pieces with cooking spray and cook for 12-15 minutes or until golden and crispy.
Serve the cuttlefish with the sauce and salad immediately.