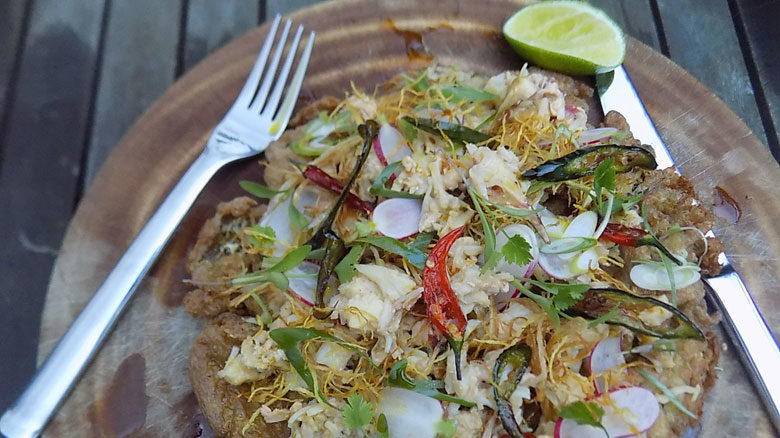 Dunk's desert island disks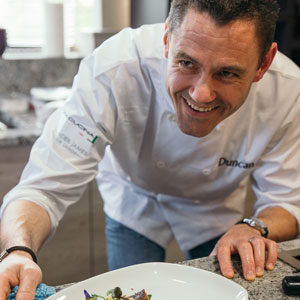 By Duncan Parsonage
Without a shadow of doubt, brown crab would be one of my desert island meals. April is the month that these beauties from the deep become readily available, and the UK season runs until around November. Always try to buy them alive, if possible, and cook them in rapidly boiling, heavily salted water for 15 minutes per kilo. Allow to cool, ideally on a window sill, and then place in a fridge once cool enough to handle.
Ingredients
1 cooked and picked brown crab
4 whole free range eggs
1 tbps of fish sauce or light soy sauce
2 red bird's eye chilli peppers, halved and seeds removed
1 green long chilli pepper, finely sliced
1 thumb-sized piece of ginger, peeled and finely shredded into strips
1 clove garlic, peeled and finely sliced
1 banana shallot, peeled and finely sliced
1/2 a lime
Vegetable oil for frying
Freshly picked coriander leaves to garnish
Method
Place a wok or deep-sided pan onto the heat and add thumbs depth of oil – keep an eye on it!
Whip up the eggs, adding the fish sauce to season and the green chilli, set aside.
When the oil has reached around 150 degrees, deep-fry the ginger, shallot, and the red chillies separately until crisp. Drain on kitchen paper.
Allow the heat to recover in the oil before pouring the egg mixture in from a height. This will create a good bubbly texture in the omelette.
Flip the egg "raft" over when the bottom is almost cooked through and continue to fry until thoroughly set.
Remove from the oil and drain on a cake rack for a couple of minutes in a warm place. To execute the dish, scatter the crab, garnishes and picked coriander leaves across the top. Scoff the lot while warm!!