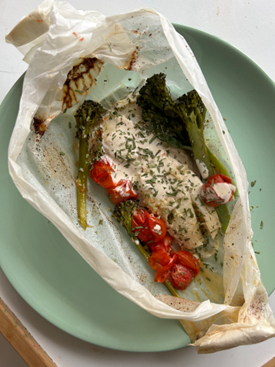 Hake 'en Papillotte'
with Broccoli, Cherry Tomatoes, Garlic Sauce & Tarragon. Estimated cost per portion £2.85
Ingredients
2 hake fillets
2 tbls Greek yoghurt
1 tsp garlic purée
1 tsp dried tarragon
4 spears of broccoli
8 cherry tomatoes
1 lemon
Salt and pepper
Baking parchment paper
Method
Preheat your oven to 180 °C.
Season the hake fillets with salt and pepper.
Take two large squares of parchment paper and place the fish in the centre, arrange the broccoli and tomatoes around and squeeze the lemon juice all over both.
Fold the sides in and crimp the top of the paper to make a sealed parcel.
Place the parcels on a baking tray and bake for 15 minutes. While cooking, mix up the yoghurt, garlic and tarragon.
Remove the parcels from the oven.
Allow them to cool for 5 minutes so you don't get burnt, transfer them to plates, open the top and spoon over the sauce.