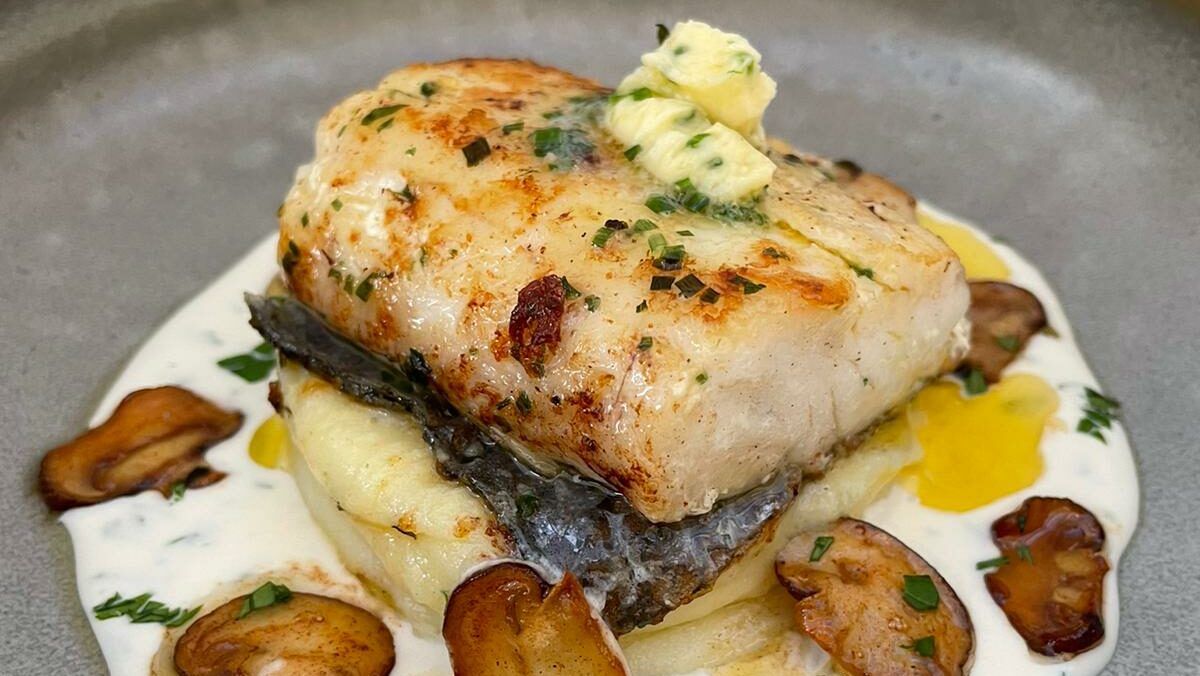 Hake with tarragon mushroom cream
By Joseph Hegarty
Meaty and satisfying, hake is always a hit. With a velvety tarragon sauce, this meal certainly delivers on flavour. For added comfort factor on a chilly evening, serve with roasted seasonal vegetables.
Ingredients
350g potatoes
75g salted butter 
1 tsp minced garlic 
Small bunch of chives, finely chopped
8 baby carrots
1 small cauliflower
1 tbsp fennel seeds
25ml vegetable oil 
125ml white wine
150ml double cream
1 fish stock cube
1 sprig of fresh tarragon
100g button mushrooms, sliced
2 hake fillets, skin on
Method
Preheat the oven to 180ºc. Peel and cut the potatoes before boiling in salted water until cooked. For the garlic butter, mix 50g of the butter with the garlic and chives.
Chop the carrots and cauliflower, keeping the leaves to one side. Put the veg on a baking tray. Drizzle with oil, scatter the fennel seeds and roast until golden, adding the cauliflower leaves just before the end.

Bring a saucepan of the wine to the boil, and simmer until the liquid has reduced by half. Then add 75ml of the double cream, the fish stock cube, tarragon, and mushrooms. Stir occasionally, then reduce to a low heat to keep warm.
Fry the hake fillets skin-side down in a hot, non-stick frying pan for 5 minutes before flipping and cooking for a further 3. Mash the potatoes with the remaining double cream and butter, then season to taste.

Plate the mash and pour over the creamy sauce. Serve the fish on top, along with the garlic butter, and vegetables to the side.