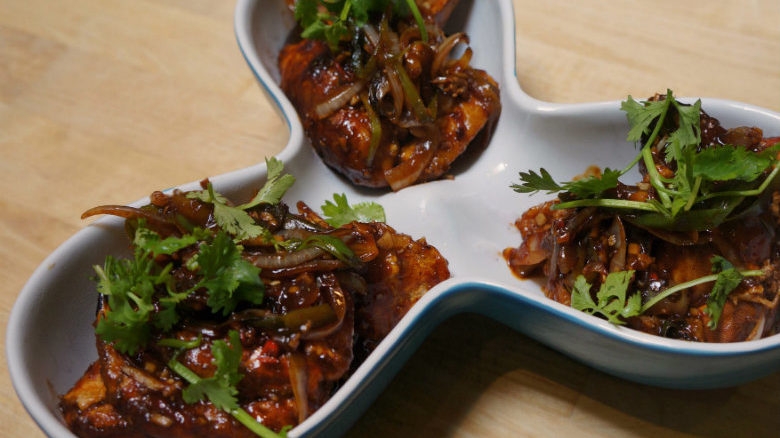 Hong Kong chilli crab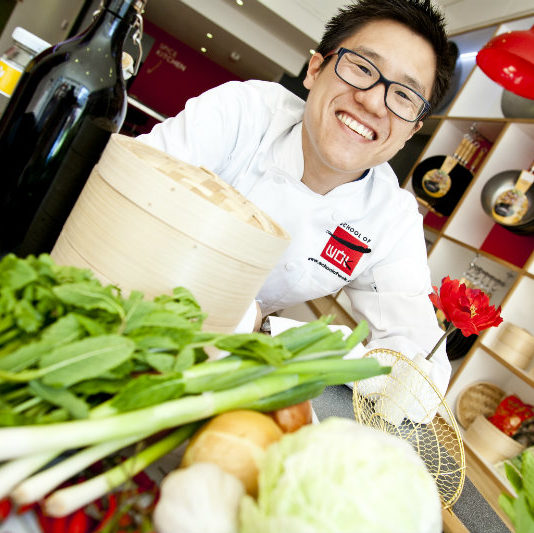 By Jeremy Pang
Originally a Singaporean classic, this dish has now made its way to Hong Kong as a favourite. Indulgent, distinctive and with a sweet and spicy quick, its a dinner party must.
Ingredients
2 medium-sized crabs
140g corn flour

Salt

Pepper

Oil for deep frying

1 large lump of fresh ginger, peeled and finely-sliced
3 spring onions, finely cut
2 cloves garlic, finely cut
3 Birdseye chillies, finely cut
½ bunch coriander, finely cut
4 shots brandy or rice wine (180ml)
2 tbsp vegetable oil
1 onion, sliced

For the sauce
2 tbsp sweet chilli sauce
1 tbsp hoi sin sauce
1 tbsp chilli oil
1 tbsp dark soy sauce
Method
Pick the crab. Use our guide.
Season the corn flour with salt and pepper, and then use your hands to mix it into the picked crab, so the meat is coated.
Deep fry the crab at 190°C for 5 minutes. Leave it to rest on kitchen towel, to absorb excess oil.
Mix together all the sauce ingredients in a small prep bowl.
Prep all the remaining herbs and vegetables.
Heat 2 tablespoons of vegetable in a wok to high heat, and then stir fry the onion until slightly softened.
Add the ginger, and stir fry for 2 minutes. Next add the spring onion, garlic and chilli, then add the crab to the wok.
Add the four shots of brandy or rice wine, and cook for 3 minutes.
Pour all the sauce into the wok. Bring it to the boil, and cover with a lid. Allow it to gently simmer for 3-5 minutes, just until the sauce starts to reduce, and there's enough sauce to coat the crab.
Serve on a large plate or Pyrex dish and garnish with springs of coriander.
Note: always kill crustaceans humanely. Never boil them alive. See this guide for more information.