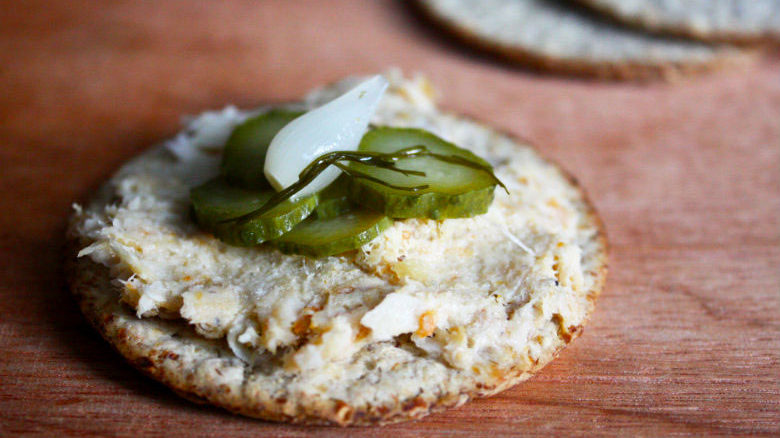 Kipperman's kipper pâté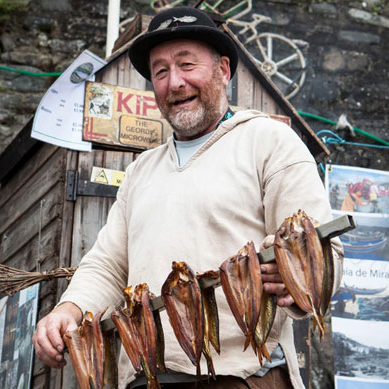 By Mike Smylie
There's nothing subtle about this pâté. Its big, bold, sea-salt flavours make it an exciting starter or a great addition to a lunch table. Mike "The Kipperman" Smylie recommends it on oatcakes. We quite like it with a few slivers of gherkin or pickled onion on top too.
Ingredients
1 clove of garlic, roughly chopped
2 tbsp olive oil
4 kippers straight from the smokehouse
85g butter, room temperature
2 lemons, juiced
Black pepper, freshly ground
1 shot (25ml) of Greek Metaxa (or brandy)
Method
Cook the kippers by pouring boiling water over them, covering and allowing to steam for 6-8 minutes.
Use a pestle and mortar to pound the garlic into the oil, or use a hand blender to blitz together. Pour the garlic oil into a mixing bowl.
Remove the flesh from the kippers and add it to the bowl containing the garlic oil.
Pour over the lemon juice, pepper and Metaxa, add the butter and blend well.
Chill in the fridge. Serve with oatcakes.