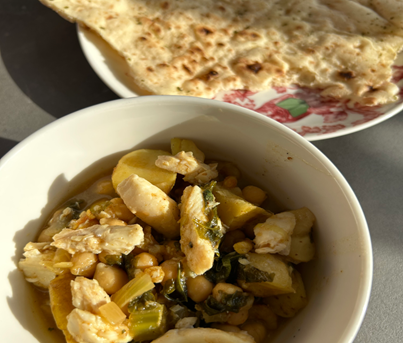 Lemon sole curry
with Potato, Kale & Chickpea. Estimated price per portion £2.50
Ingredients
1 medium lemon sole, filleted and skinned
1 can chickpeas
4 new potatoes, diced
1 cup chopped kale
1 small onion, diced
1 tsp garlic paste
1 tsp ginger paste
1 tbls medium curry powder
1 tbls olive oil Salt and pepper
Method
Use a big, heavy pot with a lid for this recipe.
Heat the pan on medium, add the olive oil, onion, garlic & ginger and sauté until soft.
At the curry powder and stir for 2 minutes or until the spices become fragrant.
Add in the kale and potato and cover with water.
Put on a lid and simmer on medium/low heat for 15 minutes or until the potatoes are fork tender.
Stir in the chickpeas.
Top with the fish fillets and replace the lid to steam the fish for 10/12 minutes.
Gently flake the fish with a fork and serve while hot.