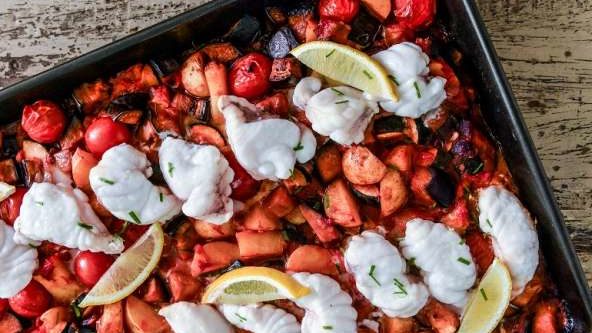 Monkfish with Mediterranean vegetable stew
Jane Devonshire
This is a tray bake dish, so it saves on the washing up. Once the veg are chopped, it pretty much takes care of itself. I love to use monkfish in this recipe. Monkfish can be expensive and I find this dish is the perfect way to eke it out and cook a delicious healthy dinner, but other white meaty fish like halibut work well, too. Serve it on its own – I just drizzle over a little olive oil – or it's also lovely with crusty bread and a big salad.
Ingredients
450-500g monkfish medallions

 

300g cooked, skin-on new potatoes

 

1 red onion

 

1 large courgette

 

250g cherry tomatoes

 

1 medium aubergine

 

50ml olive oil

 

Juice ½ lemon, plus wedges to serve

 

390g carton passata

 

4 garlic cloves, grated or finely diced

 

1 – 2tbsp Italian mixed dried herbs

 

Salt and Pepper 

 
Method
Preheat the oven to 200C/fan 180C/gas mark 6. Chop the potatoes and all the vegetables into pieces a little smaller than the size of the cherry tomatoes and add to a large roasting tray with the olive oil and lemon juice. Chop the aubergine last and make sure it's tossed in the oil and lemon to stop it browning. 
Add the passata, garlic, herbs, salt and a good grind of black pepper. Mix together thoroughly and put into the preheated oven for 30-40 minutes, turning once whilst cooking, until the veg are cooked through but still retain their shape. 
Add the monkfish medallions and cook for a further 10 minutes until the fish is cooked through but still juicy. 
Remove from the oven. To serve, toss all the ingredients together making sure everything is coated in the sauce – you may need to add a little water at this stage to bring it all together. Taste and add a little extra lemon juice, salt and pepper as required. Serve immediately with lemon wedges.