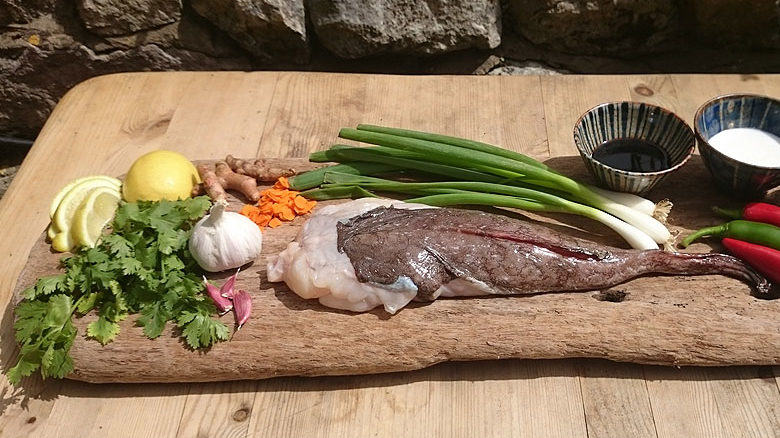 Monkfish poached in a Burmese sauce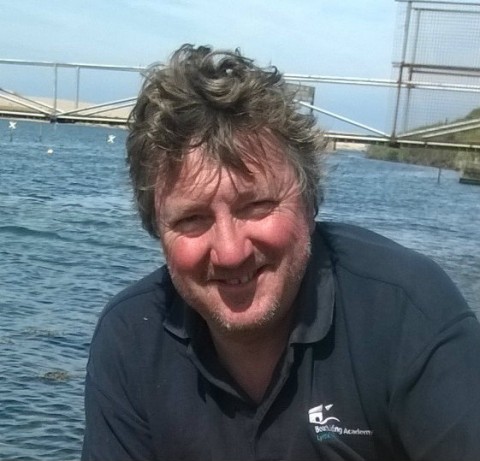 By Ian Baird
This is an adaptation of one of my favourite meat recipes, Burmese pork belly curry. I have poached the monkfish in the curry sauce at the end of cooking, instead of marinating it in the spices, so that it retains its wonderful flavour and is accompanied by the sauce, rather than overwhelmed in it. It could be made with any fish that is robust enough to hold together during the poaching, or you could reduce the amount of monkfish and make up the quantity with fresh scallops. T
Ingredients
2 monkfish tails, filleted and cut into chunks
1 400ml tin of coconut milk
1 large onion, sliced
1 bulb of garlic, each clove sliced
Half a lemon, cut into quarters
Fresh ginger, sliced into slivers
Fresh coriander, chopped
2 fresh red jalapeño chillies, sliced (reserve 1 until the end of cooking)
3 rhizomes of fresh turmeric, peeled (or 2 heaped teaspoons of powdered)
5 spring onions, sliced
1 tbsp of coconut oil
1 dessertspoon of paprika powder
1 tbsp of fish sauce
1 tbsp of soy sauce
1 tbsp of mirin (rice wine)
Method
Put one quarter of the onion, half the coriander, half of one chilli, one piece of the lemon (including the rind), all the turmeric and half the garlic in a food processor with half a pint of water. Blend to a smooth liquid purée.
Heat the coconut oil in a wok or deep frying pan. Gently fry the remaining onion, ginger and garlic until it just starts to take colour. Add the vegetable purée.
Stir and simmer on a low heat for about five minutes. Add the paprika, fish sauce, soy sauce and mirin. Simmer for another five minutes.
Add the other half of the first chilli and the coconut milk. Stir and simmer for 20 minutes to reduce and thicken the sauce. At this stage the cooking can continue or the sauce can be cooled and refrigerated to be used later. This can help develop the flavour.
To finish, place the pieces of monkfish into the simmering sauce and gently poach for about 5 minutes. Add the remaining coriander, chilli and the spring onion. Squeeze in the rest of the lemon juice. Stir gently and allow to simmer for another 5 minutes to barely cook the vegetables which should be vibrantly coloured by the short cooking time. Serve over the lemon and garlic rice with the stir-fried samphire as a side dish.