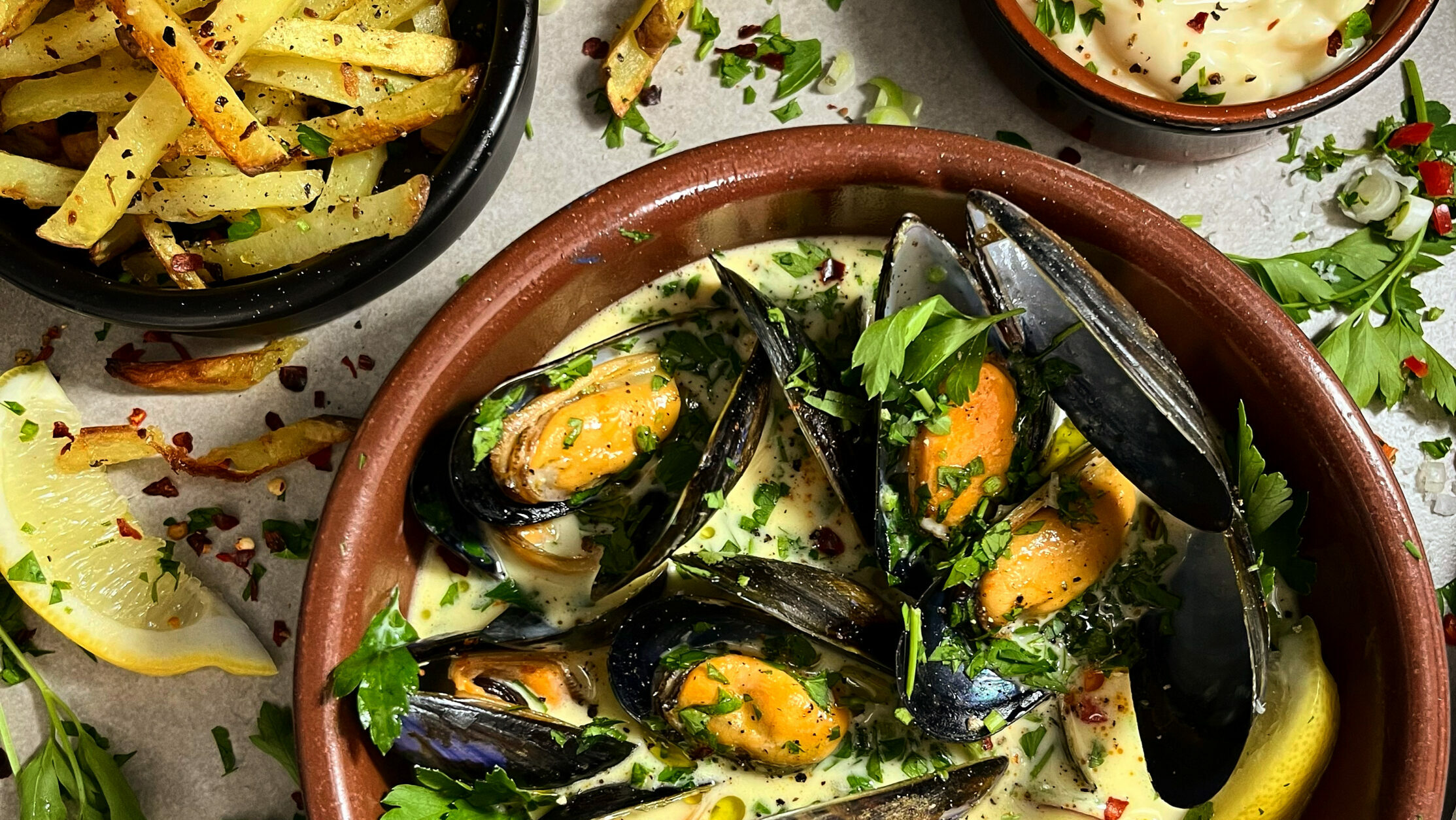 Moules frites
By Siân Hughes
There's nothing more warming on a cold night than a steaming bowl of mussels in a gorgeous creamy white wine sauce. You'll need plenty of crusty bread for mopping and don't forget to save a glass of wine for the chef!
Ingredients
2 large potatoes ~300g each
1kg mussels 
Vegetable oil for deep-frying
20g butter 
2 shallots, finely chopped
3 garlic cloves, minced
1 red chilli, finely chopped
Handful of parsley 
150ml dry white wine
300ml crème frâiche
Juice of half a lemon
Method
Slice the potatoes into thin chips and soak them in a bowl of cold water for at least 30 minutes to get rid of excess starch.
Clean the mussels. Buy them readily cleaned from your local fishmonger or head to the Discover Seafood website for tips. Once clean, put them in a bowl of cold, salted water and set aside.

Drain the potatoes and pat them dry with a clean towel. Pour the oil into a deep frying pan (you want the oil to be about 2-3 cm deep) and turn the heat on medium-low until hot, then blanch the chips for 4-5 minutes. Leave them on kitchen paper to absorb any excess oil.
Drain and rinse the mussels and in a large saucepan, melt the butter on a low heat and fry the shallots, garlic, and chilli until soft. Add the parsley, mussels, and wine. Then turn up the heat, cover and cook for 5-7 minutes, shaking occasionally.
Finish off the chips. Heat the same oil up to a high heat and deep fry the chips again for roughly 2 minutes. Take them out and place them on kitchen paper and season with salt.
Stir the crème frâiche and lemon juice into the pan of mussels and serve immediately with the fries with crusty bread or salad on the side.