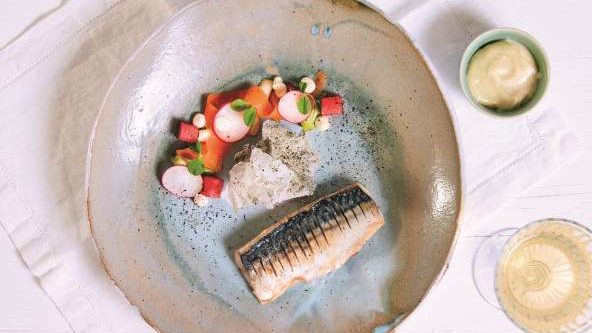 Mackerel with pickled vegetables, watermelon & wasabi mayonnaise
Put an Asian twist on some British seafood!
Ingredients
1 Fresh Mackerel, filleted, pin boned and cleaned, each fillet cut into 2
6 x 1cm cubes of watermelon
1 tbsp mayonnaise
1 x small squeeze of wasabi
1 tsp lemon juice
3 radishes, sliced thinly
2 tsp pickled sushi ginger
1 small carrot, peeled into ribbons
2 spring onions, sliced thinly
Baby herb shoots for garnish
Vegetable oil
Salt & pepper
For the vegetable marinade
100ml rice wine vinegar
100ml mirim (or dry sherry)
pinch of salt
1 teaspoons sugar
1 tbsp soy sauce
1/2 tsp crushed shechuan peppercorns
pinch of turmeric
pinch of five spice
1 bay leaf
For the seaweed cracker
1 dried rice cracker spring roll wrapper sea salt flakes
Dried seaweed (such as nori or dulse)
Method
For the pickled vegetables
Place all ingredients for the marinade into a small saucepan and bring to boil. Add the radishes and spring onions and simmer for 1 minute. Add the carrot ribbons and remove from heat. Set aside.
For the seaweed cracker

Snap the dried cracker into pieces and deep fry until it puffs up. Drain and sprinkle with the seaweed and sea salt flakes.
For the wasabi mayonnaise
Mix the wasabi paste with the mayonnaise and lemon juice and decant into a squeezy sauce bottle.
For the mackerel

Heat a non stick frying pan over a medium heat with a little oil. Season the mackerel fillets and fry skin side down for approximately 1 minute, depending on the thickness. Flip the fillets over and remove the pan from the heat. The fillets will continue to cook from the residual heat from the pan.
To Plate

Strain the vegetables from the marinade and and place in a semi circle at the top of a serving plate. squeeze some of the wasabi mayonnaise around the plate. Place the cooked mackerel fillet onto the plate and top with the seaweed cracker if using.