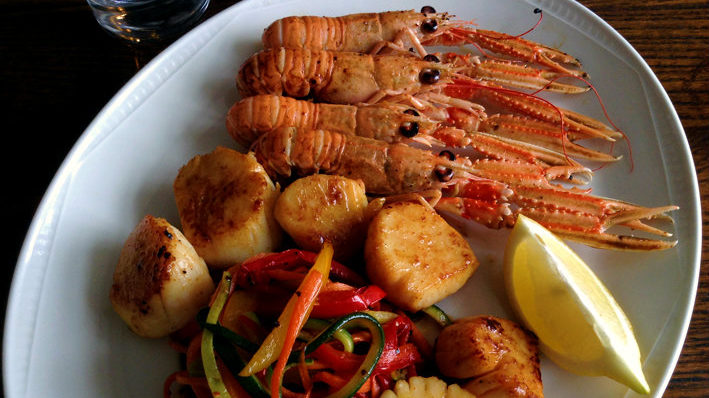 Shetland scallops and langoustines with stir-fried vegetables
By Busta House
A quick and simple recipe that makes the most of Shetland's utterly superb scallops and langoustines.
Ingredients
4 large Shetland scallops
4 small Shetland langoustine
1 large courgette
1 small red bell pepper
1 small yellow bell pepper
1 medium carrot
2 tbsp olive oil
5cl Pernod
1 clove of garlic, finely chopped
Splash of white wine
Salt, pepper and curry powder for seasoning
Method
Chop the courgette, peppers and carrots julienne style (into small sticks). Bring a large pan of water to the boil and season with salt and pepper.
Place langoustines in the water and cook for 3-4 minutes.
Meanwhile, heat the olive oil. Season the scallops with salt, pepper and curry powder and fry them in the hot oil for 2 minutes on each side.
Add the langoustines to the pan of scallops and add the Pernod; fry together for 1 minute.
On a medium heat, add the vegetables, season well and stir-fry for approximately 4 minutes.
Add the garlic followed by a splash of white wine and fry for a further minute to finish.
Serve on a warm plate and enjoy!