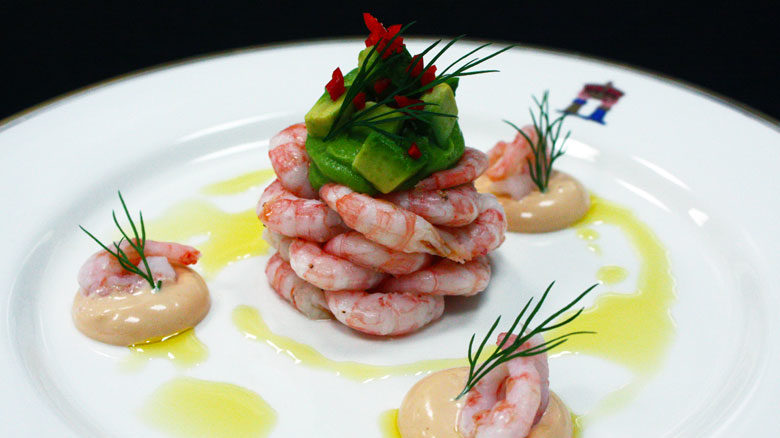 Prawn and avocado cocktail with creamy avocado and sun-blush tomato dressing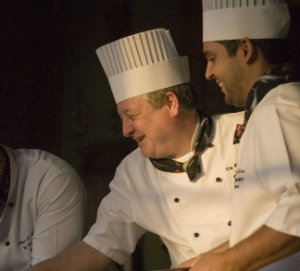 By Steve Pini
Steve Pini's refined take on the prawn cocktail, a perennial yuletide favourite, will be the starter at his own Christmas Day feast this year.
Ingredients
For the cocktail
2 small ripe and ready to eat avocados
2 tbsp fresh lemon juice
1 tsp fresh dill, chopped
2 tsp fresh chives, chopped
1/2 small red pepper, deseeded and finely diced
1/2 small green pepper, deseeded and finely diced
1 tbsp olive oil
2 tbsp double cream
340g cooked and peeled large prawns
fresh marjoram sprigs and leaves to garnish
salt and freshly-ground black pepper
For the dressing
4tbsp olive oil
40g sun-blush tomatoes
1 tbsp Thai sweet chilli sauce
4 tbsp tomato juice
3 tbsp mayonnaise
Method
Halve, peel and stone 1 avocado and then finely dice. Add 1 tablespoon of the lemon juice with the dill and chives, diced red and green peppers and the olive oil. Mix together, then cover and chill until required.
For the dressing, place all the ingredients into a food processor or blender, and blend until it forms an emulsion. Spoon into a small bowl and set aside.
Halve and stone the remaining avocado. Use a teaspoon to scrape out the avocado flesh into a bowl. Add the remaining lemon juice and some seasoning and mash until smooth. Press the mixture through a sieve into a bowl and whisk in the double cream until the mixture becomes the consistency of mayonnaise, taking care not to over-whisk. Chill until required.
To serve, reserve 12 peeled large prawns and place a 6cm metal ring or cutter on a plate. Now arrange the remaining prawns, overlapping each one slightly, head to tail around the inside of the ring with their backs facing outwards, and leaving the centre space empty.
Spoon a little avocado cream into the centre and top with the diced avocado and pepper mixture. Press down gently, then carefully remove the ring and repeat on 3 more plates. Garnish with a sprig of fresh marjoram.
Place 3 spoonfuls of any remaining avocado cream around each plate and top each with a peeled prawn and a marjoram leaf. Place 3 spoonfuls of the sun-blush tomato dressing around the plate, and then serve.