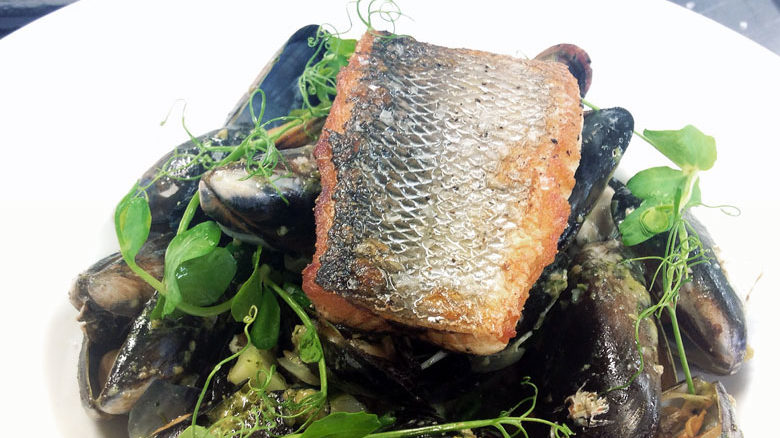 Sea bass with mussels, pesto, samphire and cucumber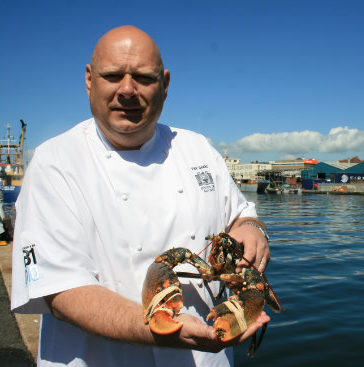 By Alan White
This is restaurant cooking – but it can easily be done in the home kitchen too. Chef Alan White from the Grand Hotel in Brighton uses a cashew nut pesto here, but any pesto will sit happily alongside the cool cucumber and samphire in this beautiful dish.
Ingredients
1 sea bass fillet
1 tbsp olive oil
Salt
Pepper
1/2 banana shallot, roughly chopped
1 garlic clove, sliced
120ml white wine
1 handful of mussels
1 knob of butter
1/2 lemon
1 handful of samphire, chopped
1/2 cucumber, sliced and diced
1 tbsp homemade pesto
Pea shoots
Method
Drizzle a little olive oil over the sea bass and season with salt and pepper.
Put the fillet, skin-side down in a lightly-oiled frying pan and hold it flat for a few seconds to prevent the fillet from curling up at the sides. Leave it to fry.
Meanwhile, tip the shallot and garlic into another hot pan. Add the wine and bring to a simmer. Add the mussels, cover and let them steam open.
By this point, the sides of the sea bass should be white and opaque, and it will be starting to lift away from the pan. Flip over so it's cooking skin-side up. Add the knob of butter to the pan to enrich it, and when the butter starts to brown stop it from cooking any more with a squeeze of lemon juice. Remove the fillet from the pan, and rest it on a board – where it will keep cooking.
Check that all the mussels are open, and then add the samphire, cucumber and pesto the pan. Cook for one more minute, and then tip the mussels and juices into a bowl. Top with the sea bass fillet and garnish with pea shoots.