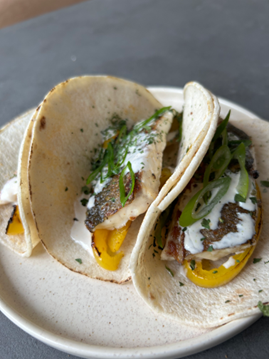 Sea Bream Tacos
with Charred Yellow Peppers, Spring Onions & Lemon Sour Cream. Estimated cost per portion £3.50
Ingredients
2 fillets sea bream, cut into 6 strips
1 yellow pepper
6 small tortillas
2 spring onions, thinly sliced
1 lemon
2 tbls sour cream
1 tsp chilli powder
2 tbls olive oil
salt and pepper
Method
Marinate the fish strips in 1/2 the olive oil, salt, pepper and chili powder and place in the fridge for an hour at least.
Mix the sour cream with the juice of the lemon and reserve.
Put the oven grill on high heat.
Rub the yellow pepper in the remaining oil and cook under the grill turning as the skin blisters and blackens.
Remove from the oven, remove the core and cut into strips.
Place the fish on a tray and cook under the grill skin side up for 3/4 minutes or until cooked through.
Add the tortillas to the tray and heat for 10/15 seconds.
To assemble the tacos, place one slice of fish on a tortilla, top with a couple pieces of pepper, a sprinkle of spring onions and drizzle of yoghurt sauce.