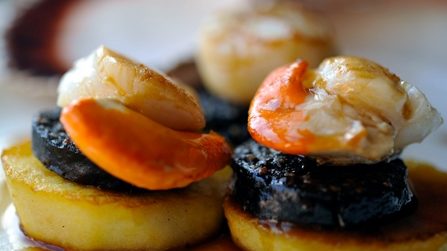 Seared scallops with caramelised apple, black pudding and cider sauce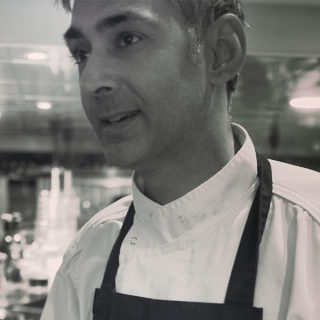 By Paul Webbe
Talented Sussex chef Paul Webbe has a passon for locally sourced, seasonal ingredients from both land and sea. This recipe is a favourite during Rye Bay Scallop Week.
Ingredients
2-3 scallops, shucked, per person
Granny smith apples, approx 1 per 3 persons
Best quality black pudding
100ml brown meat or poultry stock
40mls cider
10g unsalted butter
Seasoning
Method
For the sauce
Reduce cider in pan until it resembles syrup by bringing to the boil and simmering until it almost caramelizes and adds a shine to it.
Add stock and reduce by 4/5.
Whisk in butter a little at a time to form a butter sauce. Season as required. Strain through a fine sieve.
Peel apple, core and slice 1 cm thick, 3-4 slices per apple, using larger middle section.
Pan fry the apple rings in a little butter until golden, turn over and repeat.
Cut black pudding slices also 1cm thick, pan fry both sides. The apple and black pudding can be kept warm in a gentle oven or be reheated gently in the oven when needed.
Minutes before you plan to serve
Sear scallops in a hot pan with a little oil until slightly caramelised. Turnover and repeat. Probably 1 minute per side. Not too many in one pan.
To serve
For each scallop tower begin with an apple ring, then a black pudding round, top with a scallop and drizzle the sauce over.