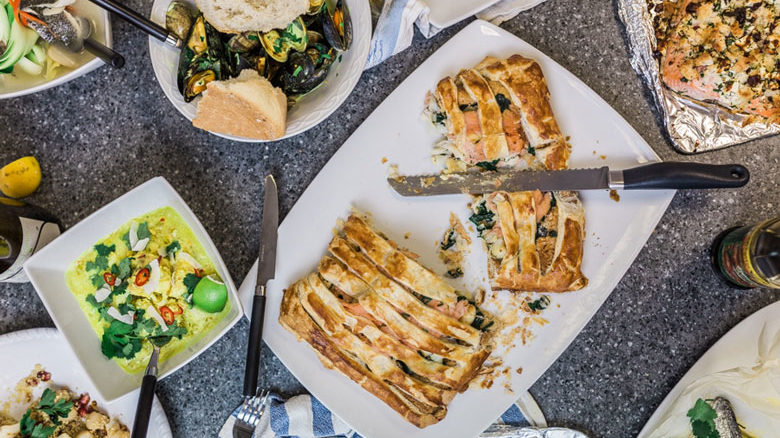 Smoked fish puff pastry pie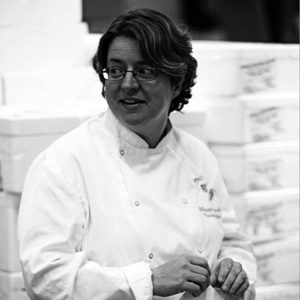 By CJ Jackson
This terrific traditional seafood treat by CJ Jackson is just the thing for a festive spread as the family assembles on Christmas Eve.
Ingredients
1x 200g fillet smoked haddock
120g long slice cut smoked salmon
340g sheet of ready-made puff pastry
100g kale, finely shredded
For the sauce
40g butter
40g plain flour
Pinch cayenne pepper
A bay leaf
200mls milk
1 tsp Dijon mustard
Salt and freshly ground pepper
1 tbsp Parmesan cheese
1 egg, beaten ready for glazing
Method
Preheat the oven to 200 C/gas mark 6. Pin bone and skin the smoked haddock fillet. Cut into 4cm pieces. Keep refrigerated with the smoked salmon until required.
Cut the pastry into a 1/3 piece and a 2/3 piece. Roll the smaller piece into a sheet 25cm by 20cm. Stab thoroughly with a fork to prevent the pastry from rising too much during baking. Chill for 10 minutes in the fridge then bake in the oven for 10-12 minutes or until crisp and brown. Remove from the oven and cool completely on a wire rack. Turn off the oven. Roll the second sheet of pastry into a 24cm x 28cm sheet. Chill until required.
Blanch the kale in boiling salted water up for 5 minutes, drain and refresh under cold running water. Press thoroughly between 2 plates to remove excess water. Season lightly.
Make the sauce: melt the butter in a small saucepan, stir in the flour and cayenne. Return to the heat and cook for 1 minute. Add the bay leaf and blend on the milk, away from the heat. Once smooth return to a low heat and bring to the boil, stirring continuously.
Simmer for 30 seconds and remove from the heat, add the mustard, salt and pepper and the Parmesan cheese. Allow to cool completely. Remove the bay leaf. The sauce must be thick as the moisture from the fish will dilute it slightly.
To assemble
Heat the oven to 200c/gas mark 6. Put the cooked pastry base on to a baking sheet. Spoon the kale on top. Mix the sauce with the fish and spoon over the kale, spread it evenly.
Lay sheets of smoked salmon on top of the smoked haddock mix.
Brush the edges of the base with beaten egg and lay the second sheet over the top, tucking the raw pastry under the cooked pastry.
Brush the top of the pastry with more egg glaze. Create steam holes by snipping down the middle, alternatively cut slats into the pastry by folding the sheet in half and cut across the folded edge.
Bake in the oven for 20-25 minutes or until the pie is golden brown.
Serve warm with a winter leaf salad.