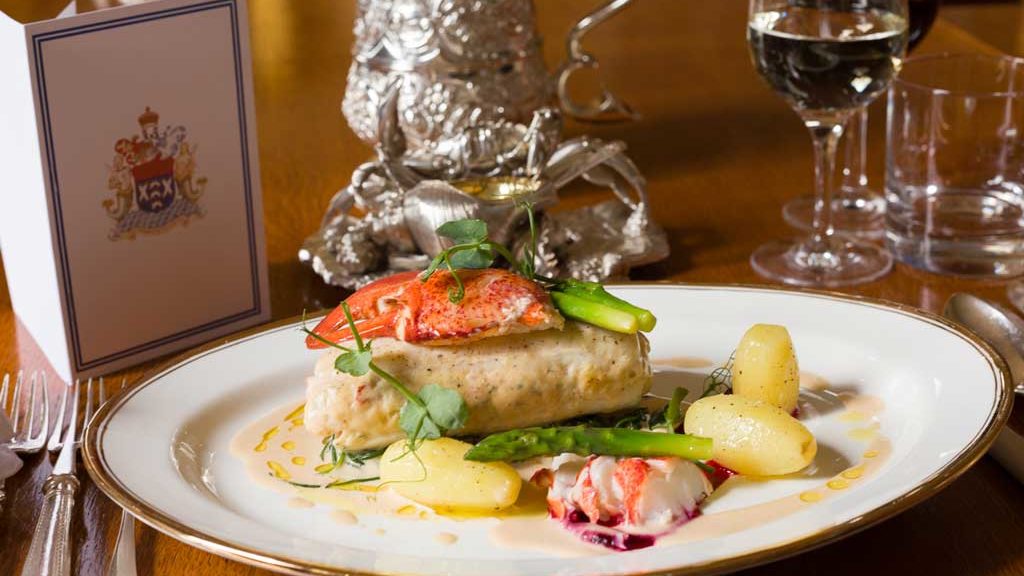 Sole Walewska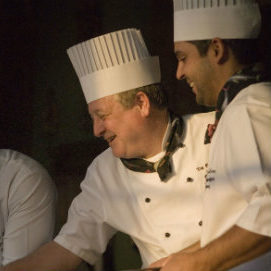 By Steve Pini
This modern take on Escoffier's legendarily luxurious dish looks and tastes spectacular and is guaranteed to bring the house down at any celebratory feast.
Ingredients
10 x ¼ fillets lemon sole
Seasoning (salt and pepper)
2 egg whites
½ pt double cream
10dsp dill, roughly chopped
For the sauce
1pt double cream
½ pt fish stock
½ pt Champagne or sparkling white wine
3 tbsp Parmesan, freshly grated
2 tbsp shallots, finely chopped
85gm butter, cubed
For the lobster
1 x 500g lobster (native or Canadian)
1 bay leaf
2 sprigs thyme
1 good pinch of salt
1 whole shallot, peeled
Garnish (truffle oil and 4 sprigs of chervil)
(Optional) sliced fresh black truffle
Method
Place lobsters in the fridge for at least an hour to make them docile. Then follow this guide to kill the lobsters humanely.
Pan of water on stove and bring to the boil. Make sure its big enough to take the lobster. Now add the shallot, thyme, bay leaf and lobster. Simmer for 8-10 minutes; longer if the lobster's larger. When cooked, remove and place on tray to cool.
Meanwhile take 2 fillets of lemon sole and season with salt and pepper. Place them into a food processor and blitz into a pulp. Now add (while still running) egg white and wait a few seconds before adding double cream — do not over whip, only until firm. Put the mixture into a bowl and add chopped dill. Refrigerate.
Once the lobster has slightly cooled, remove claws and tail from body. Using scissors, cut up each side of the underside of the tail and remove the tail whole. Set to one side, now crack and remove the claws whole, set to one side. Break the arms and remove the neck (this will be added to the mousseline).
Now to assemble the dish. Place 4 x ¼ fillets of sole on a board- skinned side up. Now take mousseline from fridge, add chopped lobster arm meat and mix in. Spread over each fillet the mousseline about ¼ inch thick and place the other fillets on top skin side down using a pallet knife. Ensure the excess mousseline is spread evenly around each fillet.
Now wrap the fillets in cling film. Roll out the cling film on the table. Using a pallet knife, lift one complete fillet of sole onto cling film and fold film over the top; encasing sole completely. Repeat this with the rest of fish and place onto a tray, then into the fridge until ready to cook.
Now prepare the sauce. Put the chopped shallots in a plan with champagne (or sparkling wine) and fish stock. Heat until it reaches a gentle simmer. Reduce by 2/3. Strain stock to remove shallots, and pour into a clean pan.
Take the fish out of the fridge and place into a steamer. Cook for 10-12 minutes — check with a probe that the temperature is 60C, and that the fish is cooked.
Return the stock to the stove, and add the double cream. Bring to the boil and simmer – reduce by 1/3. Now add the cheese and melt into sauce. Now add the butter and whisk, then set to one side.
Plating up
Place the lobster claw and tail in steamer for 1 minute to warm. Do not leave longer. Take the sole, cut one end of cling film and evenly push sole out onto kitchen paper to absorb the excess liquid.
Remove from the paper and put onto the plate. Repeat this for all the fish. Put the sauce on the stove — do not boil! Taste, and season if necessary. Coat each portion of sole with sauce.
Place ½ lobster tail or one claw on top of sole and garnish with a sprig of chervil and truffle oil.
Options
You can use slices of fresh black truffle layered inside the fish, on top of the mousseline or before placing the fillet on top. It could also be used as a part of the garnish. You can also add chopped cooked prawns to mousseline for a meatier consistency.
You can also use Dover sole — it depends on your own taste. Bear in mind it will have a much firmer consistency – and will probably be more expensive!
This is very much a splurge dish: it's designed to be opulent and luxurious. But to keep the costs the right side of ruinous, pick your ingredients with care. Lemon sole is excellent value right now, as is Canadian lobster (although native ones are superb at the moment), any sparkling wine is fine and you don't have to use fresh truffles! Also this is a very rich dish: a little goes a long way, so don't be afraid to exercise some portion control.