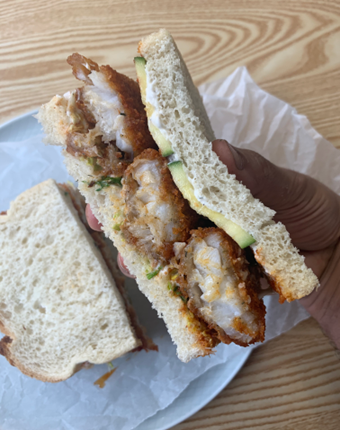 Spicy Gurnard Fish Finger Sarnie
with Cajun Mayo, Quick Pickled Cucumbers, Lettuce. Estimated cost per portion £2.85
Ingredients
4 gurnard fillets, skinned
1/2 cup flour
2 eggs, beaten
1/2 cup breadcrumbs
2 tbls mayonnaise
2 tsp Cajun seasoning
1 tsp hot sauce
1/4 cucumber
1/4 cup any vinegar
2 tsp sugar
1 tsp salt
4 slices of bread
1 cup lettuce, finely chopped
Salt and pepper
Cooking spray
Method
Cut the gurnard fillets into 8 fingers.
Coat first in the flour, then egg and breadcrumbs.
Reserve in the fridge.
Mix the mayo with the Cajun seasoning and hot sauce.
Slice the cucumber thinly and mix with the vinegar, salt and sugar and allow to pickle in the fridge for 10 minutes.
Preheat the grill, spray the fingers with cooking spray and cook under the grill for 5 minutes a side or until crisp.
To assemble the sandwiches spread the mayo mixture on the inside, add the romaine to one side, then the pickles to the other.
Place the fingers on the romaine and season with salt and pepper.
Close up the sandwiches, slice and serve.