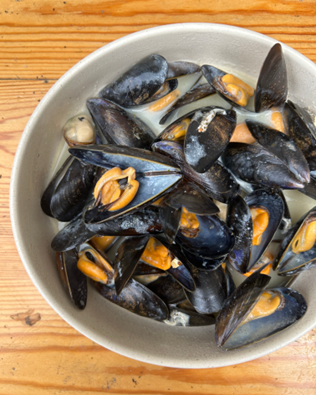 Steamed Mussels
with Shallot, Coconut & Ginger Broth. Estimated price per portion £2.25
Ingredients
1 kg mussels
1 tin coconut milk
1 tsp ginger paste
2 shallots
1 tsp garam masala
1 tsp olive oil
1 lime
1 chilli finely sliced (optional)
Method
Use a deep heavy pan with a lid for the recipe.
Sauté the shallot, ginger and garam masala in the olive oil on medium heat until soft.
Add the mussels and cover.
Cook for 2/3 minutes until the shells begin to open then add the coconut milk, replace the lid and cook for another 2/3 minutes or until the shells are all the way open.
Squeeze the lime juice overtop and chili if you like.