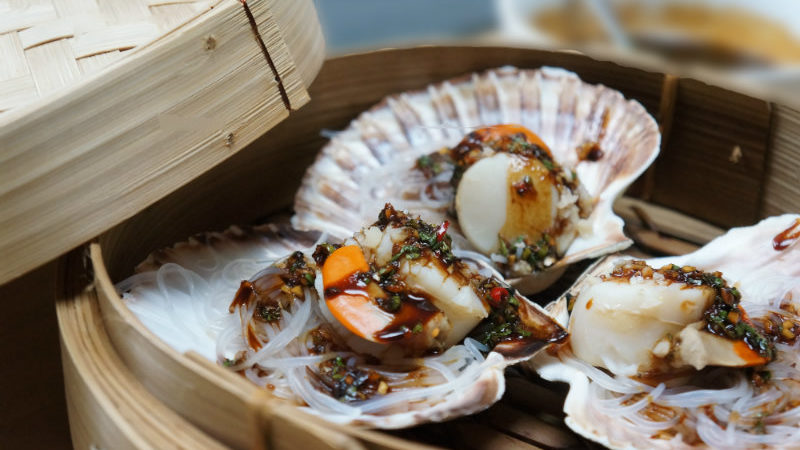 Steamed scallops with garlic and vermicelli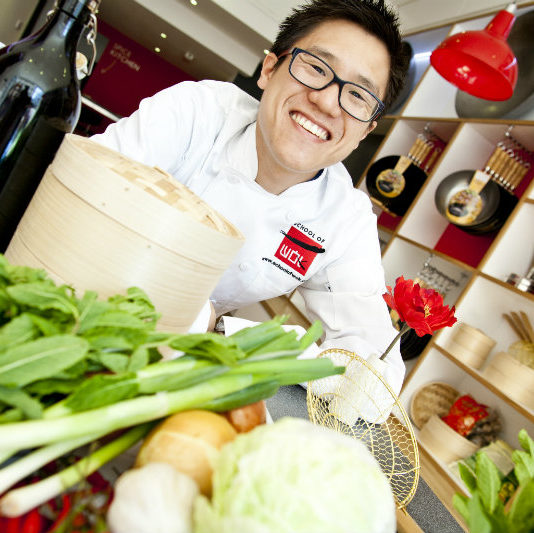 By Jeremy Pang
School of Wok chef Jeremy Pang celebrates the Chinese New Year with a steamed scallop recipe that makes a beautiful starter or single dish as part of a banquet.
Ingredients
5 fresh scallops, in their shell
5 cloves garlic, crushed
1 handful of vermicelli noodles
2 spring onions, finely chopped
For the sauce

1 tbsp light soy sauce
3 tbsp dark soy sauce
1 tsp ginger, finely chopped

1 tsp garlic, finely chopped
1 tbsp coriander, chopped
1 tbsp spring onions, chopped
1 tbsp malt or black rice vinegar
1 tbsp sugar
2 tsp sesame oil
1 tbsp XO sauce
1 tsp chilli oil (optional)
Method
Start by preparing the scallops. Place the shells on a tea towel one by one, and then push a knife into the gap at the front of the shell.
Scrape the knife round the shell, prise off the flat, top side of the scallop, and discard. Then use a dessert spoon to scoop out the meat, and set to one side.
Remove and discard the outer 'skirt' which is around the white meat and place the meat and roe in a bowl of cold water to clean it.
Wash the remaining half of the shell under a cold running tap, and then place the meat back into the bottom shell.
Divide the crushed garlic into five portions, and place a generous amount on top of each cleaned scallop.
Soak a handful of vermicelli in hot water for 10 minutes. Once soaked and softened, drain the water and use scissors to cut into 5 portions. Place each portion on top of the scallops and garlic.
To make the sauce, simply stir all the ingredients together.
Setup a steam stand in a wok, with boiling water half way up the wok. Place the scallop shells on a suitable steaming plate. Cover with a lid and steam the scallops in their shell on high heat for 3-5 minutes depending on the size.
To check whether the scallops are cooked, push into the meat; the meat should push back at you if cooked through properly. Garnish with a drizzle of sauce over each scallop.