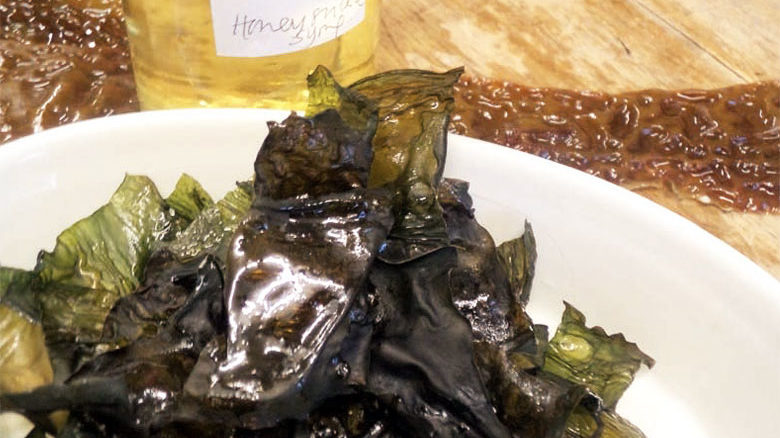 Sweet sugar kelp crisps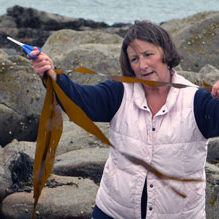 By Fiona Bird
I am indebted to Iain Mckellar of Just Seaweed for this recipe idea. You may prefer to coat the sugar kelp with honey or, if you make fruit or flower syrups, experiment with one of these. I have used homemade sweet cicely (a hint of aniseed) and honeysuckle syrups: both were delicious.
Ingredients
45g approx fresh sugar kelp fronds
2-3 tablespoons maple syrup
Method
Rinse the sugar kelp briefly, but don't rub the mannitol (thin white coating) away. Using scissors, cut the sugar kelp into 3-4 cm rectangles. If your sugar kelp is on the large size, cut crisps accordingly: cut the frond in half first.
Coat the sugar kelp with maple syrup on both sides and bake in an oven pre-heated to gas mark 4/180C for 15 minutes. Turn the crisps and recoat any that look dry. Cook for a further 10 minutes until the crisps are green and crunchy. Be careful not to over-cook! The precise cooking time will depend on the thickness of the sugar kelp.
Alternatively, you can make savoury sugar kelp crisps by cooking the rectangles briefly (for 5-10 seconds, depending on thickness) at 180ºC (or to the manufacturer's recommendation) in a deep fat fryer. Or for a healthier crisp, simply wash the fronds and bake until green and crunchy (20-25 minutes) and break and share.