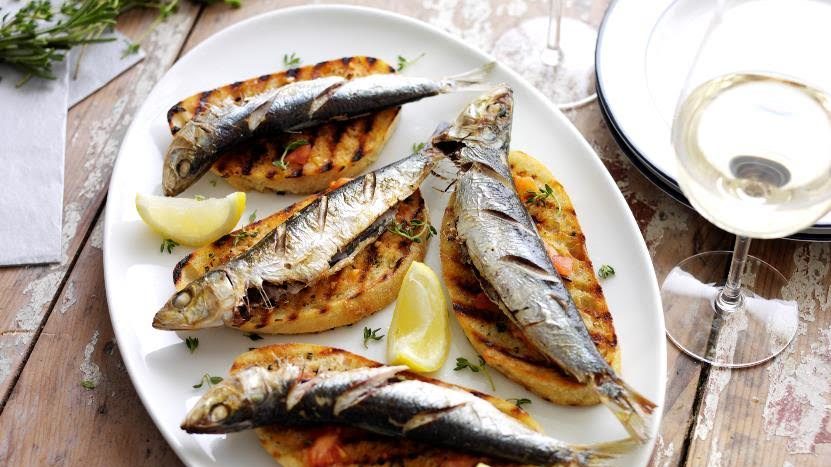 Whole grilled sardines smoked with rosemary and thyme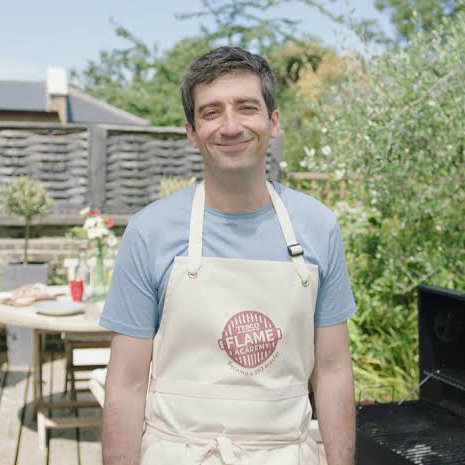 By Ben Tish
Ben Tish, director of London tapas bar Salt Yard, explains that sardines are made for cooking over open fires on summer BBQs. Their natural oiliness helps lubricate the flesh and crisp the skin. In this recipe, the herbs are used twice: once to flavour the bread and again to smoke the fish as they grill.
Ingredients
4 sardines, scaled and gutted, skin lightly scored
2  rosemary sprigs, leaves picked and stalks reserved
2 thyme sprigs, leaves picked and stalks reserved
1 garlic clove, finely chopped
2 very ripe plum tomatoes, halved
4 thick slices of ciabatta or sour dough bread
Olive oil
Half a lemon, cut into wedges
Sea salt
Black pepper
Method
Light the BBQ and wait until it is very hot and the charcoal has turned ashen grey.
Season the sardines and rub with olive oil.
Finely chop the rosemary and thyme leaves, mix with the garlic and a splash of olive oil to loosen, and then season with salt and pepper. Drizzle half of this herb-garlic oil over the bread slices, season and then grill on both sides over the charcoal, until lightly charred.
Remove from the heat and then rub on side of each slice with half a tomato, pressing the flesh into the toast. Drizzle the rest of the herb-garlic oil over the tomato breads and leave at the side of the grill to keep warm.
Place the stalks on the charcoal to start smoking and then grill the sardines on each side for 3 minutes until the flesh turns opaque and the skin is charred and crispy. Squeeze over the lemon juice and then divide the sardines on to the charred bread slices and serve.