Essex's Blackwater Oysters
"Award-winning oysters sold, eaten and enjoyed around the world," has been a proud claim for decades, for Richard Haward's Oysters.
Since the 1700s, eight generations of the Haward family have been cultivating Mersea oysters in the River Blackwater, where they gain their unique 'merroir'.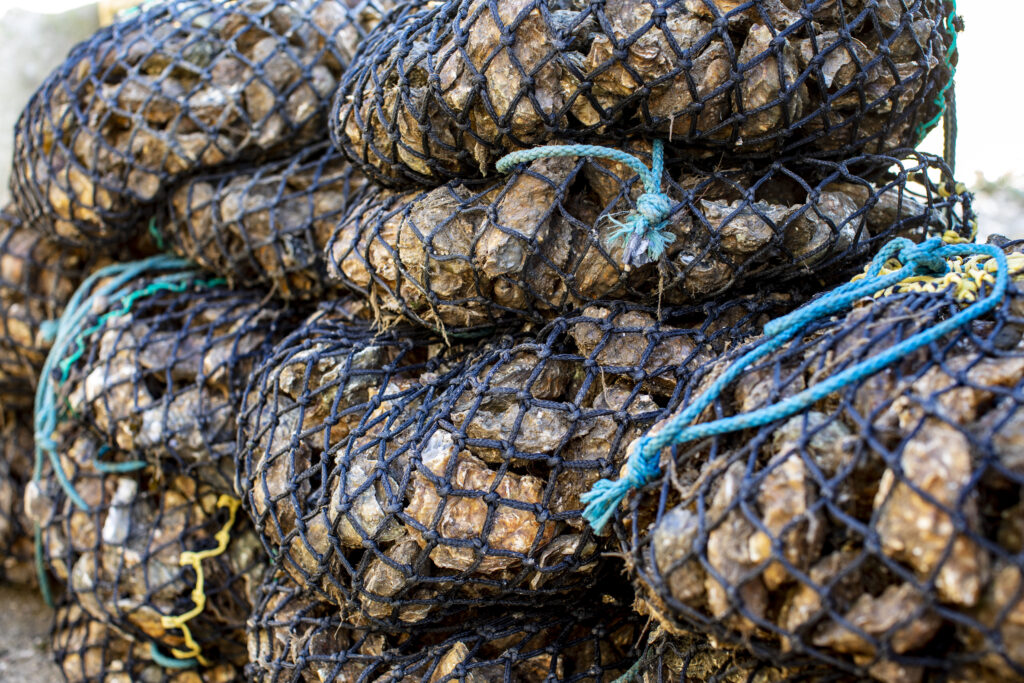 This term, borrowed from the French, recognises that oysters are impacted by the water in which they grow, the plankton they feed on, and by rainfall, salinity, temperature and season.
"Oyster aficionados recognise that a difference of just a few miles in location can have a dramatic effect on flavour," said Tom Haward, who took over the running of the farm from his father Richard four years ago, and in doing so, earned himself the nickname '8G.'
"Dad is still very much in touch with what is happening on the farm and is also up with the political side of the business. This has been complex over the past few years, particularly with issues related to Brexit and Covid-19," he said.
Their company dredges wild Pacific oyster (Crassostrea gigas) seed from the seabed each year, which is re-laid in local creeks and left to grow to harvest size. To supplement these, the Hawards also buy in small quantities of triploid Pacific oyster seed, which are ongrown for the summer oyster market.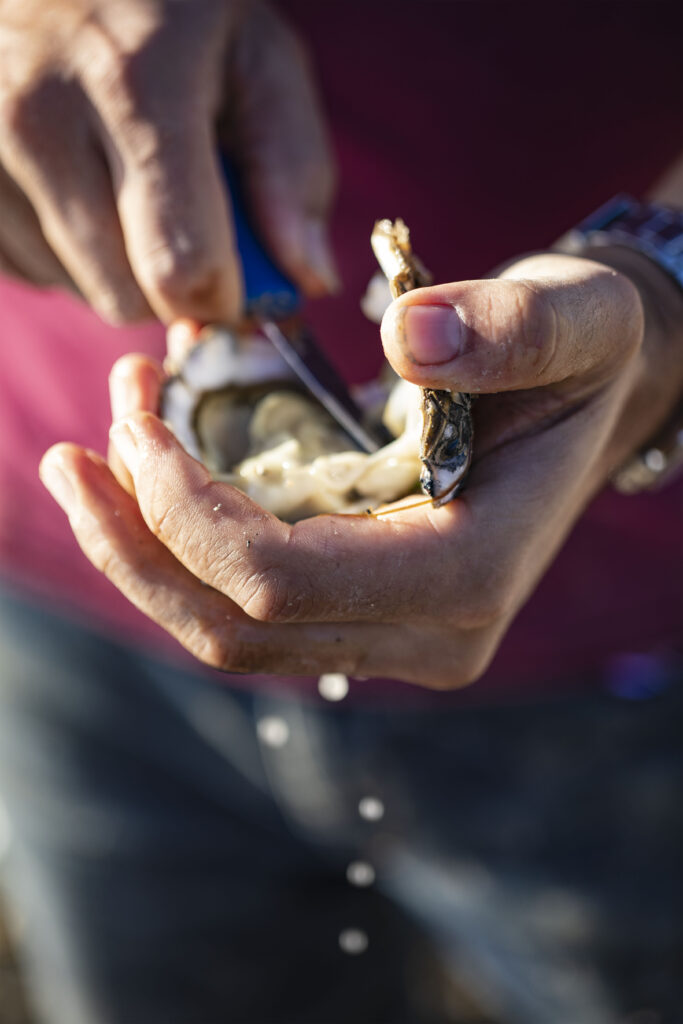 "Triploid oysters are sterile, so pose no threat to the local environment. And because they do not get into spawning condition, they do not develop a 'milky' texture. As a result, a small number of our customers prefer to eat triploids in the summer," Tom said.
He explained that the European native oyster (Ostrea edulis) had been the mainstay of the family business in the early years, but when they started to die out, the UK government introduced the Pacific or rock oyster, which now makes up the bulk of the UK's oyster production, and is widely cultivated in Europe.
Pacific oysters can be harvested and eaten all year round, unlike native oysters, which have a defined season.
Extensive beds
The Haward's oyster beds stretch over 14 acres of estuary, and the condition and size of the oysters is checked regularly, to ensure they are growing into a top-quality product.
"The beds are constantly worked to keep the ground free of silt, and we dredge the oysters up and relay them, which knocks the frills off the growing edge of the shell to create a nicer shape," Tom said.
He explained that they are always mindful of maintaining a self-sustaining oyster population in the river, and acknowledged that in order to do so, they need to be careful not to take too many out, which could change the delicate balance.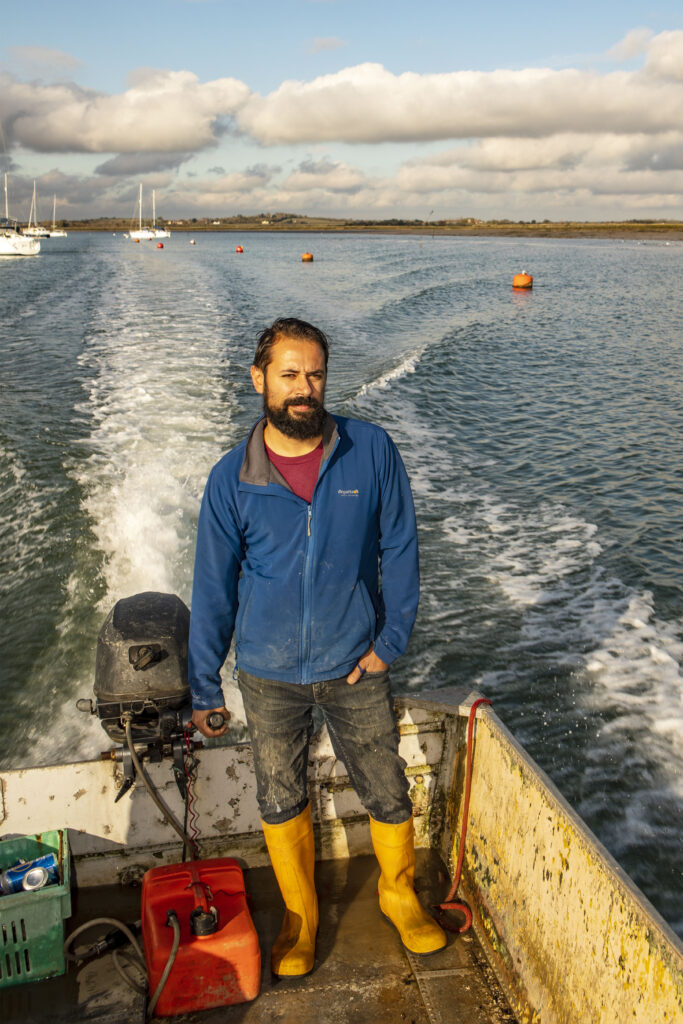 The oysters spawn wild in the tidal creeks around Mersea Island, where there is always a high concentration of natural phytoplankton in the water, on which these molluscs thrive.
"They grow fast in the creeks and produce really good-sized meats. We also tend to move oysters from our deeper beds into the shallows to fatten them up before harvest. In just 6 weeks we can see a huge difference, and it's all down to the feed availability," Tom said.
When they reach harvest size, the oysters are dredged up early in the morning and graded into smalls, mediums and large. Their next destination is the company's depuration centre, where they spend up 42 hours in tanks of seawater that has been purified using ultraviolet light. This process ensures that they are safe to eat, and it also maintains the unique flavour that Mersea oysters are famous for.
The oysters are finally packed into eco-friendly boxes, ready for delivery to private homes, restaurants and businesses in the UK and around the world.
Making the business future proof
One of the biggest outlets for Richard Haward's oysters is a stall at Borough Market in London, where Tom has a team selling around 10,000 oysters and wine direct to consumers every week.
"We started with a small stall in 2002 and it has grown from there. Today we have an attractive, professional unit that attracts a lot of interest and we have become a 'go-to' destination on the market for Londoners and visitors. On a Saturday alone, we shuck more than 3,000 oysters!" he said.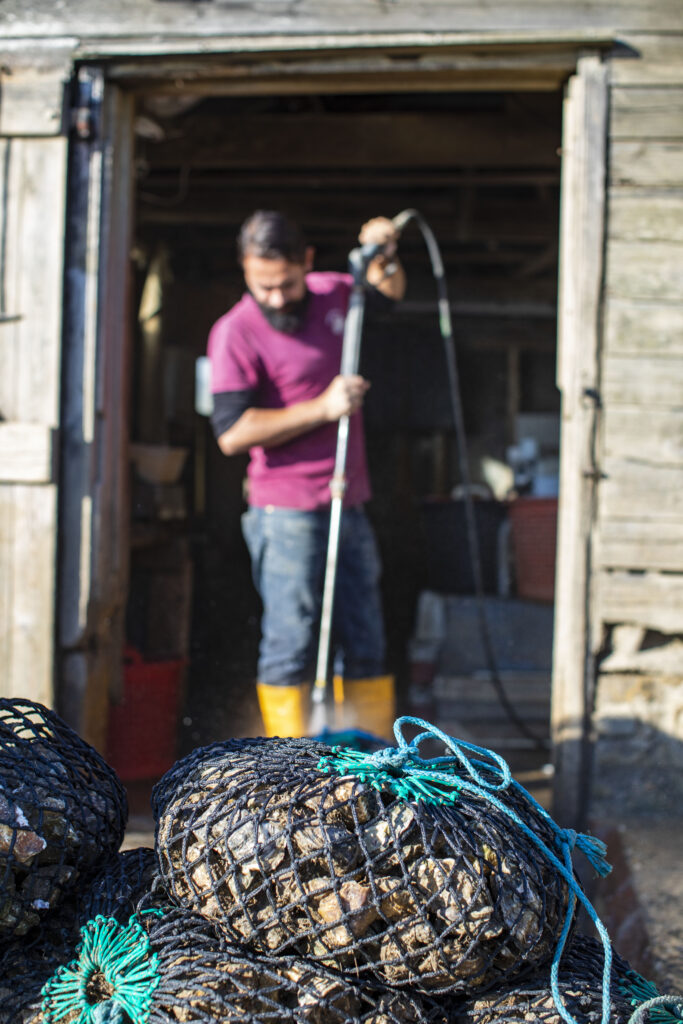 Tom has ambitions to grow this side of the business, and to add a cooked oyster unit to his stable.
"The fresh oysters are a hugely successful part of the business, but I want to encourage more people to try them – especially the British public – and I think that a cooked oyster will take away some of the 'fear factor' of eating live shellfish," he said.
His fledgling plans are part of a move to steer the business in a different direction, now that Covid and Brexit have changed the balance of how things are done. Tom explained that the wholesale price has been getting squeezed, because smaller oyster growers who can no longer afford to sell their oysters to Europe and had no sales during lockdowns, have been flooding the market and going in with a cheap price to get rid of their stock.
"I am keen to move away from a reliability on wholesale and exports and much more into direct retail sales, which are more profitable and would mean that we could take less out of the water, while maintaining our income. I believe that we can slim down and still be successful, and it will also increase our public persona," he said.
Tom admits that the past few years have been tough, not least because he and his fiancé had a baby girl earlier this year.
"During 2020, our business was down 50% at best and 97% at worst. It was very challenging. However, in early August 2021 we finally got back up to 90% of our 2019 levels, which is impressive, considering that we haven't done any exports this year, because the cost of sending small batches has become insane. Instead, we have worked hard to increase the domestic market," he said.
Reflections
A personal highlight for Tom Haward these days is getting out on the water or checking and hand-picking oysters from accessible beds at low tide.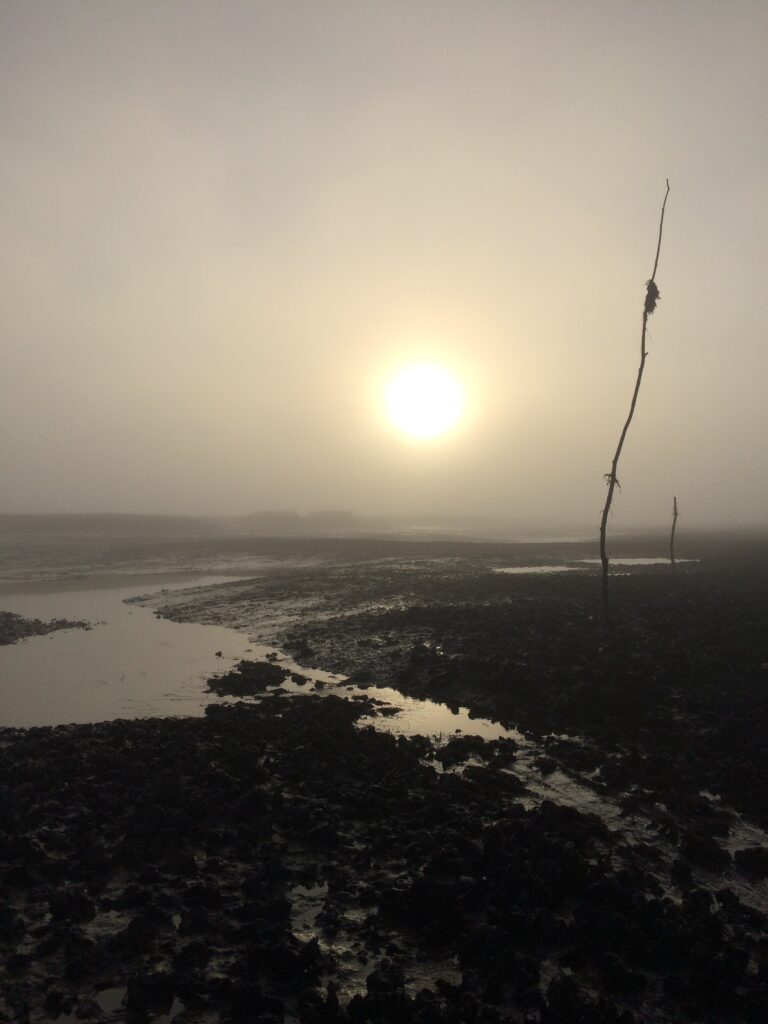 "I love being out amongst nature, with the great variety of birds flying around, and I regret that this job has turned me into more of a pen pusher than an active farmer. The paperwork has become a lot more onerous over the past few years and new regulations related to Brexit have added to the burden. But, the business is getting back on track, I have a wonderful family, and there is a lot to be thankful for," he said.