From Romans to Royals: the Whitstable Oyster
The Whitstable Oyster Fishery Company, one of the oldest companies in Europe and first incorporated in 1793, has experienced the highs and lows of producing the Royal Whitstable Native Oyster (Ostrea edulis) over several centuries. Interestingly, the recorded history of this species goes back much further to the Roman occupation, when Whitstable oysters were shipped back to Rome as a favoured delicacy.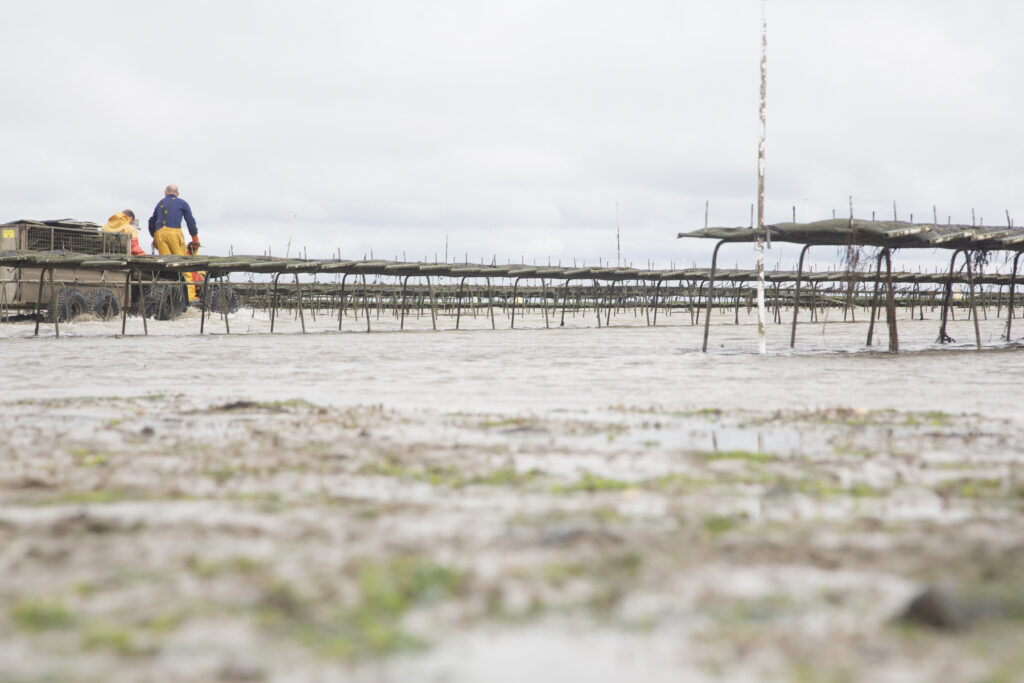 In the 1850s, when the company was at its peak, and oysters were the food of the poor, up to 80 million oysters were sent each year to Billingsgate fish market, in London.
The oysters, which bred naturally in the Thames Estuary, or were brought in from other areas to fatten up in its plankton-rich waters, were dredged up by a large fleet of fishing smacks, moored off the beach.
Fast forward 120 years, and oysters had become unfashionable. Cold winters, neglect during two World Wars, a great flood in 1953 and the introduction of pathogens from abroad, resulted in near decimation of the oyster beds. This, along with changing consumer preferences, saw the business struggle to survive.
Barrie Green and business partner John Knight took over the Whitstable Oyster Company in 1978, when oyster production was at an all-time low and just one part-time dredger remained in operation. Sales amounted to a paltry few dozen oysters per week.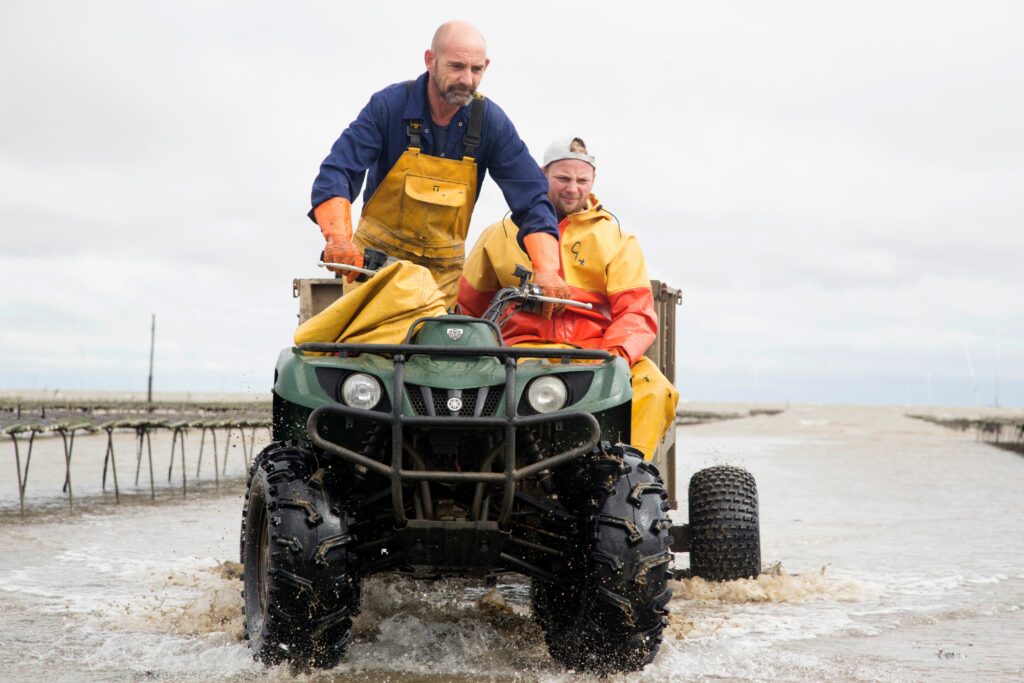 But optimism was high for the future of oysters in Whitstable, and when next generation members Richard and James Green also realised its potential, they opened the now-famous Fish Restaurant in the old oyster stores, and used the profits to help support the native oyster fishery on common ground known as the 'Flats'. They also introduced the Pacific oyster (Crassostrea gigas) and worked hard to build up a name and reputation for their oysters.
In 1997 the Whitstable Oyster was granted protection under the European Union's Protected Geographical Indication (PGI) status. This is awarded by the European Commission and protects and promotes named regional food products that have a reputation or noted characteristics specific to that area. It is only awarded following considerable scrutiny of evidence.
"Oysters reared on our of six square mile patch are the only true Royal Whitstable Native Oysters, and Whitstable Pacific Oysters," Richard Green, Development Director of the Whitstable Oyster Fishery Company said.
Pacific oysters now vital…
Today, Pacific Oysters are the mainstay of the company's oyster business, with the majority of seed bought in from hatcheries in France. These are ongrown in bags attached to low metal trestles, in an intertidal area. Put out in March each year, they take between 18 months and two years to reach market size.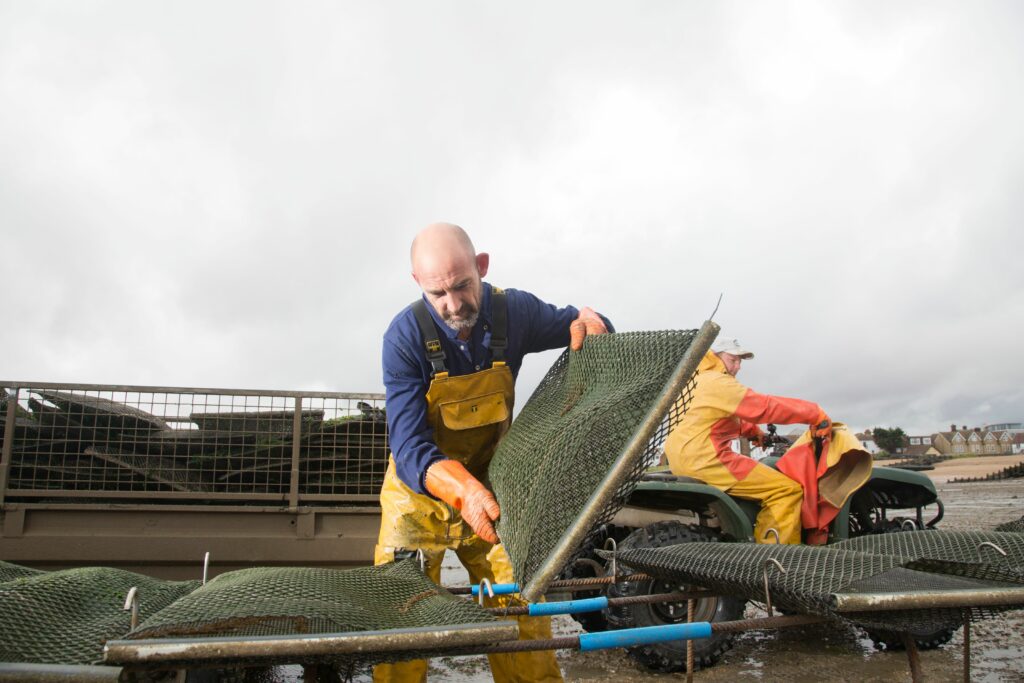 The theory is simple, but a lot of work goes into turning the bags to keep them clean, grading the oysters, and ensuring they grow into a first-class product, according to Richard's brother, James.
"In the beginning, we tried several different methods of producing Pacific oysters, including an attempt at growing them on the seabed, in the same way as native oysters. This was not entirely successful, and we turned it all over to bags and trestles just over 10 years ago," he said.
The company is also trialling an Australian system of tidal baskets, which cuts down on the constant workload of turning bags.
One of the most important developments in terms of improving the quality of the Pacific oysters, was a change away from using diploid seed, which has the capacity to breed in the summer months if the water temperature rises, and it is precisely at this time when the restaurant is at its busiest.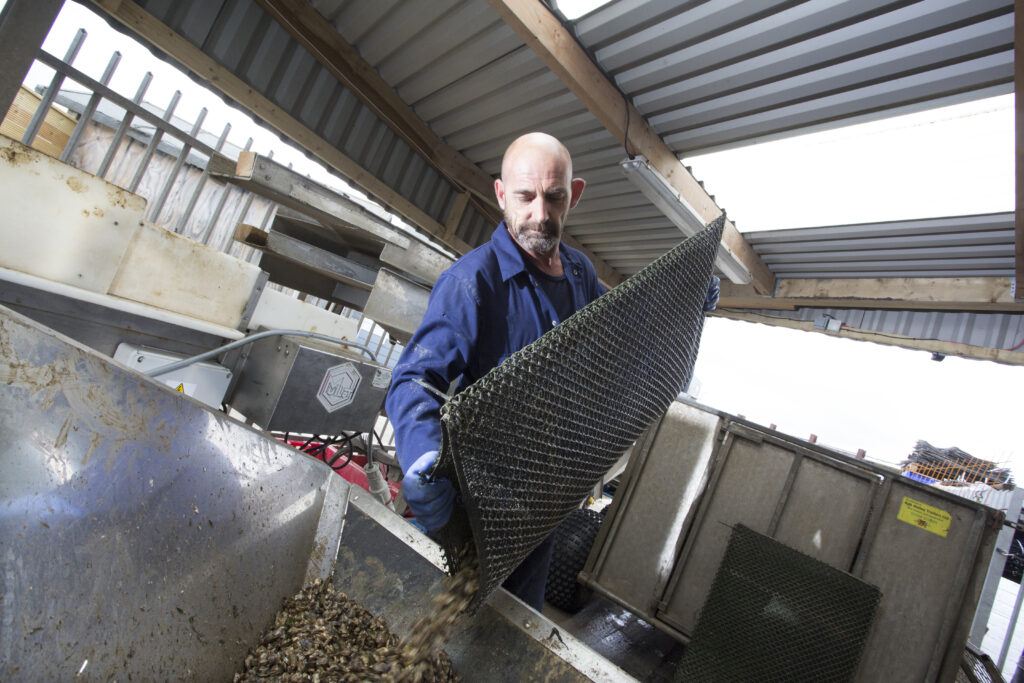 "Diploid oysters are as nature intended, with just two chromosomes, and these are not in the best condition in the summer. The meats are fat and 'milky' before they spawn, and thin afterwards, neither of which are appreciated by our customers," James said.
The answer was to switch over to triploid oysters, which are bred with an additional set of reproduction-inhibiting chromosomes that render them sterile and ensures that quality is maintained throughout the year.
"Using triploid seed was a turning point for us as far as Pacific oysters are concerned and it allowed us to expand our business," James says.
Always a new challenge …
Production in 2019 was around 300 tonnes – 6 million oysters – but as for everyone else in the shellfish business, 2020 was a disastrous year when the Covid-19 pandemic closed down food service trade all over the world, but work had to continue to maintain the oyster crop.
Business is recovering this year (2021), but Brexit has put another spanner in the works, as the company is now unable to sell oysters to Europe unless they have first been depurated in tanks of sterile seawater for up to 42 hours. This is due to the varying quality of the water in which the oysters are grown, which has a seasonal A/B classification.
"It seems there is always one more hurdle to cross. We used to send them for depuration to customers in France, but we can no longer do this thanks to Brexit, and undertaking this process ourselves on a large scale is not viable. Instead, we have refurbished our few depuration tanks and expanded capacity in a small way, which has allowed us to explore new and more lucrative markets, such as Hong Kong, and we are starting to have some success with these," James said.
He continues to battle with the local area water company to improve the quality of the water, and is also at odds with Natural England, over their policy on feral Pacific oysters, which have bred naturally in the area, over the decades.
The Brother's ambition is to stabilise production at around 300 tonnes, with a high-quality product similar to Gillardeau oysters from France, which are a reference product recognised the world over. However, they are facing considerable opposition from local stakeholders, who don't like to see so many oyster trestles in their back yard.
"We spend a lot of time talking to people about the benefits of aquaculture and the ecosystem and social services provided by our oysters. Having oyster trestles on the beach is maybe not as romantic as a deep water fishery, but they provide food and jobs, and home for millions of oysters," they said.
Ever optimists, the Green brothers looks forward to overcoming all the issues, and building a "sustainable oyster business to be proud of" as a legacy for their next generation.