Lindisfarne Oysters: Building on 700 years of history
Lindisfarne Oysters is a family business, set up in 1989, when John Sutherland was seeking ways to diversify his coastal arable, beef and sheep farm on the Northumberland coast, within the Lindisfarne National Nature Reserve.

John had long noticed oyster shells uncovered on the beach at low tide, but had not considered farming them, until he heard that the industry was beginning to redevelop in the UK using the newly-introduced Pacific oyster (Crassostrea gigas), and even had a trade association that could help with information and advice.
Deciding that this could be an interesting new industry, John started out on the long and tortuous road to becoming one of the new breed of oyster farmers.
Interestingly, his research led him to discover that his beach was the site of ancient native oyster (Ostrea edulis) beds, which had been established by the monks of nearby Lindisfarne Priory in the late 1300s. Native oyster populations have all but died out in the UK since the mid 19th century, but several restoration projects are underway and there is hope that they may once again flourish.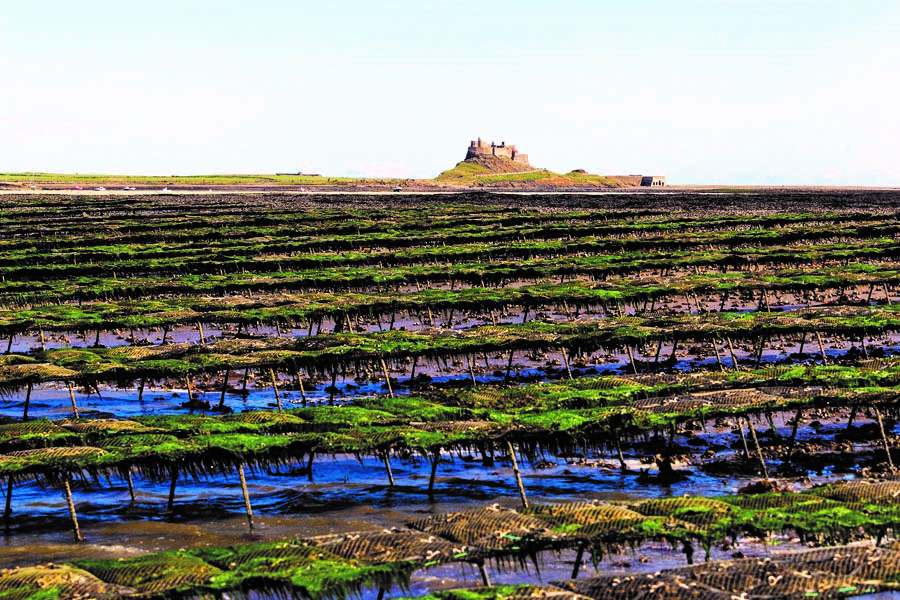 The oyster farm, which is situated in an idyllic situation just south of Holy Island, is now run by John's son Christopher and his wife Helen. They took over in 2003 and gradually increased its capacity, until local conservation agencies started taking an interest, arguing that the oysters were likely to reproduce and create invasive reefs which would not be in keeping with the nature reserve. Concern was also expressed that activity on the farm, if it expanded further, would be detrimental to the local bird population.
These arguments still rage on, causing considerable issues for the pair, who cannot expand their production until a resolution is found.
Beach culture
Lindisfarne Oysters currently produces around 100 tonnes of oysters per year, using a traditional bag and trestle system on the beach, in the intertidal zone. Worldwide, this is the most established method of growing oysters.
As with all oyster farmers, Christopher is passionate about his work, but readily admits that it is this crop that takes up the most time and creates the most headaches!
"Oysters need very regular attention and working them can be back-breaking work, as the trestles are low to the ground. We can keep an eye on the livestock with a glance, but the bags need cleaning and turning on a regular basis, and the oysters need to be sorted and graded to ensure their growth is on track and the shells are a regular shape. We also have occasional trouble with shifting sand after big storms, which can cover up the trestles, and this can be a bit of a nightmare when it happens," he said.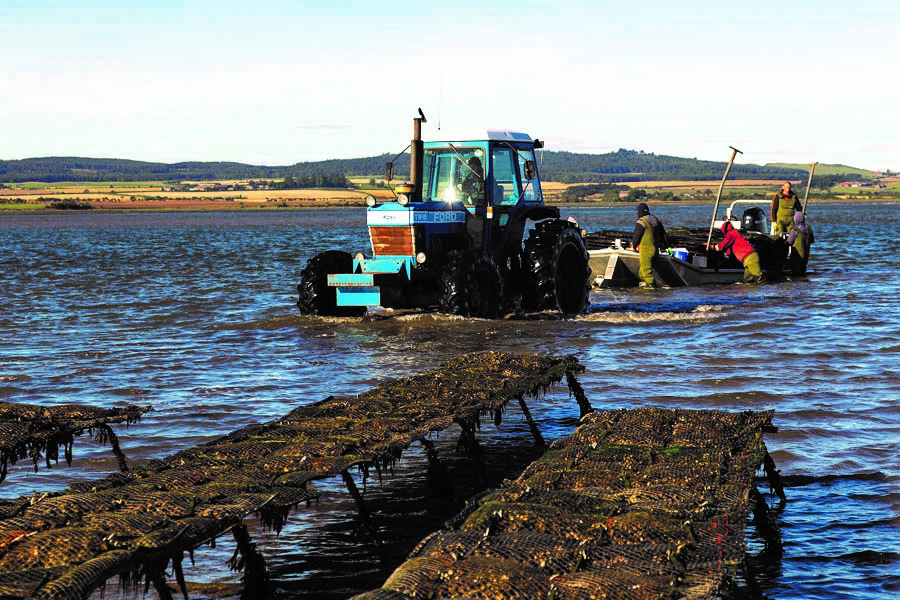 Seed oysters are bought in from Guernsey Seafarms, who have been producing baby oysters for over 30 years, in an old granite quarry filled with seawater, on the NE coast of Guernsey, in the Channel Islands.
The seed, which is about the size of a thumbnail, is chilled and packed dry in special containers for transport, and arrives in perfect condition, ready for putting to sea in fine mesh bags. These are attached with elasticated straps to the trestles, to ensure they are not washed off.
Oysters are left to feed naturally on plankton and algae from the sea, the availability of which can be affected by the number of oysters in each bag and the amount of marine growth on the outside of the bag. As the oysters grow bigger, the mesh size of the bag is increased, to allow for greater water flow.
"Our work is governed by the tides, and we need very low tides to access the furthest trestles. This happens once every month, so it's all hands to the beach during that time, to grade and turn as many bags as possible," Christopher said.
He reckons that it takes him and his 6 employees the best part of a year to work their way through the farm, before starting again at the beginning, and the phrase "it's a bit like painting the Forth Road Bridge" springs to mind!
From seed to harvest size takes 3-4 years in the chilled waters of the North Sea. Market ready oysters are moved up the beach for a month or so before harvest, where they are uncovered twice each day. This encourages the oysters to learn to keep their shells tightly shut when out of the water, and helps to improve their shelf-life.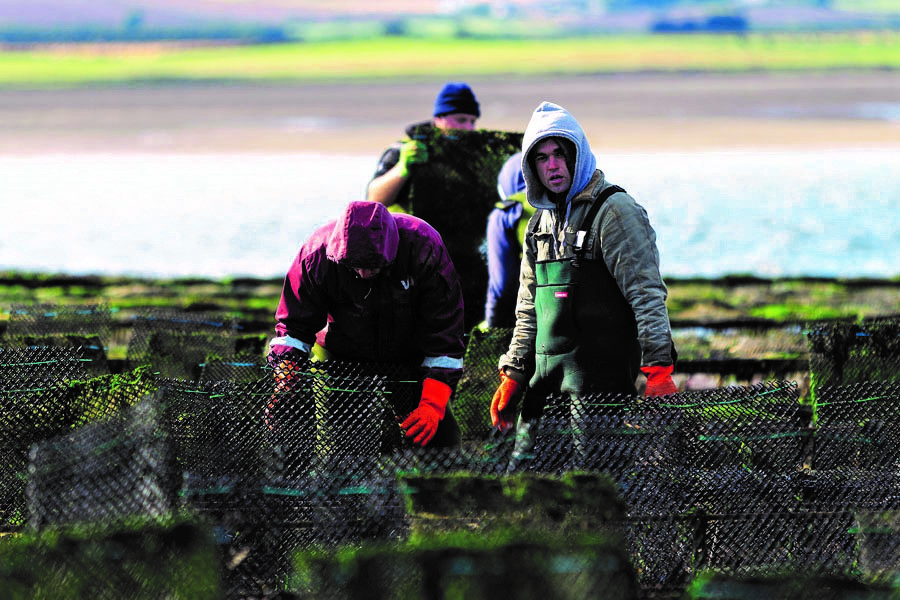 Before being packed in chilled boxes for customers, the oysters are put into depuration tanks onshore for 42 hours, where they filter purified seawater. This provides reassurance for consumers that they are quite safe to eat.
"We have 3 employees in the depuration and packing centre and they are kept very busy fulfilling orders. Our customers used to be mainly wholesale, but restaurants and even consumers, are increasingly coming to us for direct supply, especially now the country is opening up post-Covid. People who normally enjoy oysters on their Mediterranean holidays want to do the same here. I hope that this will become a long-term trend," Christopher said.
He is thankful to have survived the past year and a half, despite periods when there were no orders at all during lockdown, and is delighted that since May 2021, business has been brisk.
Christopher remains optimistic about the future of the farm, and hopes that the current uncertainty about growing Pacific oysters can be solved.
"I don't agree with Natural England's stand on growing Pacific oysters in the UK, and especially not their policy of sending out teams to smash the shells of any found outside a designated farm area. However, they are under pressure from a number of local NGOs (non-governmental organisations) around the country, who are seeking to protect various indigenous species and believe that oysters could endanger or take over their habitats," he said.
"At the end of the day, I try to be positive about it all, and as the wider farm keeps me so busy, there is not much time left to worry!"