Menai Oysters: Passion and Innovation in North Wales
A search for a graduate job has turned into a life-time's passion for one shellfish farmer in North Wales, and innovation has always been the key to his success.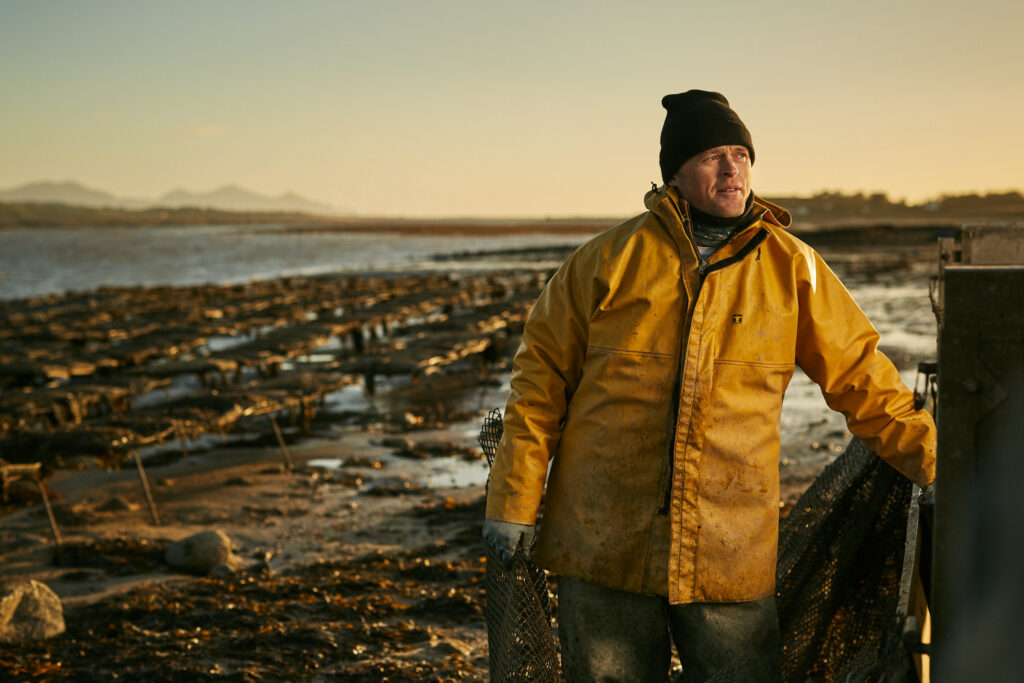 Shaun Krijnen graduated from the University of Wales, Bangor, with a Masters degree in Shellfish Biology nearly 30 years ago, and found that jobs were few and far between.
"I was over-qualified for many positions, but had little practical experience. I had done some work for a chap with a small hobby oyster farm on the foreshore at Brynsiencyn, and when he decided to sell, I ended up buying his farm in 1994," he said.
Over the next few years, Shaun worked on building up the farm, which produces Pacific oysters (Crassostrea gigas), and in 2000 added intertidal mussels to his lease.
Menai Oysters is situated on the Anglesey side of the Menai Strait in North Wales, in a Special Area of Conservation (SAC). The designation brings with it additional responsibilities for the company, and Shaun is acutely aware of the need to farm in tune with the environment.
Strong tidal currents ebb and flow around sandbanks in the Strait and bring in a steady supply of plankton, which provide an ample supply of food for the shellfish and impart a unique taste.
The farm is overlooked by Bangor (Y Felinhelli) to the left, historic Caernarfon and castle to the right and the majestic Snowdownia National Park in background.
"Few workplaces offer such magnificent views," Shaun said.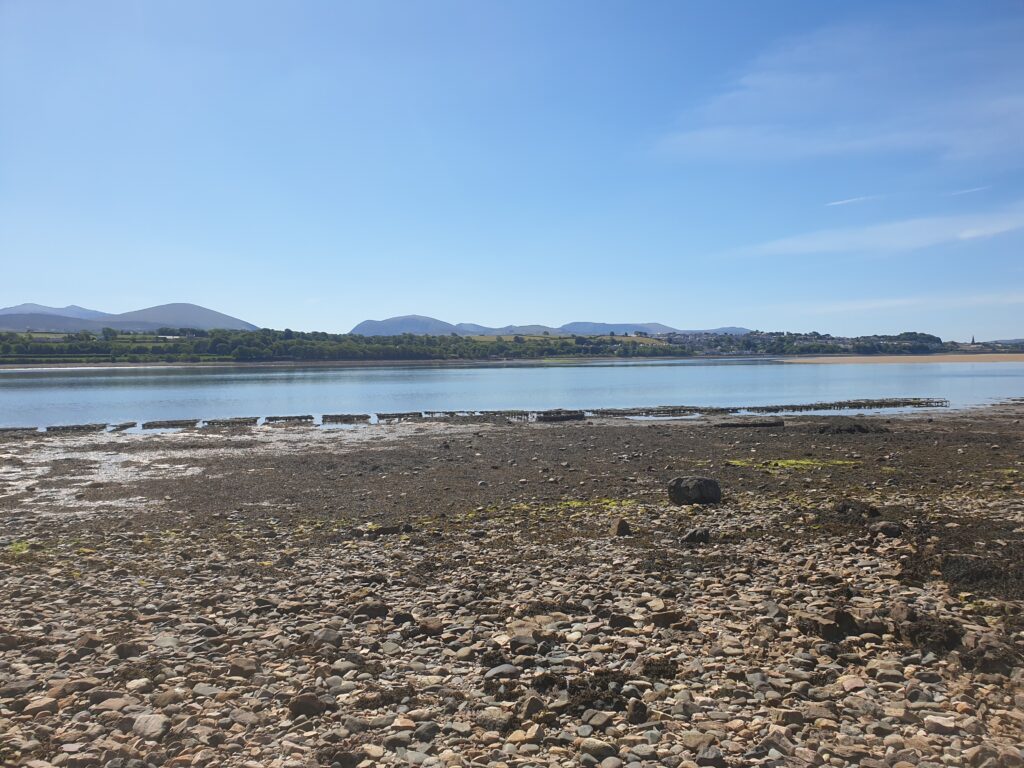 The oysters are purchased as juveniles (seed) from Morecambe Bay Oysters, which is Europe's largest oyster nursery, and placed into polypropylene mesh bags secured to metal racks, low down on the beach. They are submerged in the sea for most of the time, but are exposed to the air during very low tides (Spring tides). This allows Shaun to access the bags for maintenance work, grading and harvesting.
"Farming oysters may sound simplistic, but there is a lot of work involved in the process. They have to be graded and thinned out regularly as they grow, just like plants, to make sure the bags are not too crowded, otherwise there is too much competition for natural food. An oyster will be graded 6-8 times before it reaches marketable size," Shaun said.
He explained that one bag of seed oysters can become 25 bags at market size and typically an 8mm, 2-gram oyster takes an average of 2-3 years to reach 100g, although the fastest growers can get there in under a year. However, the long growing period means that he can't react quickly to changes in market demand.
Oysters are placed in a depuration system before packing, to ensure they meet EU and UK food safety requirements and Shaun's exacting quality standards.
"We use plastic free packaging, using traditional French trapezoidal punnets, and the banding tape is made from paper, which is more expensive, but better than plastic. We also cover the oysters with a bag made from starched potato, to protect them," Shaun said.
His customers include wholesalers, restaurants, fish shops, retailers and direct-sale home-delivery customers, the latter of which have become more important since the start of the Covid-19 pandemic, when Shaun had to lay off staff and have a re-think about the business.
"We were ticking over nicely, with oyster income supplemented by the mussels, but Covid-19 issues, exacerbated by mortalities caused by rising summer temperatures, led me to stop growing mussels. The recent hot summer days, especially when they coincide with Spring tides when the mussels are exposed, caused me to lose more than half of the seed bought in, which is a disaster. The oysters are deeper in the water and cope rather better" he said.
Diversification
Keen not to be totally reliant on oysters, Shaun has also supplemented his income with a campsite and his latest innovation – oyster gin!
"When sales first dropped off during Covid-19 lockdowns, I was trying to think outside the box and asked a friend, who runs a distillery at nearby Llanfairpwll, if it was possible to distil oysters. "I don't know, but let's give it a try!" he replied.
The result was a smooth, mellow gin, flavoured with juniper and lemon, which has become a surprising hit and is available direct from the distillery and from the Menai Oysters website.
"This has been a really exciting project and it's also a great way to use up all the older oysters, which have not grown well. The gin has a unique taste, which can change with the seasons, as the meat content of the oysters changes from month to month. People really seem to like it, and we have made 4 batches in just the last month," Shaun said.
Growing oysters has not been without its issues, and Shaun has regularly locked horns with Natural Resources Wales, over the issue of oyster escapees becoming naturalised, and has yet to have his lease renewed.
"The authorities keep changing the goal posts and the latest is a requirement to stock only triploid oysters, to prevent them breeding, but as I see it, the biggest threat is climate change, which is going to affect the entire local ecology profoundly," Shaun said.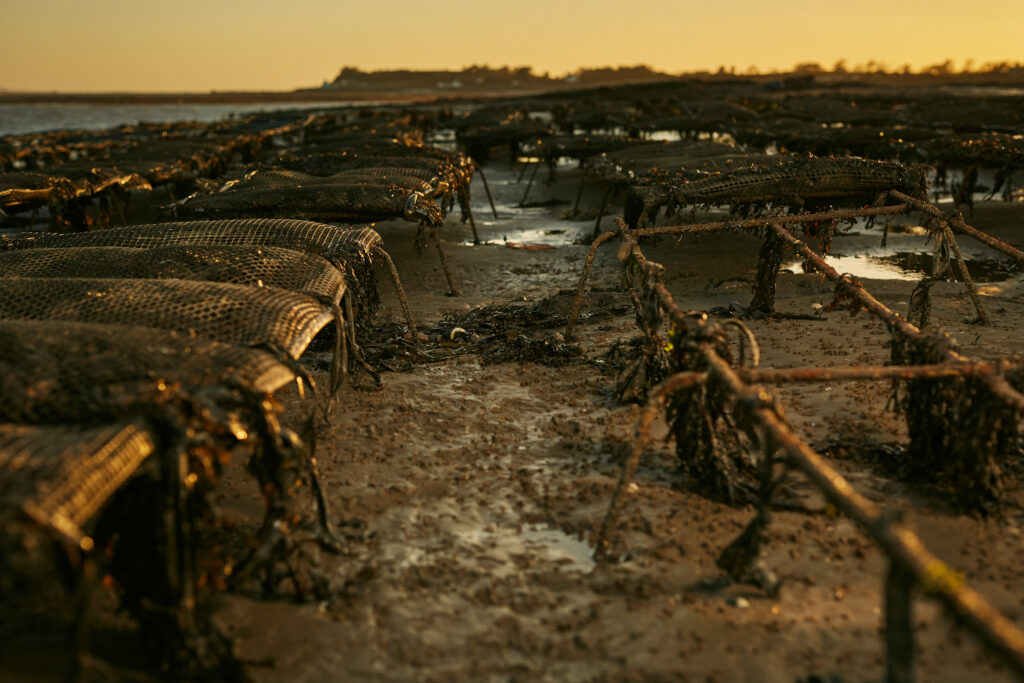 He reflected that if he was just starting out, but could do so with hindsight, he would probably think twice about taking on the bureaucratic burden of shellfish farming, the fight with nature, the issue of finding staff willing to work in all winds and weathers undertaking back-breaking tasks, and the fickle nature of the marketplace. However, on the whole, he wouldn't have it any other way!
"Looking back at where I work, what I have done and how I have lived, makes me realise that I have had a very satisfying career, more a way of life, really. It's difficult to convey what I feel, but I have a great sense of pride and satisfaction in my work. It's just such a travesty that the people and authorities who are supposed to facilitate it, just do not seem to care or understand," he said.