The original and best
One of the world's legendary roadside eateries, the original Loch Fyne oyster bar really put its namesake on the foodie map. Just refurbished, it's the perfect place to sample the superb local seafood.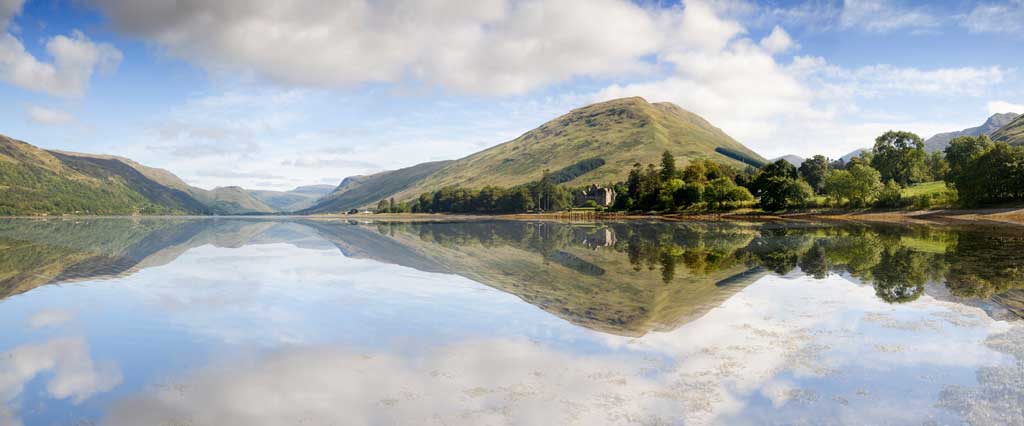 It's what's known as a "dreich" day when we arrive at the Loch Fyne Restaurant and Oyster Bar, right at the head of the sea loch itself: the longest in Scotland, bringing Atlantic waters 50 miles inland. A thin drizzle drifts down to meet the mist rising up from the water, which is pretty standard for this saturated part of the world. It hardly counts as weather, just atmosphere, and this moody, magnificent spot is as fine a backdrop for lunch as you'll find anywhere – much of which comes from that water yonder.

That Loch Fyne today is synonymous with seafood is largely thanks to the late Johnny Noble who 30 years ago started farming oysters on the foreshore here to help finance his then debt-laden Ardkinglas estate. Working with his partner Andy Lane he sold them first from a table, then a cowshed, which evolved into this now legendary oyster bar. The burgeoning company went on to build an empire of dozens of restaurants, while also branching out into mussels and smoked salmon, now its biggest product by value and exported all over the world. (Incidentally, Johnny Noble also became a liveryman of the Fishmonger's Company.)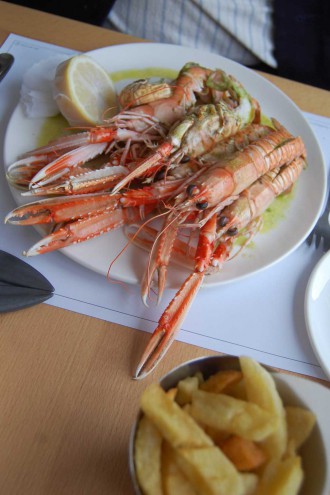 The restaurant chain was sold off in 2007, but this first oyster bar remains part of the original company. It still supplies all those other branded Loch Fyne restaurants across the UK, which serve more than 60,000 covers a week, and also makes more than 10,000 weekly home deliveries though its online operation, Loch Fyne Direct. On the same site is the smokehouse, where we see richly sweet-smelling sawdust from old whisky barrels fired up to smoke tray after tray of sides of salmon supplied from the nearby fish farms of the Scottish Salmon company. The oyster and mussel farm lies just across the loch. It's quite an operation.

The oyster bar itself was originally a kind of roadside halt, on a remote, empty stretch of the A83. This fine driving road that runs from Tarbet, on the western shore of Loch Lomond, down through the Glen Croe and the Rest and Be Thankful pass over the Arrochar Alps, and on to Campbeltown at the southern end of the Kintyre peninsula.

It's since become a destination in its own right for anyone and everyone passing through. Gordon Brown and John Prescott famously stopped off here after attending a memorial service for John Smith, only to fail to get a table. A political cartoon on the wall of the restaurant lampoons the pair feasting on oysters in the car park while they plotted their political destiny. The truth is more old school Labour: apparently John Prescott sent an aide to the deli for some kippers, an altogether more heartwarming tale. Plenty of others have been stymied by the place's popularity too: Michael Cain and Michael Winner once patiently queued here while filming on location, as did the cast of EastEnders. The list goes on.

The restaurant was refurbished last year, removing the old booths and the fishing boat that used to sit in the front to create a bright, airy space, decorated with posters, prints and artworks from Johnny Noble's own collection. There's a new restaurant director too: Roy Brett, who has his own place, Ondine, in Edinburgh.

His approach showcases seafood not only from Loch Fyne, but also from surrounding waters, typically prepared as simply as possible to let the superb ingredients shine. Menus are drawn up daily. Right now you might find cullen skink; Loch Fyne steamed mussels in a white wine, parsley and garlic broth; Eyemouth crab claws with lemon mayonnaise; Tarbert native lobster with wild garlic and parsley butter; Gigha halibut with purple sprouting broccoli and hollandaise; and, of course, plenty of their signature oysters.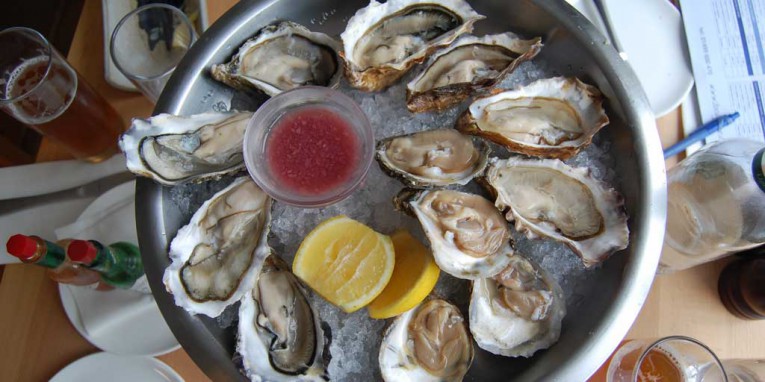 That's what we kicked off with. Loch Fyne is a hub for oysters from small farmers all over Scotland, and we tried a tasting plate to explore the differences, which are amazingly distinct. Lismore oysters were savoury; Islay very fresh, sweet and salty; while the small, round natives from Loch Ryan were nutty and earthy. Read more about the different varieties here.
We also filled our boots on langoustines, which are caught in creels in the upper reaches of the loch by local fisherman Ralph Newell.

Creeling is a sustainable method of capture as immature langoustines can escape through the mesh and the fisherman can check everything caught: "berried" hens (ie with eggs) are returned to the water. These beautiful, sweet "prawns" are rarely seen down south, except in very smart restaurants: they're all whisked off to the continent, where locals appreciate them enough to meet the high price tag. Whenever you're up this way, or indeed whenever you see them wherever you are, try them: you won't be disappointed.

Alas, when we visited, mussels from the loch weren't available, so we asked them for a recipe instead, so that we could try it at home – and here it is. The original recipe specifies Highlander beer from the wonderful Fyne Ales microbrewery, just along the loch from the oyster bar.
Also See: