All about herring
Cheap, plentiful and packed with omega 3 fatty acids, herring – or "silver darlings" as they used to be called – should be heralded as heroes of the sea, says Tom Hunt.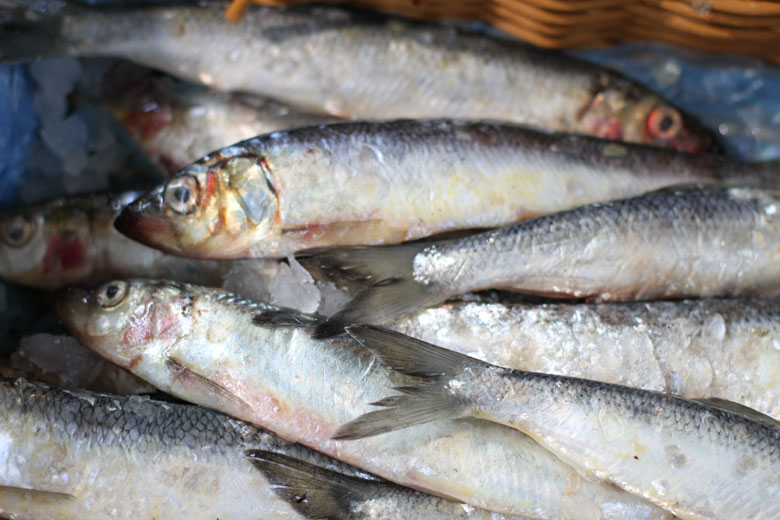 Eaten as a staple food since at least 3000BC, we've learnt to prepare herring in all sorts of different ways. Jonathan Meades speaks of them lovingly in his series Magnetic North, recounting in his opulent tones: "This supposedly humble fish, which is actually infinitely preferable to lobster or Dover sole, has incited great ingenuity in humans. Our forebears have smoked it in countless ways, sweet cured it, sour cured it, soused it in gin, soused it in vinegar, even eaten it raw, buried it and fermented it."
In the 19th and even into the 20th century, herring played a pivotal role in the European economy, until over-fishing in the 1960s and 1970s devastated the seemingly endless supply, leading to a crash in stocks. Much has improved since then, and although the herring is still not as plentiful as it once was, it is still one of the most prolific and sustainable fish in our seas today.
As a child, my mother would read me The Mousehole Cat, a children's book about a legendary fisherman called Tom Bawcock. The villagers of Mousehole, who would normally live on the plentiful herring, are starving because the fishermen are unable to leave the harbour due to a ferocious storm. Tom and his cat save the day by taming the storm and returning home with a humongous catch. The whole village celebrates, making half-a-hundred stargazy pies, with herring heads poke out of the pastry and staring up at the sky – there to prove the pie does indeed contain fish. I loved the story and this characterful pie and would dream of making it myself. My other childhood memory of herring is of staring at scary-looking rollmops at eye level, standing at the beachside fish counter, waiting for my parents to buy crayfish and cockles.
Herring is a supremely healthy fish. As they say in Holland, "A land with lots of herring can get along with few doctors." Inspired by this wisdom, I asked my Dutch head chef for her memories of herring. In her timorous voice – which belies her confidence in the kitchen – she recalled: "Historically, people would serve onions with herring to mask their lack of freshness as they can quickly lose their zeal. At one of the stalls I would visit as a child, which was particularly famous for its fish, if you asked for onions with your herring they wouldn't serve you at all. They were insulted that you'd want to mar the perfect freshness and flavour of the fish." Incidentally, she is as tall as a Viking and stronger than me (we arm wrestled once and she won). Could it have been a diet of herrings that created such a strong race?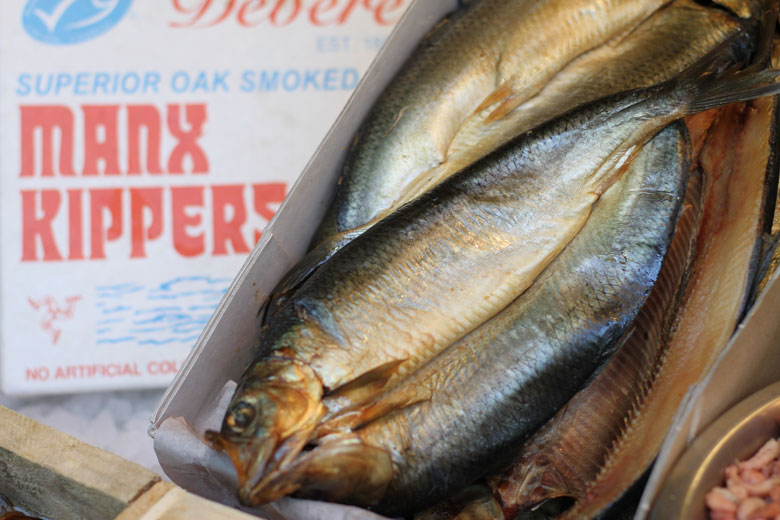 Herring's availability, history and remarkable health benefits all demand our attention. So I say let's put these silver darlings back on the menu. One of the most traditional ways to eat herring is smoked. Preserved by the smoke, a bloater (a whole cured fish) or a kipper (a fish split in half, butterflied then smoked) will last up to two weeks in the fridge. This process must have been invaluable for preserving the large surplus of fish in the 19th century.
I recommend the classic approach to kippers: grilling them and adding a fried egg to make a perfect breakfast. Or for something a little different, serve with sizzling cooking chorizo, slices of preserved lemon and rocket leaves for a dish that will blow your mind: the strong flavour of the kipper stands up perfectly to the punchy chorizo and salty lemon, and the flavours combine wonderfully to create an intense, savoury, umami-rich whole.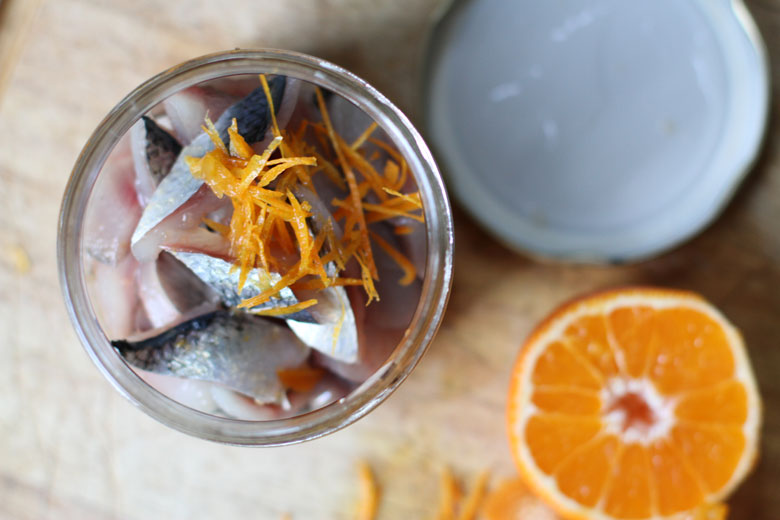 Fresh herring is a real treat too. Like mackerel and sardines, the oily flesh of a herring takes well to charcoal. Grill herrings for five minutes either side over hot coals and serve with nothing more than a wedge of lemon for a remarkable supper. Or find a really fresh catch and try eating a fillet raw or in a citrus marinade, like my ceviche recipe below, and you'll see just how deliciously clean and refreshing this versatile fish's flavour can be.
Clementine herring ceviche with bitter leaves
I find clementines irresistible at this time of year: magnificently rotund and bursting with sweet aromatic juice. Less sharp than oranges, I find their taste more civilised and rounded on the tongue. Herring eats well raw, ultra-fresh sliced as sashimi with pickled ginger and soya sauce. However, by marinating the herring in citrus juice the flesh will have an improved texture and will keep well for another three days once cured.
Ingredients
Serves 4
2 fresh herrings, cleaned, scaled, gutted and filleted
4 clementines
Small bunch bitter leaves like puntarelle, endive or chicory
Extra virgin olive oil to dress
Pinch chilli flakes (optional)
Method
Cut the herring fillets on an angle into narrow strips. Place them in a small glass bowl or jam jar. Cut a little of the zest off the outside of the clementine, slice finely and add to the fish. Squeeze the juice of two clementines over the fish, season with a little salt and stir. Cover and put in the fridge to marinade for at least half an hour.
Peel the other two clementines and slice into segments. Serve the bitter leaves topped with the clementines and cured fish. Dress with the juice and olive oil. Season with salt and pepper and chilli flakes.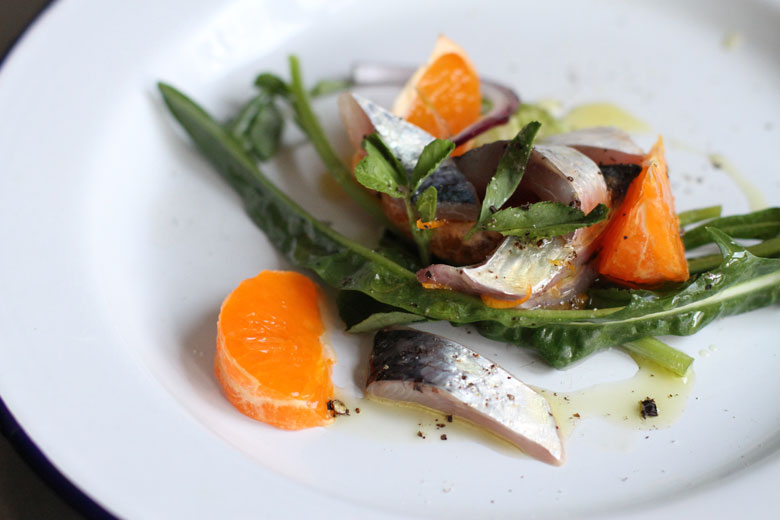 ---
Tom Hunt is the founder of Poco, Best Ethical Restaurant at the Observer Food Monthly Awards 2013. Tom also works closely with various food charities and organisations including FareShare, Food Cycle and the Greater London Authority, highlighting important concerns in the food industry. All photos: Tom Hunt. Click here to read his blog, Tom's Feast. For more on his new book, The Natural Cook: Eating the Seasons from Root to Fruit, published by Quadrille, click here.
Also See: