February
Halibut roasted with blood oranges, purple-sprouting broccoli with anchovy sauce, and heroic oysters prepared three ways: hot and smoky, pickled, and paired with delicious pink rhubarb. Tom Hunt on what we can enjoy in the coming month.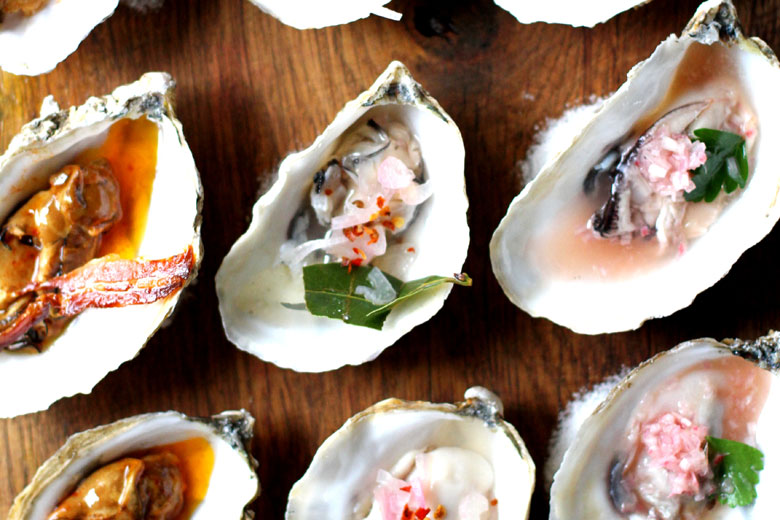 My friend Patricia Coplestone, a permaculture farmer in Dorset, describes this time of year so well. With the tone of a sorceress, she will say, "Deepest darkest winter is upon us, the days are short and the weather harsh. I love the depths of winter and the solitude it brings." Patricia works the land, and so is acutely aware of the seasons and what they bring. Fisherman are too – and the seas are rough, unforgiving and isolating at this time of year.
People who work on land and sea need to understand the elements and learn to work in harmony with nature. But I think it's so important for those of us who live in towns and cities, working in offices transfixed by a screen instead of a vast land or seascape, to maintain a connection with nature as well. One of the best ways to do this is by taking an interest in our food; to be conscious about where it comes from and how it's produced.
That's why I like shopping for food as close to its source as possible. I love going to markets, or buying direct from a fisherman or farmer, so I can talk to them and find out how my food was grown, reared or caught. A great way to do this is by joining a community-supported fishery or agriculture scheme: members receive a box of whatever's been caught or harvested that week or month, and sometimes they can help with its production, too. Jack and Theresa run a community-supported fishery in London called SoleShare (which Fish on Friday has covered before), and which is now taking subscriptions for this season. The Soil Association also has a directory of agriculture schemes on its website.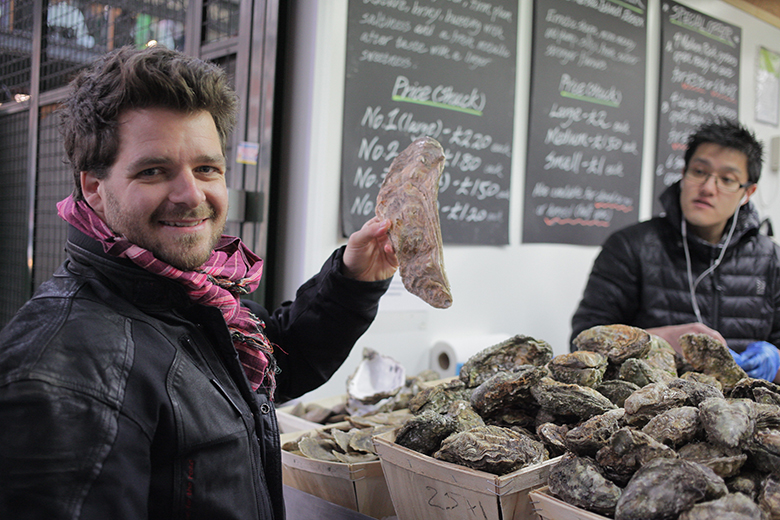 Meanwhile, autumn's larder is waning: the apples, beetroot, garlic and other vegetables that have stored well into winter are now reaching the end of their shelf life. But two of my favourite vegetables have just come into season: purple sprouting broccoli and blushed pink rhubarb. Both are remarkable with fish. Steam the purple sprouting broccoli and serve with bagna càuda, a delectable North Italian sauce, made with anchovies, garlic, butter and olive oil, mashed together and then used as a dip or dressing. Bagna càuda has a velvety deep brown colour, and a remarkable savouriness that's full of flavour: perfect winter eating.
The earliest rhubarb is grown in Yorkshire in darkened warehouses, giving it a shocking pink colour that brightens up any dish it accompanies. Serve roasted alongside grilled fish, or dice finely and use it to make my rhubarb and oyster ceviche below. Other fruit and vegetables in their prime are Brussels sprouts, celeriac, Jerusalem artichokes, kale, leeks, blood oranges, parsnips, pomegranates, swedes and turnips. Blood oranges are delicious roasted with hake or halibut: just add a few slices to the roasting pan. Both these fish are prolific and in excellent condition this month. Other good sustainable choices include haddock, black bream and sardines, and don't forget organic farmed options such as gilt-head bream.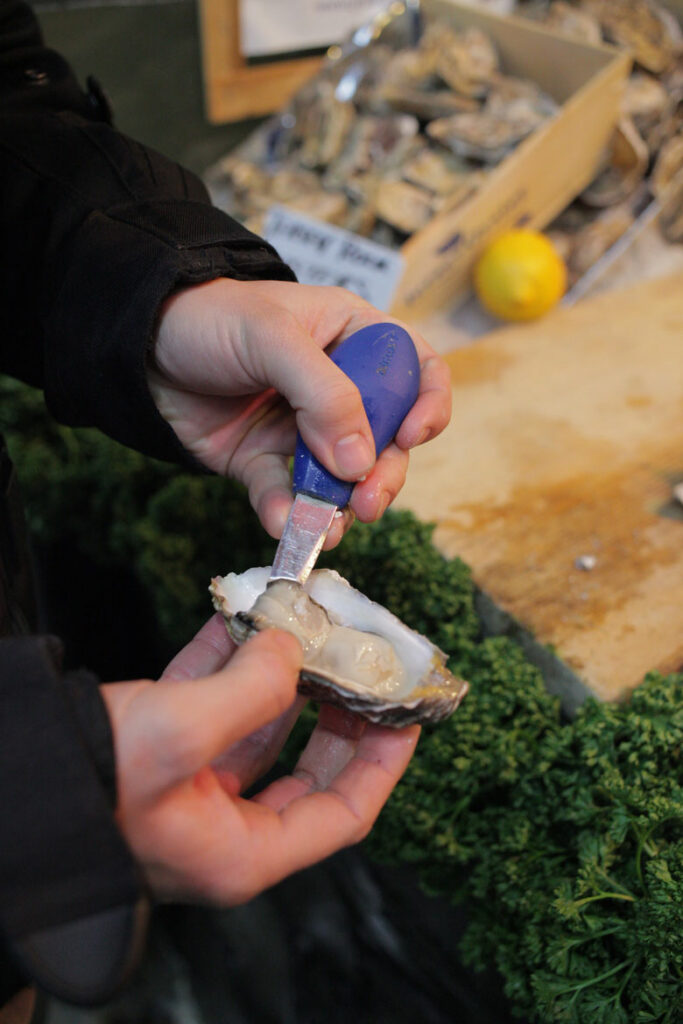 The seas around our shores are now at their coldest, allowing perfect conditions for shellfish, which are that much more plump and fresh. And, this month, my sustainable seafood pick is oysters, perhaps the most environmentally appealing of them all. Oysters are filter feeders, sifting more than 200 litres of water a day for organic particles and plankton, and in the process cleaning whatever bay or creek they happen to inhabit.
Not only are oysters sustainable heroes, they taste heavenly too, with many flavour nuances: much like a fine wine, they take on different characteristics from the land or seabed they are grown on. What's more, they're full of healthy things, such as minerals, vitamin B12, magnesium and omega 3 fatty acids.
Rock oysters are still the main commercial choice today, but thanks to good practice, native oysters have been saved and are once again being farmed and harvested commercially in the UK. More delicate and slower-growing than rock oysters, they have a round shell and can only be eaten in months containing the letter R: there's a legal close season from 14 May to 4 August, when the waters warm and they begin to breed. Introduced as a farmed species, rock oysters can be eaten all-year round, but they still spawn in the summer, becoming milky and even sour, which is not to everyone's taste.
An oyster is remarkable just as it is, all on its own. But it's also fun to experiment with new ideas. See the Related posts below for three ways to prepare your oysters with a difference.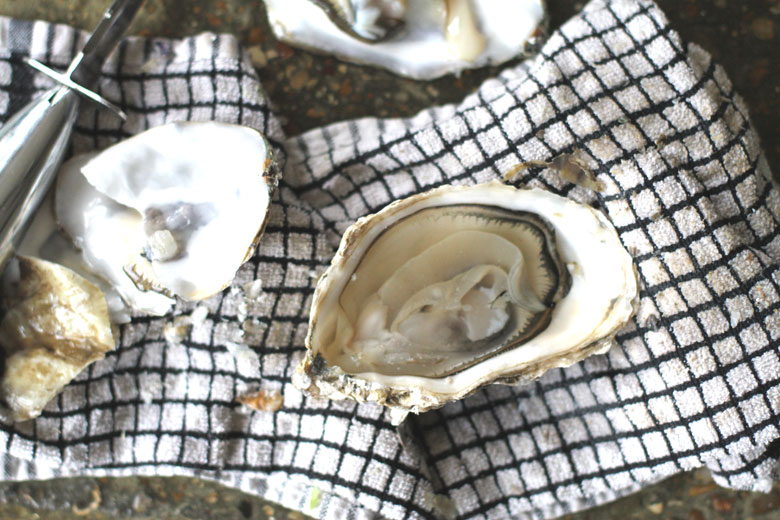 ---
Tom Hunt is author of The Natural Cook: Eating the Seasons from Root to Fruit. He founded the Forgotten Feast, a campaign working on projects throughout the UK, to revive our cooking heritage and help reduce food waste and Poco, a festival café and award-winning restaurant in Bristol and (just opened) London's Broadway Market. Click here to read his blog, Tom's Feast.
Also See: