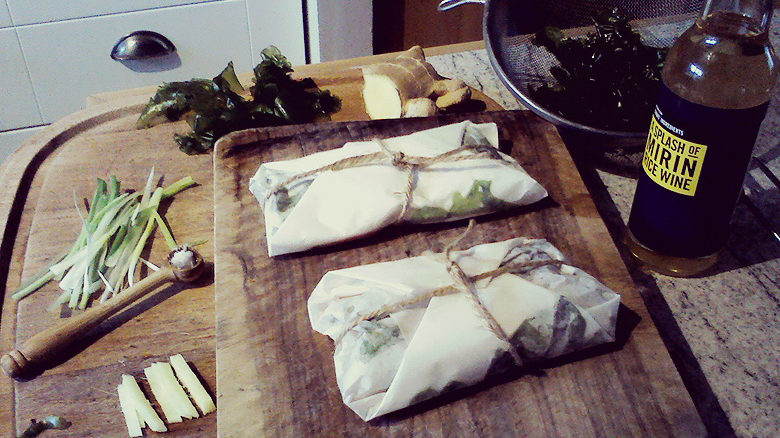 Bass and sea lettuce parcels with miso vegetables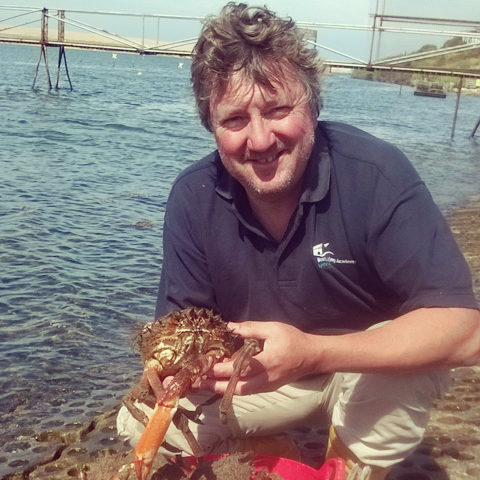 By Ian Baird
I like to forage for local, wild ingredients and I am a great fan of Britain's most under-used and underrated abundant wild food: seaweed. Sea lettuce is delightful, a tender green algae, often found washed up on our beaches or growing on shoreline rocks. It has a delicate, salty iodine flavour which perfectly complements fish.
Ingredients
225g bass fillet, cut into 2 pieces (head end/tail end)
A thumb-sized piece of ginger, peeled and finely cut into straws
2 spring onions finely cut into straws
Sea lettuce
Sea salt
Mirin (Japanese rice wine)
A few small florets of broccoli, cut into small chunks
1 Chantenay carrot, peeled and cut into julienne strips
1 garlic clove, finely sliced
½ teaspoon of white miso paste
1 ramekin of cooked rice
Greaseproof paper
Natural twine or butcher's string
Method
Cut two strips of greaseproof paper about 200mm wide and 400mm long. Lay a piece of the bass fillets in the middle of each, long side to long side.
Sprinkle with a little sea salt then scatter on each fillet a quarter of the ginger and spring onion straws. Cover with a layer of sea lettuce.
Fold the ends into the middle, then the sides to make a parcel. Pour a splash of mirin over the sea lettuce, then tie with string like an old-fashioned parcel. Put the parcels in a steamer and place to one side.
Place the broccoli and julienne carrots into a pan of salted water on a gentle boil for a minute or two. Strain and plunge immediately into cold water for two minutes, then strain again.
Heat a little sesame oil in a wok. Throw in the ginger and garlic, toss, and then add the broccoli and carrot, the miso paste and the barest splash of hot water to allow the miso to coat the vegetables (but not to make a watery sauce).
Divide the vegetables between two ramekin dishes, filling halfway, then fill both with the cooked, still hot, rice.
Place a paper lid on each ramekin dish, than place them in a bain marie in the oven on 150° C for 15 minutes.
At the same time, gently steam the bass parcels in the steamer for 15 minutes.
To serve, remove the ramekins lids and carefully turn them upside down onto the plates. Gently remove the ramekins to leave two towers of vegetables and rice. Cut the string on the bass parcels and gently slide the bass on to the plate.
Garnish with finely sliced spring onions and chilli and a little soy sauce reduction, if desired.