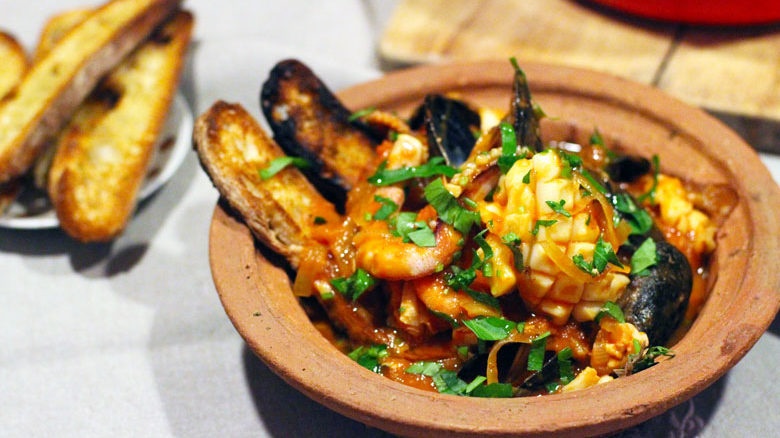 Forgotten fish stew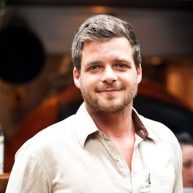 By Tom Hunt
This stew is a stunning way to celebrate winter's wealth of fresh seasonal fish in an easy-to-make one-pot wonder. The fish I've used in this recipe are only a suggestion. Use a variety of the freshest fish you can get hold of on the day.
Ingredients
50ml extra virgin olive oil
2 medium onions, roughly sliced
4 cloves garlic, roughly chopped
Pinch saffron, lightly toasted in a dry pan
250ml white wine
500g passata
6 slices (ideally stale) sourdough bread
250g hake, pouting or white fish fillet, cut into large cubes
300g mussels, cleaned
250g (cleaned weight) calamari or squid, cut into 2-inch square pieces and scored, tentacles separated
150g cold-water prawns
2 tbsp parsley, roughly chopped
Extra virgin olive oil to serve
Method
In a large saucepan, heat the olive oil to a medium-low heat. Sauté the onions for 15 minutes, until they are soft, then add the garlic and sauté for a further two minutes. Add the wine and bring to the boil for a few minutes.
Toast the saffron in a dry pan for about a minute, being careful not to burn it. Add the wine and passata. Bring to a light simmer and boil for 10 minutes. Season the broth to taste and thin with a little water, if necessary, to give a thickish soup-like consistency.
When you're ready to eat, lightly toast the stale bread, rub with a cut clove of garlic and season with salt. Place a piece in the bottom of each bowl.
Add the cubes of fish, the calamari/squid if you're using it, and the mussels and prawns to the pan. Turn in the sauce and place the lid on top for 3-5 minutes. It is easy to overcook the fish so remove from the heat as soon as the mussels open. Remove from the heat, add the parsley and turn in the sauce once more. Serve generously on top of the toasted bread.