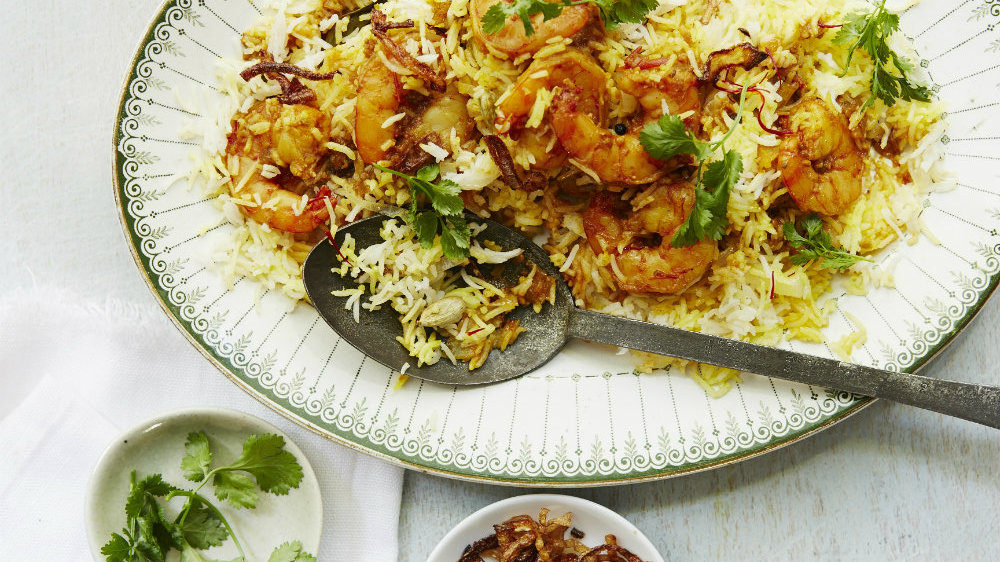 Malabar prawn biryani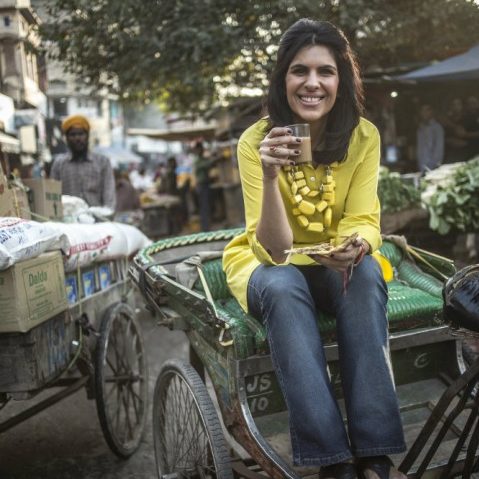 By Anjum Anand
Anjum Anand developed this recipe especially for this year's National Curry Week. Fragrant, flavoursome and beautiful, it's a real celebratory dinner party dish.
Ingredients
500g large prawns, shelled and deveined and washed
½ tsp turmeric powder
½ tsp chilli powder
½ tsp freshly ground black pepper
Salt to taste
Rice
400g Basmati rice, well washed
750ml water
1 tbs vegetable oil
2 tbs ghee or butter
2 small onions, very finely sliced
1-inch cinnamon stick
10 black peppercorns
6 cloves
6 green cardamom pods
½ lemon
8 curry leaves, roughly torn
Sauce
2 tbs vegetable oil, plus 2 rounded tbs ghee or butter
3 small onions, finely chopped
12 fresh curry leaves (add a few extra if dried)
8 large cloves garlic, grated into a paste (around 2 tbs)
30g ginger, peeled and grated into a paste
1 tsp powdered fennel seeds
1 1/2 tsp garam masala
½ tsp red chilli powder or to taste
1 tsp turmeric powder
2 small-medium tomatoes, chopped
Handful of fresh chopped coriander plus 2 tbs chopped for assembly
2 tbs chopped mint leaves
Assembling
20g butter
½ tsp garam masala
Method
Marinate the prawns
Marinate the prawns in ½ tsp turmeric powder, good pinch of salt, the black pepper and half the chilli powder. Set aside.
Make the rice
Wash the rice really well in several changes of water or until the water runs clear. Leave to soak. Heat the oil and ghee in a large, heavy bottomed saucepan which has a lid. Add the whole spices and cook for 30 seconds or until aromatic.
Add the onions and ½ tsp salt and cook until soft, stirring occasionally, then turn the heat up and cook until golden.
Meanwhile, drain the rice and add it into the golden onions. Stir well over a high heat to dry off any excess water and coat the rice in the oil for about 2-3 minutes. Add your water to the pan, taste and season well. The water should taste a little salty or the rice will be a bit flavourless.
Add 1 tsp of the lemon juice and the curry leaves. Bring to a boil then cover and turn the heat right down. Cook undisturbed for 7-8 minutes then test a grain. If it is done, take off the heat and set aside for 10 minutes then spoon the rice out on to some open plates to prevent them overcooking. You can use this pot for the final assembly.
Make the sauce
Heat 1 tbsp oil in a medium-sized non-stick saucepan. Add the prawns in and sauté for 1 minute. Spoon out and set aside.
Add the remaining oil and ghee and heat before adding the onions, cook really well until very soft and golden.
Add the curry leaves, ginger and garlic and sauté over a gentle flame until garlic is cooked through, around 1 minute. Add in your spices and tomatoes and seasoning and sauté for a few minutes.
Add a splash of hot water (I put the kettle to boil as I start to cook) and continue to cook until the tomatoes have collapsed, darkened and the paste releases some oil, around 8-10 minutes.
Taste – it should be harmonious. If not, cook a little longer, adding some water if you are worried about it being too dry but then cook down to a paste before the next stage.
Add your prawns back in along with 2 tsp lemon juice (or to taste), a good splash of water (from the kettle) and most of the herbs (leave a few back for assembly). Cook for 2-3 minutes or until the prawns are cooked through. Taste, it should be delicious, adjust salt and chilli powder at this stage. Take off the heat.
Assemble
Cut half the butter into small pieces and dot over the base of the rice pot. Layer over half the rice, sprinkle over the extra ½ tsp garam masala and herbs.
Then spoon over the prawn mixture and finally top with the remaining rice and butter, cut into small pieces.
Cover with a tea towel and lid, making sure the tea towel edges are on the lid and not hanging near the fire.
When you are ready to cook, place over a really low heat for 20-30 minutes or until when you take the lid off, it steams.
Leave for 10-20 minutes, off the heat, before serving. I spoon the whole thing out on to a platter, slightly rippling all the bits but not mixing properly.
Serve with a tomato and red onion raita.