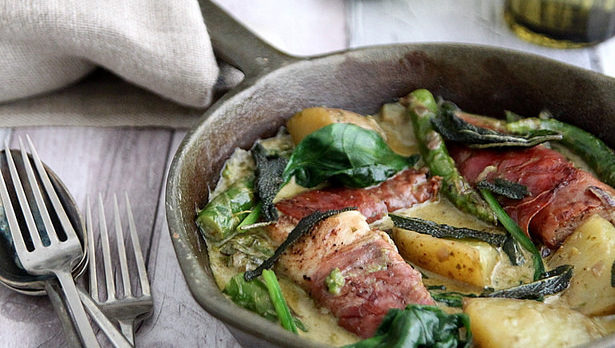 Parma ham wrapped fish with pesto sauce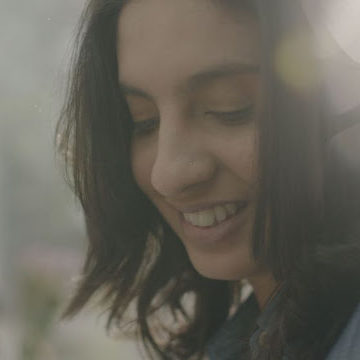 By Nisha Thomas
The recipe calls for any firm, white fish which allows the flexibility for whatever is seasonal and good value in the fishmongers – pollock, coley, whiting – blogger Nisha Thomas uses river cobbler in this recipe. If asparagus isn't in season, then it can be substituted it for another green, like broccoli cut into small florets. It's a quick and delicious recipe, which is perfect as a midweek meals or a dinner party dish.
Ingredients
250g firm white fish (Nisha uses River Cobbler)
Sea salt
Freshly ground pepper
Italian Parma Ham, 6 to 8 thin slices
4 new potatoes, quartered
300g asparagus
20g butter
6 sage leaves
2 tbsp olive oil
1 large onion, finely chopped
3 tsp basil pesto
100g spinach
100ml water
120ml single cream
Crusty bread, to serve
Method
Cut the fish into four long pieces, and season with salt and pepper.
Separate the parma ham slices and lay them out flat on a chopping board. Place the fish on top of a slice of ham, and roll it tightly. Use more than one slice of ham if needed. Set to one side.
Bring a pan of water to the boil, and cook the potatoes for 6 minutes. Add the asparagus and cook for a further two minutes. Drain, and set them to one side.
Melt the butter in a large frying pan, and fry the sage leaves till crisp. Remove with a slotted spoon and drain on kitchen towels.
Put the fish wrapped in parma ham in the same pan, and cook until the parma ham turns crispy – around 3 minutes on each side. Lift the fish out of the pan and set onto the paper towel alongside the sage leaves.
Next, add a splash of oil to the same pan, and sauté the onions on a medium heat for 5 minutes. Stir in the pesto, return the potatoes and asparagus to the pan, add the spinach, and then pour in the water.
Bring to a simmer, and then season to taste. Pour in the cream, return the fish to the pan, and then cook gently for a further five minutes. Garnish with the fried sage leaves and serve with some crusty bread.